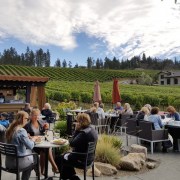 Experience CHAOS Bistro by Ex Nihilo Vineyards.
During the spring and summer months, enjoy CHAOS Bistro in the fresh country air. During the cozy fall and winter months, snuggle into our newly redesigned lounge.
Vineyards will surround you with fragrant aromas and beautiful vistas of the Okanagan scenery as you indulge in tasty eats. Inspired by local farms and gardens, we present epicurean interpretations of neapolitan wood fired pizza (seasonal), tapas and salads.
Reservations are highly recommended.
(250) 766-5522