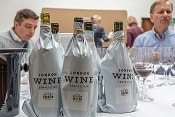 The London Wine Competition looks to recognise, reward and help promote wine brands that have successfully been created to identify with and target a specific wine drinker. For any wine brand to earn its place on a retailer's shelf or a restaurant's wine list – and then vitally stay there – they need to be marketable and consumer-driven and not just produced in the general hope it can find enough people willing to sell and buy it.
London Wine Competition will judge wines in three key areas:
– Their quality.
– Their value for money.
– What they look like.
To be an award winner you will need to have a top-quality wine, that offers both the trade and the consumer great value for money, and you will need to look good and truly stand out on the shelf and on the back bar.
Here are some of the benefits and reasons on why you should enter your wines in London Wine Competition.
1. Raise your brands' profile, prestige, and credibility with importers, distributors, press, retailers, and consumers
2. Instill confidence in the trade buyer about the marketability of your wine as LWC rates wines by its value, package, and quality.
3. Scores Feedback: Get your score breakdown by each criterion.
4. Gives The Consumer A Sense and Stamp Of Approval.
5. Winners To Get Unparalleled global reach via the BTN network. See Winning Impact For Further Details.
EVENT HIGHLIGHTS – It would be a Closed Door Event, and your product would compete to around 2000+ competitors.
Event Date: – 15th March 2021
Fees: £100 – £110
Just send your wines to your nearest depot in your country and leave the rest to us.
You can also email your interest on info@londonwinecompetition.com or give us a call on +44 (0) 330 097 0138 and our executive will call you back within 24 hours.