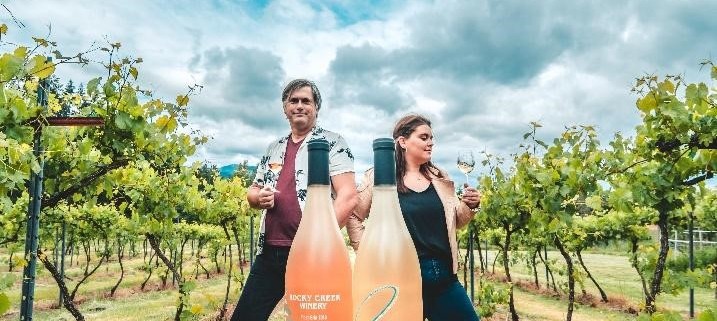 Cowichan Bay, BC July 3nd 2020 – After 15 years in the wine industry Rocky Creek Winery's own Robin Holford has produced her first commercial line of wine. Being a family business this father daughter duo, are now competing their different methods of winemaking in a Pinot Gris faceoff.
Mark Holford, is Cowichan Valley's most awarded winemaker, and now his daughter Robin has completed her degree in the field of winemaking. These two wanted to see how the public would react to two completely different methods of making a Pinot Gris varietal. The two divided their grapes equally after harvest and have now released the finished products to be tasted, purchased, and voted on. Robin's Pinot De-Gris had limited skin contact in addition to using a unique yeast called metschnikowia pulcherrima. This method produced hints of citrus whilst having a straw like colour. Mark's method included using 3 different Saccharomyces yeast more commonly used in wine making and giving the wine 16 hours of skin contact that gives the wine a deep orange colour and bright, flavorful taste.
This competition is a demonstration of winemaking techniques that vary between winemakers. It showcases the luxury of being able to participate in wine tastings. Being able to taste the same varietal back to back between winemakers becomes an experience you can remember and take with you for your future of wine tasting.
Visit Rocky Creek Winery to try Robin's exclusive line and vote on your preferred method.
For more information please contact Linda Holford, President 1854 Myhrest Road, Cowichan Bay. 250-748-5622. www.rockycreekwinery.ca  linda@rockycreekwinery.ca