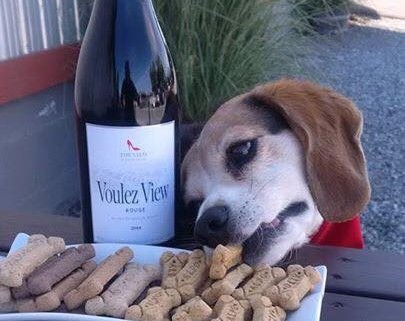 Join us for a fun and informative walk through the vineyard with your furry friend every Sunday in September! If you don't have a pooch, feel free to come anyhow – there will be plenty of wags and wiggles to go around.
And speaking of things that start with "w", OF COURSE there will be a tasting to follow.
$10 per person, the hike starts at 3:30 pm with our fearless leader, Jennifer Molgat and her pup George. It take roughly 45 minutes and you get to enjoy our true "View" at the top of our property in the Riesling block. The hike is suitable for all fitness types, just wear comfortable shoes!
50% of proceeds will be donated to the ST Johns Ambulance Therapy Dog program. This is a program where volunteers and their dogs go to senior homes, extended health care facilities and the Alzheimer's Society to visit seniors who can benefit from the unconditional love of dogs. They also provide visits at schools and Okanagan Regional Libraries for their TAILS program (Therapy Animals Involved in Literacy Success.)