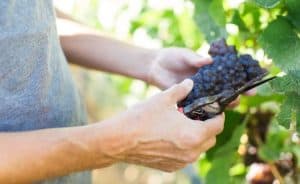 BC Wine Institute Awards 2019
Nominations are now open for the 2019 BC Wine Institute's annual recognition awards that include the Industry Recognition Award and the Award of Distinction. Please note the differences in the two awards and submit your nominations today!
Industry Recognition Award
The BCWI's Industry Recognition Award is the foremost honour for exemplary support for the British Columbia wine industry. Established in 2013, the award honours a non-winery industry individual, business or organization for support of the BC wine industry and BC VQA Wine through media, research, policy, regulation, education, advocacy or other means significantly contributing to the overall strength and long-term viability of the industry.
Please note the list of past winners below.
Award of Distinction
Established in 2016, the Award of Distinction, recognizes a winery representative for their outstanding leadership, commitment and passion for the advancement of the British Columbia wine industry.
Please note the list of past winners below.
Nomination and Selection Process
The Awards are open to all organizations, businesses and individuals in the BC grape wine industry.
Individuals may not nominate themselves; organizations or businesses may apply directly.
Individual Board members and employees of the BCWI are not eligible for the Award of Distinction.
The judging committee is comprised of the BC Wine Institute Board of Directors. Judges are expected to declare any conflicts of interest.
Nominations close 5:00 PM, Friday, May 17. To make your nomination, please complete the form information HERE.
Previous Winners
BC Wine Institute Industry Recognition Awards (non-winery)
2018
Cj Basaraba, Westwood Wines
2017
John Yap, MLA, Parliamentary Secretary of Liquor
2016
John Schreiner, Author
2015
Jurgen Gothe, Media
2014
Senator Ross Fitzpatrick
2013
Ron Cannan, Member of Parliament
BC Wine Institute Award of Distinction (winery)
2018
Vera Klokocka (founder, Hillside Winery)
2017
Howard Soon, Sandhill (Andrew Peller)
Harry McWatters, Encore Vineyards
2016
Tony Stewart, Quails' Gate Winery