Connect with your audience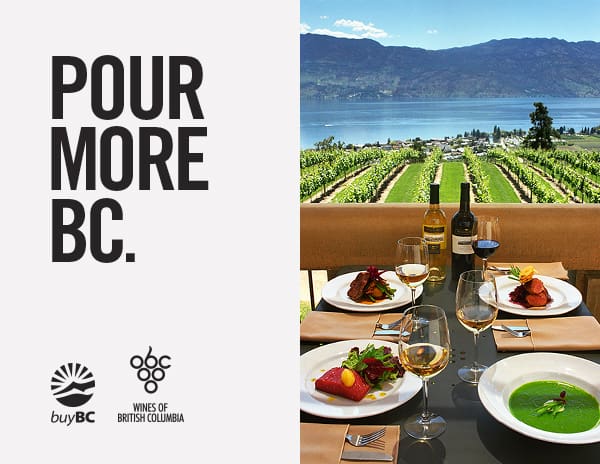 With one of the most engaged audiences in the industry, let BC Wines help you connect. Tell us about your 100% BC Wine feature that is being offered during August and September 2019 and take advantage of the following digital marketing opportunities. It's that simple.
Targeted Social Media Ads
Our social media following is currently 45,000 and continues to grow steadily. In our last, Chef Meets BC Grape -Taste of the Okanagan event, we reached 666,815 food and wine lovers.  We will tag your restaurant in a minimum of 4 social media boosted posts, as long as you are still running your 100% BC Wine feature each week we post.
Influencer Blog Feature
Target your audience quickly, help increase your brand awareness and bring customers in with our influencer blog feature.  We will have a few different influencers posting throughout the campaign. An influencer will include your restaurant in their blog post – as long as your 100% BC Wine feature is still happening the week they are posting.
Google Ads
Faster than SEO, we'll use Google ads to draw attention to our Look Who's Pouring More page. We'll help you boost traffic by featuring a picture of your restaurant, your restaurant name, description, website, reservation link, social media handles and BC Wine feature on our landing page.
Vines with Reach
Our Vines newsletter reaches 26,000 engaged consumers whose top affinity includes wine and fine dining. It has a higher than industry standard open rate of 33.09%. We'll draw attention to the Look Who's Pouring More page in our Vines newsletter encouraging foodies to visit your restaurant and try your BC Wine feature.
WineBC.com / Look Who's Pouring More Landing Page
Increase your exposure through our Look Who's Pouring More Landing Page. Our monthly web traffic in August 2018 was 62,500 page views with 10,487 new users not including any Google ads.
Our 2019 demographics:
25 to 33 years old  28%
35 to 44 years old  21%
45 to 54 years old  19%
Education
Coming Soon! Be the first to know what's happening as we launch our new education programs.