CANADIAN WINE GROWERS SYMPOSIUM AND INDUSTRY RECOGNITION AWARDS
July 11, 2022 @ 10:00 AM

-

2:00 PM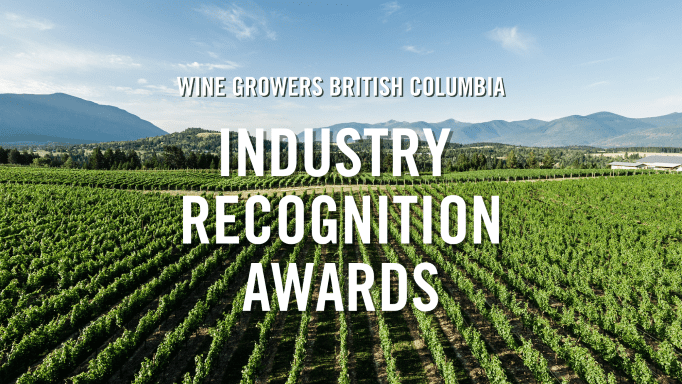 CANADIAN WINE GROWERS SYMPOSIUM AND INDUSTRY RECOGNITION AWARDS CEREMONY – SAVE THE DATE
Date: Monday, July 11 2022
Time: 10:00 AM – 2:00 PM (PST) – TBC
Location: Virtual event
Wine Growers British Columbia (WGBC) along with Wine Growers Canada, Wine Growers Ontario and Wine Growers Nova Scotia, will jointly host a virtual Canadian Wine Growers Symposium and Annual Awards Ceremony on July 13, 2022, from 10:00 AM to 2:00 PM PST (to be confirmed). The symposium will have high profile speakers addressing emerging political and market trends and impacts of the pandemic, followed by the Wine Growers Canada and Wine Growers British Columbia Industry Recognition Awards.
It is more important than ever to recognize our industry peers and commend them on their passion, determination, and perseverance. Wine Growers British Columbia's annual recognition awards include the Award of Distinction, and Industry Recognition Award. Nominations are now open for both awards until May 31, 2022.
SUBMIT YOUR NOMINATION HERE
Please save the date to join us virtually on Monday, July 11, at 1:00 PM (PST) as we recognize our 2022 award recipients.
The Wines of British Columbia represent the welcoming and diverse people of our wine industry in British Columbia. We are an authentic voice that expresses the unique qualities of our breathtaking wine regions. The BC Industry Awards recognizes our overarching role to oversee and represent the main facets of the British Columbia wine industry. These include "Certified 100% BC grape wine" and the "Wine Regions of British Columbia." Wine Growers British Columbia awards two candidates every year for the categories of:
Award of Distinction (winery)
Recognizes a winery representative for their outstanding leadership, commitment, and passion for the advancement of the British Columbia wine industry. Established in 2016.
Industry Recognition Award (non-winery)
The award honours a non-winery industry individual, business or organization for support of the BC wine industry and BC VQA Wine through media, research, policy, regulation, education, advocacy or other means significantly contributing to the overall strength and long-term viability of the industry. Established in 2013.
Nomination Criteria
The criteria for both awards are based on the core values of Wines of British Columbia. As part of your nomination, you must be able to detail how your nominee:
Has promoted and enhanced the premium quality perception of BC wine.
Has demonstrated outstanding leadership with industry peers, fostering unity and community.
Is dedicated to offering excellence in BC wine hospitality and/or advancing sustainability.
Exhibits an unmatched passion reflected in their work through innovations or achievements.