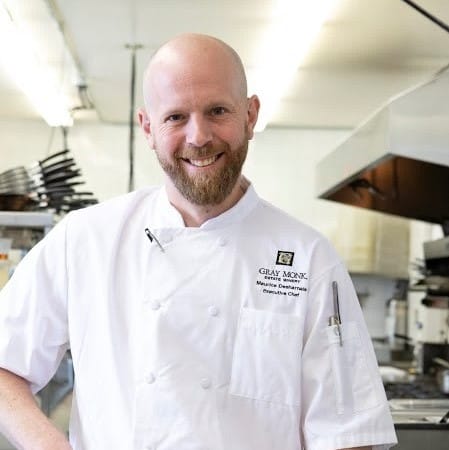 Chef Maurice Desharnais
Growing up in Northern Ontario, Chef Maurice Desharnais's first job as a Backcountry Ranger for one of Ontario's largest National Parks was worlds-apart from the refined French-inspired cuisine he now creates. During his month-long stays in the interior of Algonquin Park, Maurice became innovative using whatever he could forage or catch to create his meals. After developing this love for the bounty Canada has to offer, Maurice switched careers moving from forestry into studying culinary arts at Algonquin College in Ottawa. This Northern Ontario upbringing strongly influences Maurice's culinary philosophy and passion to this day. He is known to bring an elevated approached to traditionally Canadian and rustic cuisine.
Before becoming the Executive Chef at the Lookout restaurant at Gray Monk Winery, Maurice Desharnais helped establish Peller Estates as a destination for food and wine lovers, making it the number one visited winery in all of North America as it's Executive Sous Chef. Over these ten years, Maurice has helped raise the profile of Peller Estates by receiving a 4-Star rating from Toronto Life.
Although a newcomer to the Okanagan Valley, Maurice believes very strongly in supporting local seasonal produce. Upon his arrival, he quickly established invaluable relationships with local farms and farmers to use sustainably sourced Canadian produce. Working together with local producers, Maurice showcases the bounty of the Okanagan Region through every plate.