IMPORTANT UPDATES
Updated August 25, 2023 at 9:00 AM
Effective August 24, the previous Provincial order restricting travel for the purpose of staying in temporary accommodation for most of the Southern Interior is lifted.
We extend our heartfelt gratitude to the first responders on the front lines who have worked tirelessly for our communities so that they have been able to re-open to welcome out of town visitors. While a few wineries are still directly impacted, the majority are open and ready to welcome tourists and locals alike and look forward to seeing you soon. 
Ways you can help: 
Sip Local. Support Local. With many small businesses and wineries being directly impacted by the fires, it is more important than ever to buy local at this time. A few ways to support your favourite producers:
Choose local when shopping your local liquor store – whether BC Liquor Stores, Save-On-Foods or wine shop, they all have an amazing selection of BC VQA wine to choose from
Buy online and get premium BC VQA wine delivered direct to your door
Choose 1-2 wineries and sign-up for their wine clubs. Not only will you get their amazing club benefits, you'll receive shipments multiple times a year to keep that support going.
Donate to Wildfire Relief Efforts:
Travel Information & Important Contacts
In an Emergency Dial 911
Wildfires: Report a Wildfire or Irresponsible Behaviour:
1-800-663-5555 or *5555 from a cell phone

Visitors looking for information on wildfires in British Columbia should visit the BC Wildfire Service's

interactive map

.
Travel information: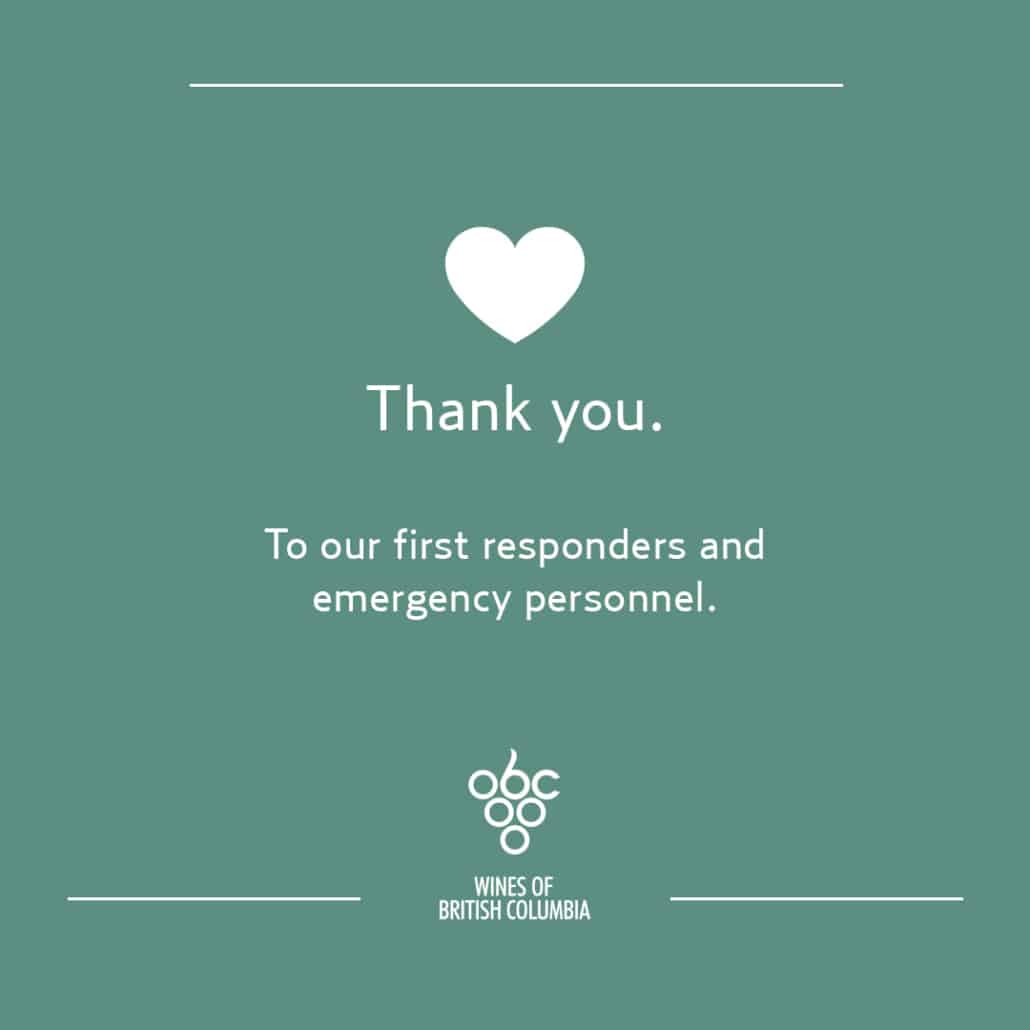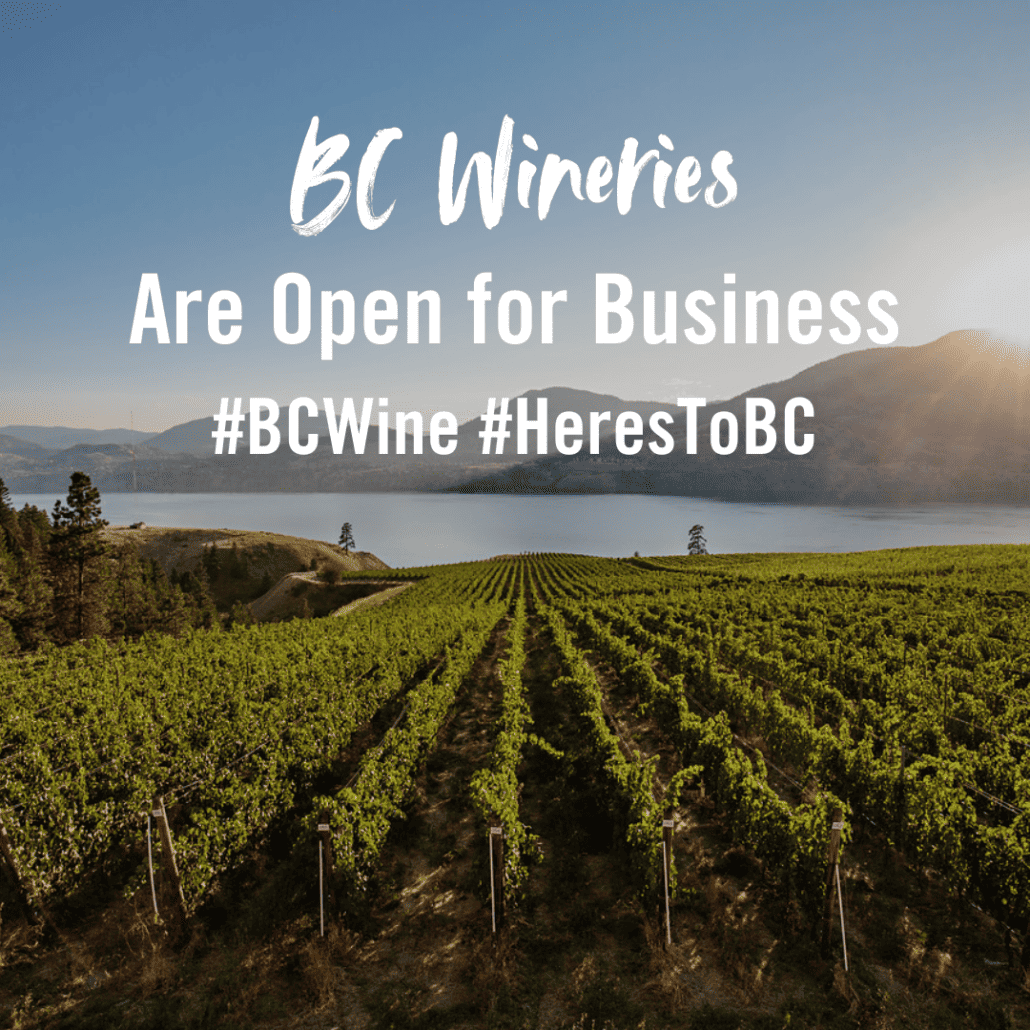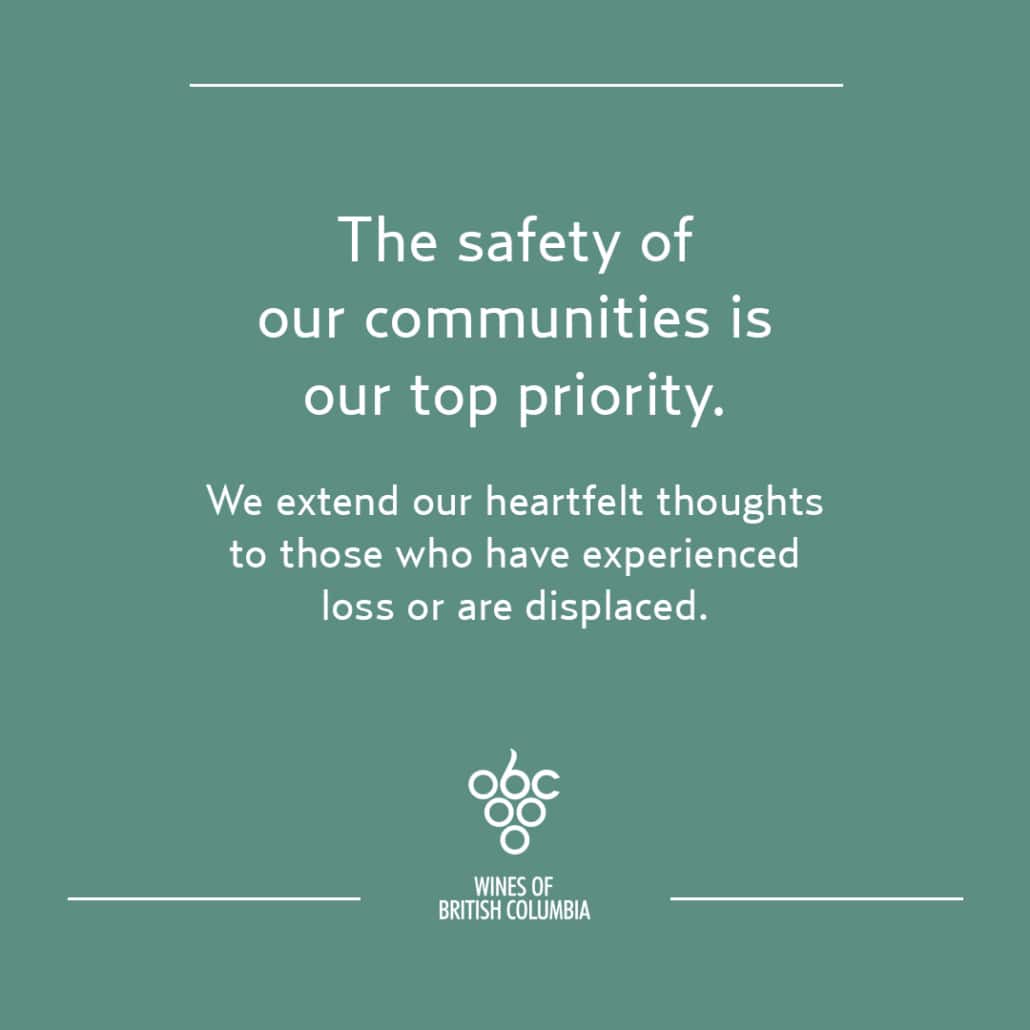 BC wineries prioritize the health and safety of their guests and community. All visitors are encouraged to follow individual public health measures and check in on the most up-to-date provincial health policies ahead of and during their stay.
We also recommend connecting directly with wineries in advance of your visit to ensure a smooth and easy winery experience. Know before you go if reservations are required or suggested, what wine experiences are on offer and what price range to expect for your tasting experience, and any other details you may like to know ahead of your visit.
What to know before you visit – FAQ's
What wineries are open?
Download the Wines of BC Explorer app to get up-to-date information on BC wineries operating hours and elevated winery experiences.
Should I make a reservation?
Some BC wineries offer tasting experiences by appointment only, so it's always best to call ahead and find out exactly what protocols and procedures the winery has in place before visiting.
What should I expect?
BC wine lovers can find a wide range of experiences offered by wineries throughout the province. By reviewing a winery's website or social media (or calling) ahead of your visit, you can know exactly what to expect, and seek out wineries that are offering your preferred experience. The Wines of BC Explorer App is a great resource if you plan to be touring BC wineries. "Know before you go" if reservations are required or walk-ins welcome, if there is an elevated experience being offered, or the ability to simply taste and buy quickly.
Are BC wineries accessible?
In support of Accessible British Columbia Act, it is a goal of the BC Government to elevate BC into the most progressive province in Canada for people with disabilities. Wine Growers British Columbia and the wineries of BC support this goal through implementation of accessible friendly venues and experiences. Visitors to our wine-trip-planning Wines of BC Explorer App can use the search filter function to discover accessible wineries. The Wines of BC Explorer App also features an 'accessible wineries' list available here.