BC Blueberry Glazed Chicken Thighs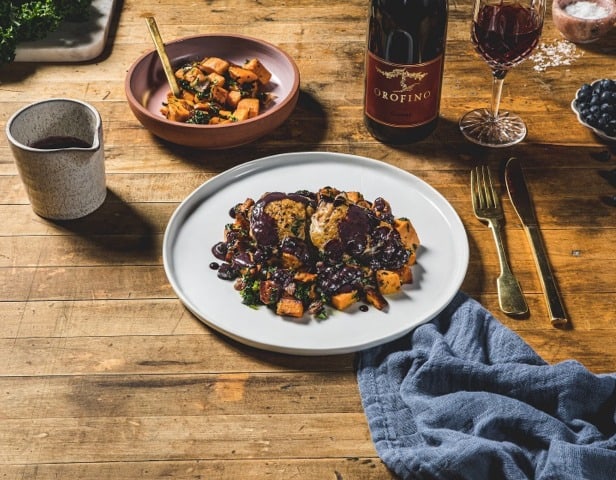 Serves 4
Total Time: 1 hr
Prep Time: 20 minutes
Cook Time: 40hours
Ingredients:
BC Chicken:
8 chicken thighs bone in skin on
Salt and pepper for seasoning
2 cloves of garlic
1 bunch of thyme
2 tbsp butter
2 tbsp canola oil
Hash:
2 sweet potatoes
8 leaves of kale thinly sliced
8 slices bacon
2 green onions finely sliced
2 Tbsp butter
Salt and pepper to taste
Blueberry Glaze:
2 cups BC blueberries, fresh or frozen
½ small white onion chopped
1/4 cup balsamic vinegar
1/4 cup maple syrup
1 tbsp chopped rosemary
1 tbsp chopped thyme
½ cup beef stock
How To Make It:
Preheat oven to 475°F.
Season chicken with salt and pepper.
Heat oil in a 12″ cast-iron or heavy non-stick skillet over high heat until hot but not smoking. Place chicken in skillet, skin side down, and cook 2 minutes. Reduce heat to medium-high; continue cooking skin side down, occasionally rearranging chicken thighs to evenly distribute heat, until fat renders and skin is golden brown, about 10 minutes.
While chicken is browning, begin preparing the blueberry glaze. Cook onions in 1 tbsp olive oil, for 5 minutes or until soft and translucent. Add 1 cup blueberries and cook for another minute until juices release and they are softened. Deglaze pan with beef stock and reduce by half, then add balsamic vinegar, maple syrup, thyme and rosemary. Reduce for 10 minutes on low heat. Pour sauce in blender and blend. Strain the sauce back into the pan discarding any solids. Throw in the rest of the blueberries and cook for another 5 minutes over medium heat until softened and juices are released.
Transfer skillet with chicken to oven and cook 10 more minutes. Flip chicken; continue cooking until skin crisps and meat is cooked through, about 5 minutes longer. Put pan back on medium heat throw in thyme, garlic, and butter, baste chicken for another 5 minutes. Transfer to a plate; let rest 5 minutes before serving.
While chicken is in the oven preheat a medium sauce pot over medium high heat. Heat 4 tablespoons of extra virgin olive oil in a large skillet over medium heat. Once hot, add in the finely diced sweet potatoes, finely sliced bacon, and season very generously with Kosher salt and freshly ground black pepper.  Cook mixture, stirring occasionally, until sweet potatoes are cooked through and tender, about 15-18 minutes. Add kale into the skillet approximately during the last 5 minutes of cooking. Throw in butter and scallions. Taste the hash and season with additional salt or pepper if needed.
To plate, place a portion of hash on bottom of plate, top with two golden brown chicken thighs, then drizzle blueberry reduction over top.  Pair with a glass of Orofino Gamay.