Organic Beetroot Salad & Lady Jane Cheese Estate Mint, Blackberry, Sorbet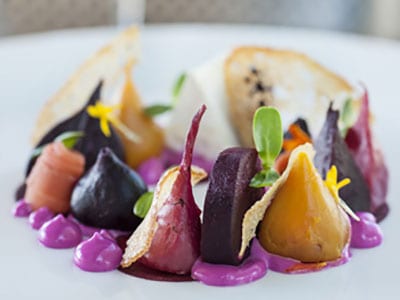 This dish is a perennial favorite for our menu at the Terrace Restaurant. The simplicity of the dish is the key. Clean flavours not complicated ones as the quality of the ingredients speak volumes on their own. You can chose to serve as individual salads as we would do in the restaurant or tossed together family style. Pair this dish with Mission Hill Family Estate Reserve Pinot Noir.
INGREDIENTS
4 Large beets or 16 smaller ones
Balsamic vinegar
Star anise
Cinnamon stick
Fresh thyme
1 pc Farm House Lady Jane Cheese
12 Mint Leaves
1 pt blackberries
Good quality olive oil (XVOO)
Sea salt
Beet sorbet as below
METHOD
Cook the beets after washing in water with the sub listed ingredients. How much depends on your taste, I like a decent amount of vinegar (15% of the total liquid) for the acidity
Once cooked, remove from the liquid, peel the beets while hot
Cut as desired, let stand
Season with XVOO and salt as needed
Tear the mint leaves and add the blackberries
Combine with the beets
Portion the cheese as desired and serve with the salad
Add the sorbet to the top
Find that glass of Pinot Noir that you had in your hand…
Yield 4 portions. Enjoy!
BEET SORBET
In percentages as the desired volume of finished product dictates how much of the ingredients are required.
INGREDIENTS
50% – beet puree – beets cooked as above, peeled and then pureed
20% – sugar
20% – water
10% – sherry vinegar
METHOD
Bring the water and sugar to a boil to dissolve the sugar, remove from the stove
Add the beet puree and vinegar
Taste, season as needed
Chill the base, then spin in an ice cream machine
Serve with roasted beets.
Credit: Recipe and image provided by and property of Mission Hill Family Estate Winery and Executive Chef Matthew Batey.