Anchovy & Basil Crusted Lamb Rack with Sour Cherry Mint Jus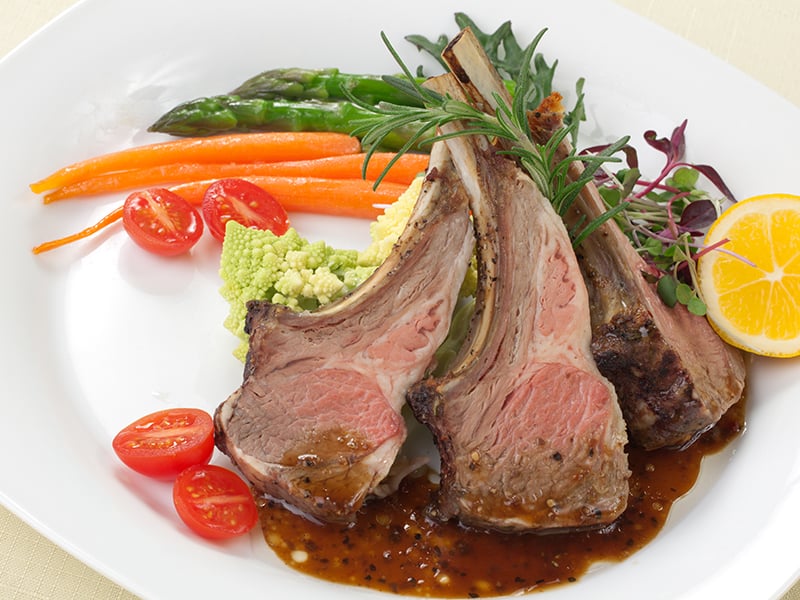 Perfect with Hester Creek Estate Winery 2010 Reserve Cabernet Franc (BC VQA).
INGREDIENTS
1/2 cup fresh basil
6 anchovy fillets
4 tbsp. olive oil
2 garlic cloves
1 cup Panko crumbs
METHOD
Blend all ingredients together, except the Panko crumbs. Season lamb with salt and pepper. Heat a frying pan on medium high heat and place four tbsp. of oil in the hot pan. Sear lamb on medium high heat until browned on both sides.
Take lamb out of pan and with a spoon spread the anchovy and basil crust onto the lamb. On a plate spread out the Panko crumbs; roll the lamb in the crumbs. Place the lamb into oven preheated to 450 F. Roast for 20 to 25 minutes.
SOUR CHERRY MINT JUS
INGREDIENTS
2 mint sprigs
1/2 cup sour cherries with juice
2 cups beef demi-glace red wine
METHOD
Bring to a simmer on the stove and reduce by two-thirds.
Remove lamb from the oven and let it rest for four to five minutes before you cut it. Strain sauce, then slice lamb between each bone and arrange as you wish on a platter. Pour demi-glace around the lamb.
---
Credit: Recipe submitted by Terrafina Restaurant.