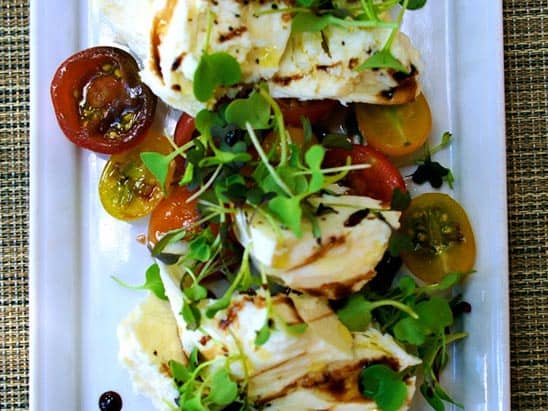 Try out this tasty salad for your next dinner. Courtesy of Natasha Schooten – Terrafina at Hester Creek Winery. This recipe can also be found in The Butcher, The Baker, The Wine & Cheese Maker – An Okanagan Cookbook
Yield: 4 Salads
SALAD
2 heirloom tomatoes, cut into quarters
1 ball (175 g) buffalo mozzarella, torn into 12 pieces
BALSAMICO REDUCTION
Yield: ¼ cup
INGREDIENTS
¾ cup (200 mL) of red wine vinegar (1 bottle)
1 ½ cup (400 mL) of white balsamico vinegar (2 bottles)
4 cups (1 L) port
2 tbsp (30 mL) honey
METHOD
Put both the vinegars in a saucepot and bring to rapid simmer until the liquid is reduced by one third.
Add the port and keep reducing at rapid simmer rate.
When liquid is reduced by half, add in the honey and reduce until syrup consistency.
Store at room temperature until ready to use.
To serve: Use a pastry brush, "paint" a line of reduction across the bottom of each plate. Add two pieces of tomato and three pieces of buffalo mozzarella, arranging as you like.
Top with a nice kosher salt and a little of the canola oil, then finish with the balsamico reduction.
CANADIAN PRODUCERS TO LOOK FOR
Vinegar Works (Red and White Balsmic Vinegar)
Fairburn Farms (Buffalo Mozarella)
Highwood Crossing (Organic First Press Canola Oil)
Harker Farms (Heirloom Tomatoes)