Mediterranean Braised Turkey Drumsticks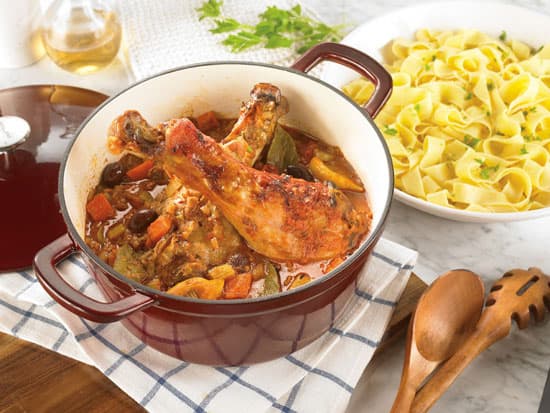 A wine with some Mediterranean tones of its own will marry well with the complex tastes and textures in this dish, courtesy of Turkey Farmers of Canada. Try pairing Tinhorn Creek Vineyards 2009 Cabernet Franc with this dish.
INGREDIENTS
3 Canadian Turkey Drumsticks (approx. 1.5 kgs/ 3.5 lbs.)
Salt and Pepper
8 cloves fresh Garlic, finely chopped
3 Tbsp (45 mL) virgin Olive Oil
BRAISING SAUCE
INGREDIENTS
2 large Onions
4 stalks Celery
2 large Carrots, peeled
1/2 Green Bell Pepper
1/2 Fennel Bulb
1 28 fl.oz. (796 mL) can Italian Tomatoes
2 cups (500 mL) Poultry Stock
1/4 cup (60 mL) Red Wine Vinegar
1 1/2 Tbsp (22 mL) Brown Sugar
1 Tbsp (15 mL) Dijon Mustard
1 cup (250 mL) Kalamata Olives, drained
1/2 fresh Lemon, quartered
1 Tbsp (15 mL) dried Oregano
1 tsp (5 mL) dried Chili flakes
2 sprigs fresh Rosemary
4 sprigs fresh Thyme
2 Bay leaves
1 cup (250 mL) Italian Parsley, freshly chopped
DIRECTIONS
Chop the following into medium dice: onions, celery, carrots, green bell pepper and fennel bulb.
Cover the turkey drumsticks with salt and pepper and 1/4 of the fresh chopped garlic.
Brown turkey on all sides, in a large, oven-proof braising dish or casserole dish.
Remove the meat after 20 minutes and add all the vegetables, the rest of the garlic and sauté for 10 minutes.
Add the tomatoes, stock and balance of ingredients, then add the turkey drumsticks, making sure that they are covered well with sauce.
Cover the top of the pot with tin foil, making sure that it comes down the inside of the casserole and touches the top of the meat.
Place a lid on top and crimp the foil to seal around the edges. Bake in a 350ºF (175º C) oven for 2 hours then carefully remove lid and foil and continue to cook another 1/2 hour.
Serve over noodles, polenta or couscous.