Crispy Panko Turkey Cutlets with Asian Slaw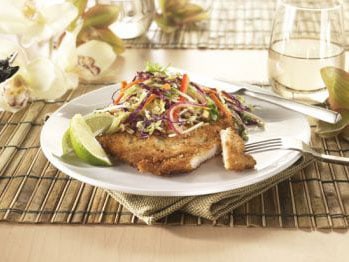 A wine with aromatic notes will match the elements of the Asian slaw and the sweet, savoury notes in these Crispy Panko Turkey Cutlets, courtesy of Turkey Farmers of Canada. Try pairing Sumac Ridge Private Reserve Gewürztraminer 2008 with this dish.
INGREDIENTS
CRISPY PANKO TURKEY CUTLETS
4 Canadian Turkey Breast cutlets OR
1 boneless, skinless Canadian Turkey Breast (approx 500g/1 lb.), cut into 4 cutlets
1/2 cup (125 mL) Flour
1 large Egg
2 Tbsp (25 mL) Milk
Salt and Pepper
2 cups (500 mL) Panko Bread Crumbs
1/2 cup (125 mL) Vegetable Oil
ASIAN SLAW
2 cups (500 mL) shredded Napa Cabbage
2 cups (500 mL) shredded Red Cabbage
1 Red Bell Pepper, thinly sliced
1 small Red Onion, thinly sliced
2 Carrots, julienned
6 Scallions, chopped
1/2 cup (125 mL) fresh Cilantro
1/2 cup (125 mL) crushed Peanuts
DRESSING
1/4 cup (60 mL) Rice Wine Vinegar
2 tbsp (25 mL) Canola or Vegetable oil
2 Tbsp (25 mL) Soy Sauce
1 Tbsp (15 mL) Brown Sugar
1 Tbsp (15 mL) grated fresh Ginger
2 tsp (10 mL) Sesame Oil
DIRECTIONS
CUTLETS
Place flour in a shallow dish or plate.
Mix together egg, milk, salt and pepper in another shallow dish or plate.
Place Panko bread crumbs in third shallow dish or plate.
Dredge each cutlet in flour and shake off the excess.
Proceed to the next plate and cover with beaten egg mixture.
Proceed to the last plate with Panko crumbs and coat turkey, pressing lightly.
When all four cutlets are prepared, heat pan to medium high and sauté two cutlets at a time in vegetable oil for 3-5 minutes each side.
Place in a 200º F (93º C) oven to keep warm and to ensure that they are fully cooked (cook until meat reaches an internal temperature of 170°F (77°C)).
ASIAN SLAW
Assemble this slaw and toss with dressing.
Refrigerate until cutlets are cooked, then serve on top.