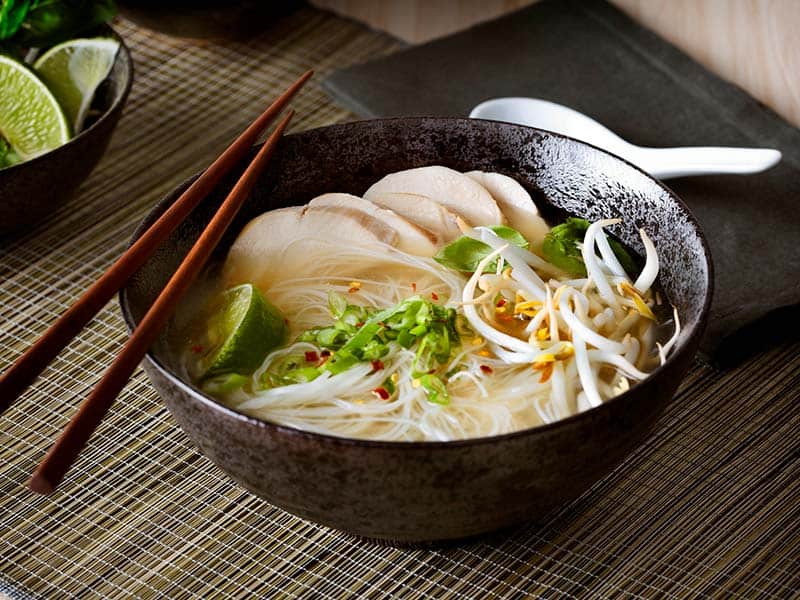 Choose and off-dry BC Riesling with crisp citrus flavours, mouthwatering acidity and touch of residual sugar which will complement the spicy chilli, fresh herbs and lime found in this warm, soothing soup. Recipe courtesy of the Turkey Farmers of Canada.
INGREDIENTS
EASY TURKEY STOCK
2 skin-on turkey drumsticks, roasted
8 cups (2 L) prepared vegetable stock
1 large onion, quartered
2 large carrots, peeled and cut in three
3 stalks celery, cut into chunks
1 bay leaf
6 peppercorns
PHO
8 oz (225 g) (1/3 of 24 oz./680 g package) rice vermicelli
2 lb. (1 kg) cooked turkey breast, sliced
1 cup (250 mL) green onions, chopped
1 tsp (5 mL) dried chilis
8 cups (2 L) turkey stock, thawed and warmed
Salt and pepper to taste
2 cups (500 mL) fresh bean sprouts
Fresh lime wedges
DIRECTIONS
TURKEY STOCK
Pour vegetable stock over roasted drumsticks, vegetables and seasoning.
Simmer for one hour.
Strain, discarding vegetables, decant and freeze or store in refrigerator for future use.
PHO
Soak vermicelli in hot water until tender (approximately 8 minutes).
In a large soup bowl, add vermicelli, sliced turkey, green onions, chilis and top up bowl with hot turkey stock.
Season with salt and pepper to taste.
Serve topped with fresh bean sprouts, and a lime wedge.