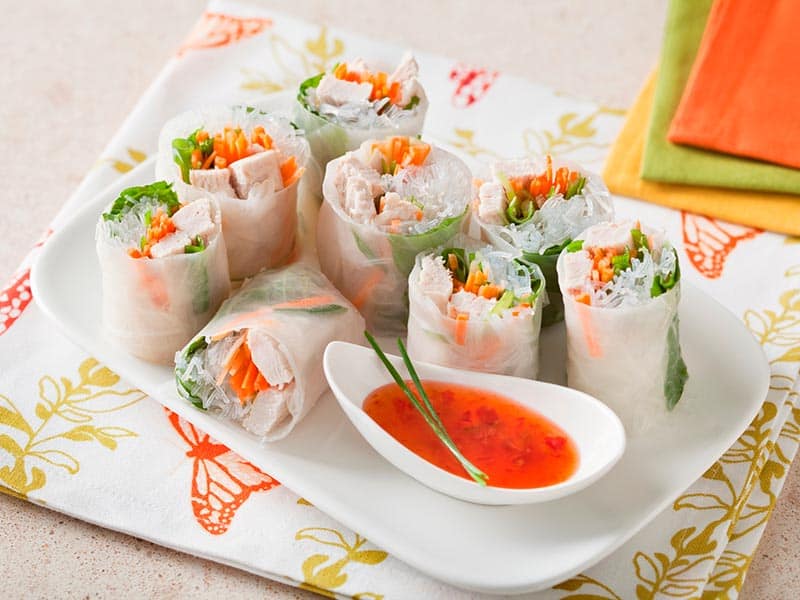 The fresh basil and cilantro in these spring rolls scream out for a fresh, vibrant wine. Look for an ever aromatic BC Ehrenfelser or Gewürztraminer with bright fruit aromas and floral notes which will complement the sweet and tangy Thai dipping sauce. Recipe courtesy of the Turkey Farmers of Canada.
INGREDIENTS
4 slices cooked turkey breast, sliced into long, thin strips
3 cups (750 mL) cooked rice vermicelli (half of a 454 g/1 lb. package)
1 cup (250 mL) grated, peeled carrots (1 large carrot)
1 bunch scallions or green onions, juillienned
1 cup (250 mL) fresh basil leaves
½ cup (125 mL) fresh cilantro leaves
8 rice paper wraps
½ cup (125 mL) sweet Thai dipping sauce
DIRECTIONS
Prepare vermicelli by pouring boiling water over until completely covered.
When noodles become soft, pour into a colander and rinse with cold water to stop the cooking process.
Leave the vermicelli in the colander until needed.
Prepare all ingredients except rice paper wraps.
When ready to assemble, fill a large bowl with warm water and spread out a dry tea towel on your work area.
Working with one rice paper at a time, soak it in the warm water until it becomes soft (1-2 minutes).
Keep the water warm as you make each roll.
Gently take the wrapper out of the water and lay it out on the tea towel.
Place two basil leaves, horizontally on the closest end of the wrapper, leaving 1 ½ inches (3 cm) around the edge of the wrapper.
Take a small handful of vermicelli and lay it on top of the basil.
Top with turkey slices, grated carrot, scallion and cilantro leaves, laying the ingredients in the same direction to ensure that they don't tear the wrapper.
Roll the closest end of the wrapper over the filling, then fold sides up to cover the ends of the filling.
Roll away from you until the spring roll is complete.
Place on a platter and start the next roll.
Keep rolls in the fridge until ready to serve.
Cut into two or three pieces and serve on a platter with Thai dipping sauce.