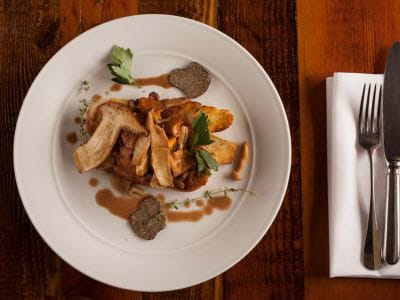 The Abbey, one of Vancouver's newer Gastown hotspots, has kindly shared their favorite BC VQA wine and food pairing. Chef and proprietor Andrey Durbach has provided us with a Perfect Pairing Recipe!
EAGLE BLUFF VINEYARDS CROOKED POST PINOT NOIR 2012
Michel Durocher, managing partner at The Abbey, explains "One of the more refined Pinot's in British Columbia; this is an elegant Pinot Noir with more Old World earthy notes that pairs perfectly with our Rabbit alla Cacciatore. The acidity in the wine is great for cutting through some of the richness in the dish. Paired with the rabbit, beautiful notes of cherry will start to show.
This is one of Bill Eggert of Fairview Cellars' wines, where he has become known in the province for producing some of the most consistent full bodied and structured reds. He continues his great work at allowing the grapes to be true to their own nature by utilizing a very light, almost delicate approach in working with the varietal.
INGREDIENTS
2 rabbit hind legs, about 200g each
2 thick slices of pancetta, diced
2 tbsp. olive oil
1 medium onion, diced
1 rib celery, diced
2 cloves garlic, thinly sliced
10g dry porcini mushrooms, soaked in 125 mL warm water, liquid reserved
6 button mushrooms, quartered
1 bay leaf
1 sprig rosemary, stem removed
4 sage leaves, torn into pieces
1/2 tsp. red chilli flakes
1/2 tsp. whole fennel seed
1 cup canned Italian plum tomatoes, with juice, roughly chopped
150 ml red wine
50 ml brandy
To taste, salt and black pepper
METHOD
In a cast iron pan, or ovenproof metal casserole, render the diced pancetta in the olive oil until lightly browned, keeping all the pancetta fat in the pan.
Add all the remaining vegetables (except tomatoes), herbs and spices, and cook slowly for 10 minutes. If the pan looks dry, another one or two tablespoons of olive oil can be added.
Add to the pan the reserved porcini mushroom liquid, red wine, brandy and tomatoes.
Season the rabbit legs with salt and pepper and add to the pan–no need to brown them.
Turn heat up to high, and bring to a boil, spooning the chunky sauce over top of the rabbit. The rabbit should have a decent layer of the vegetables and pancetta mixture covering the top.
Place a lid on the pan (or cover in tinfoil), and bake in the oven until rabbit legs are tender. This should take 45-60 minutes.
Serve with soft polenta, mashed potato or fresh pasta.
Serves two.