Salsify and Potato Fricassee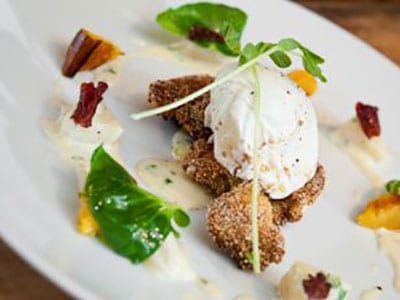 Served with Crispy Fried Evening Cove oyster and Poached Duck Egg.
Look for a wine with bright acidity to balance this dish and cut through the richness of the crispy oysters, bacon and poached egg.  A BC VQA sparkling wine is the perfect fit, fresh, lively and full of bubbles this pairing will ensure to keep your taste buds excited.
Yields: 4 servings
FOR THE FRICASEE
INGREDIENTS
3 tablespoon Butter
4 ounces Onion minced
1 tablespoons Garlic minced
3 tablespoons Flour
2 ounces White wine
6 ounces Chicken stock
6 ounces Fish Stock
(2 ) 1 1/2 inch cube Yukon Gold potato
10 ounces Salsify peeled, cut into 1 1/2 inch lengths
2 ounces Cream
1 ounce Chopped parsley and thyme
METHOD
In a sauce pan add butter until melted add onions cook until translucent, add garlic continuously stirring then add flour.
Cook flour for 2 minutes stirring the whole time. Deglaze with wine and add stocks.
Bring to a boil stirring until thicken, turn down to a simmer. Add Potatoes and Salsify
Cook potato and salsify until fork tender.
Add chopped herds and cream
FOR THE CRISPY FRIED OYSTERS
INGREDIENTS
2 medium Evening Cove Oysters
for dredging Corn meal
3 ounces Vegetable oil
to taste Salt and Pepper
METHOD
Heat oil in saute pan
Season Oyster with salt and pepper
Dredge in cornmeal
When pan is hot add oysters brown well on each side
Remove from pan rest on absorbent paper until ready to plate.
GARNISHES
Blanch Brussels sprout leaves
Bacon Lardons
Roasted cubed winter squash
Pea shoots
TO ASSEMBLE THE DISH
Place a bit of the sauce from the fricassee in the center of the plate.
Place  oyster on top of sauce, place poached egg on top of oyster
Drizzle sauce around egg an oysters.
Garnish with bacon lardons, squash, sprout leaves
Credit: Recipe and images provided by Chef Bradford Boisvert of Amuse on the Vineyard, Vancouver Island