BC Wine with a holiday twist!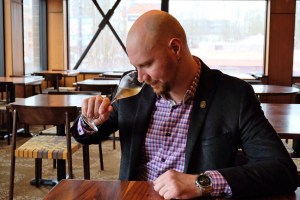 Sean Nelson has been a lifelong hospitality professional starting in the late 1990's and working from Dishwasher to Manager and Sommelier of Vij's Restaurant for four years, and now joins the Sommelier team at Hawksworth Restaurant. In 2016 he passed his Advanced Sommelier Examination to became Western Canada's youngest Advanced Sommelier, at the time, one of only 5 in British Columbia. He is currently planning to sit the Master Sommelier Examination in 2019. Working together with top restaurants, Sean has put together diverse, engaging yet approachable wine lists that combines familiar favourites with new discoveries and pushes the boundaries of food and wine pairing. Follow Sean on Twitter & Instagram: @SommWineGuy
The holiday season is here and with it comes many parties and reasons to celebrate.
Sean Nelson, Vancouver-based sommelier and the 2018 winner of The BC chapter of the Canadian Association of Professional Sommeliers (CAPS) BC's Sommelier of the Year Competition puts a fun holiday twist on BC Wine this season and recreates three of his favourite wine cocktails using premium BC VQA wines!
WATCH! Sean Nelson features premium styles of BC VQA Wine on Global News at Noon in a demonstration of  different ways to enjoy local 100% BC wine this holiday season!
Stay tuned for the segment live on Global News at noon, Friday, December 21, 2018.
Thirsty yet? Here is a list of Sean's top BC Wine Cocktail recipes to recreate for your next holiday party!
BC 75:
Make your French 75 – traditionally made with Champagne – into a BC 75 and enjoy this premium cocktail using a traditional method sparkling wine from BC. BC is producing top notch traditional method bubbles that top wine critics and sommeliers from around the world are raving about.
Ingredients:
– 1 oz gin
– 2 dashes of simple syrup
– 1/2 oz lemon juice
– 2 oz BC VQA Sparkling Wine
Method:
Combine gin, simple syrup, and lemon juice in a cocktail shaker filled with ice. Shake vigorously and strain into a chilled Champagne flute. Top up with a BC Sparkling Wine. Stir gently. Garnish with a zest of lemon.
Mistress:
BC Icewine harvest has began! Canada is home to the greatest Icewine in the world and BC Icewine is certainly a delicious and rare treat!  Unlike other Icewine producing regions of Canada and the world that experience these cold climatic conditions each year, Icewine harvest in BC is a rarity. The Okanagan Valley and Similkameen Valley are the only wine regions to regularly experience these temperatures in BC, but it is never a guarantee. Producers wait in anticipation each year for temperatures to drop, not knowing if or when they will have a window of opportunity to complete an Icewine harvest. More commonly produced in BC is Late Harvest wines, another delicious dessert wine but without the strict regulations, risks and costs associated with making Icewine.
Ingredients:
– 1 1/2 oz dark rum
– 1 1/2 oz BC VQA Dessert Wine
– 1/2 oz lemon juice
Method:
Combine rum, dessert wine, and lemon juice in a cocktail shaker filled with ice. Shake vigorously and strain into a chilled cup. Garnish with a zest of lemon.
Mulled BC VQA Wine:
While we crave warmth and spice at this time of year, it is hard to believe that BC is home to Canada's only desert and is producing world-class full bodied  reds. Pair a premium BC full bodied red with the season's spices and cozy up with friends and family by the crackling fire.
Ingredients:
– 100g sugar
– 1/2 vanilla pod
– 1 cinnamon stick
– 1 star anise
– 1 whole nutmeg
– 1 orange
– 1 lemon
– 1 lime
– 1 bottle of BC VQA Red Wine
Method:
Begin by peeling large sections of peel from the orange, lemon, and lime. Put the sugar in a saucepan over medium heat. Add the peels, the juice of the orange, the cinnamon, half vanilla pod, and five or so gratings of nutmeg. Then add just enough wine to cover the mixture. Simmer the mixture until the sugar has completely dissolved then bring to a boil for 5 minutes. Once you have your red wine sugar syrup, turn the heat down to low, add the star anise and the rest of the wine and slowly heat. You don't want this mixture to boil, just brought up to a warm serving temperature. Serve into your favourite mug and enjoy!
Happy holidays and "Clink Clink" Cheers to the New Year!