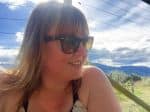 By Nikki Bayley – Award-winning Travel Writer, Guide Book Author, Wine, Spirits and Cocktail Journalist, Nikki writes B.C. Living's 'B.C. Wine 101' column, and writes regularly for the B.C. Wine Institute about wine, culinary, and everything else that makes B.C. wine country unforgettable.
'Write a holiday reds story!' said the BCWI. 'Make it fun!"
At first, I thought I'd write about delicious B.C. wines I love to glug by the fire whilst binge-watching Elf, Nightmare Before Christmas and all my other holiday favourites, but then I decided to tackle something a little trickier instead… that stubborn friend or relative who absolutely, positively will not drink anything but red wine, NO MATTER WHAT you give them to eat.
The plan? Get a bunch of wines into a real-life party food situation and see whether any B.C. red could take on the challenge of pairing with holiday snacks. I took a wildly subjective poll on Facebook to find popular favourites and came up with the following:
Bugles
Onion dip and Rip-L chips
Peppermint bark
Sausage rolls
Deviled eggs
Sugar cookies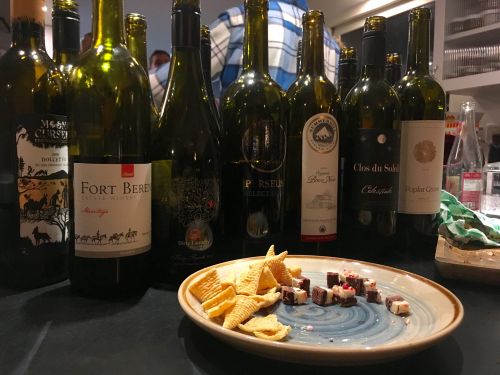 With the help of some elves (thanks Lindsay, Michael and Ariana, and all the wineries who supplied me with wine) we put together a festive feast, brown bagged our wines to ensure totally unbiased results, and invited over a crack panel of expert tasters.
Now all we had to do is find wines which would match any of these foods and not make us gag…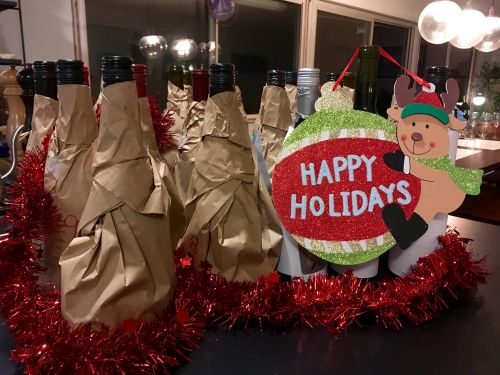 Things we learned pretty fast…
Sugar cookies go with almost nothing.
I am addicted to Roz's home-made onion dip (recipe below for enabling).
The more that you drink, the less weird a pairing of red wine and peppermint bark becomes.
Crystal's Bacon-Whisky dip makes almost everything better.
I tried to take nice photos, but in classic holiday party form, everything kinda unravelled…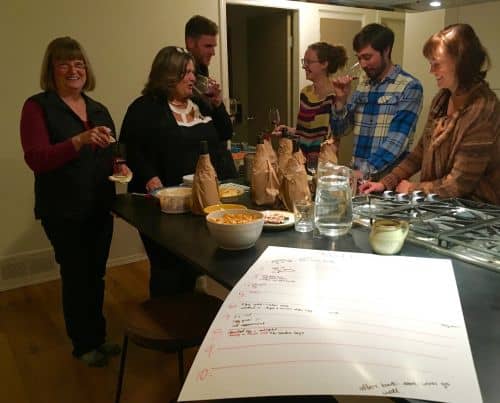 We worked hard. We tried everything, and so, for your drinking pleasure, here are:
15 BC Reds Which Totally Work with Pretty Much Anything You Throw at 'Em!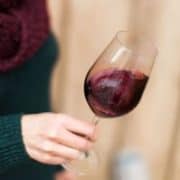 Deep Roots Gamay 2016
Great with deviled eggs; manages to keep velvety and even kinda works with onion dip. "You can actually drink and enjoy this," marveled one on the panel.
Fort Berens Estate Winery Meritage 2015
Great with sausage rolls; this meaty meritage from Lillooet winery, Fort Berens also does good service with chips and dip.
Noble Ridge Pinot Noir Reserve 2015
A bit of an all-rounder, this is a solid holiday party pairing, holding its own against deviled eggs, chips, and even the fiendishly impossible-to-pair-with-anything Bugles, and sugar cookies.
Dirty Laundry Kay Syrah 2015
Yaay – one more party pleaser wine from the party-loving folk at Dirty Laundry, their Kay Syrah pairs wonderfully with sausage rolls, eggs, dip, and it's not bad with bark either. The dip brings out a lovely blueberry note in the syrah.
Clos du Soleil Celestiale Meritage 2014
If you like snacking on Bugles and dip, this beauty from Clos du Soleil is just the job, the crunch and salt of the chips working with the acidity of the wine, making a truly great pairing.
Tantalus Pinot Noir 2015
A surprising pairing with desserts; turns out Tantalus's pinot is pretty great with bark, however, we all thought that it would benefit from a little more time to soften up. Note to self: try this again for Christmas 2018.
Nichol Syrah 2014
A roaring crowd pleaser, this worked wonderfully well with the eggs, and the onion dip, but went totally next level with Bugles and bacon dip, developing a gloriously black peppercorn note. SO good.
Therapy Pinot Noir 2016
Another workhorse of a wine, turns out that Therapy's blackcurrant-y pinot goes well with sausage rolls, deviled eggs, and makes the perfect partnership with onion dip.
Moon Curser Dolcetto 2016
Bright berry and plum flavours bloomed when we paired this with onion dip and eggs. Try it with bacon and chips for a match made in heaven.
Summerhill Pyramid Baco Noir 2015 Behold! The wine that paired with absolutely everything from sugar cookies and devilled eggs to dip and sausage roll. Not many people grow Baco Noir in B.C., turns out if you want a party pleaser, it's your grape!
Meyer Family Vineyard Pinot Noir 2016
It was easy to identify the very distinctive style of winemaker Chris Carson with Meyer's silky, juicy pinot. Easy to pick out of a line up but does it love Bugles? Yes, yes it does.
Poplar Grove Merlot 2014
A solid party companion who'll take you through dip, sausage rolls and even wind up tasting good through sugar cookies too. Good work, guys.
TH Wines Pinot Noir 2016
Speaking of wines which love Bugles, say hello to Tyler Harlton's pinot, which not only works well with a full compliment of snacks on your fingers, it does a killer job with bark too, totally smoothing it out with none of the 'drinking OJ after cleaning your teeth' vibe that most of the other wines had with peppermint chocolate.
Perseus Cabernet Franc 2014
Hopping between a classic 'pork and cork' pairing with sausage rolls, to a satisfying sugar cookie match too, give this full bodied lightly spiced baby from Perseus a little time to breathe before diving in.
Black Cloud Altostratus 2014
Maybe it's the intense cherry coke nose of this yummy smooth pinot noir, but it works wonderfully with chips and onion dip.

Holiday Dip Recipes to Note
Roz's Onion Dip
One package of dry onion soup mix. (I've often used Lipton, however, for the party it was Knorr I had on hand.) Mix with 16 oz sour cream and let meld together in the fridge at least 1/2 hour before serving. I added about 1/3 cup Miracle Whip because I like its tanginess and some folks use Mayo. I also like to add a few fresh chopped chives.
Crystal's Bacon-Whisky dip
Try the slow cooker version of this dip recipe with Forty Creek Barrel Select whisky.