BC wines in your glass, and BBQ on your grill
The forecast for summer is warm, sunny and social, and that means plenty of gatherings around the grill. How lucky for us that the season of outdoor dining coincides with the season of all British Columbia's culinary bounty, the berries, tree fruits, field vegetables and seafoods that are at their best right now.
This Canada Day and beyond, look to BC wine as a perfect partner for your favourite steaks and skewers, burgers and BBQ. Every wine region from Vancouver Island to the Kootenays offers deliciously food-friendly options—and each is a beautiful place to explore, now that we are able to do so again.
Access the complete Canada Day BBQ pairings list built right into our Wines of BC Explorer App that includes these helpful infographics designed by Wines of British Columbia to enjoy your best summer grilling ever.
Spiced skewers
Asian-style grilled skewers of chicken, seafood or pork are irresistibly fragrant with chilies, lime, basil, lemongrass, garlic, cilantro, ginger and soy. Light yet complex, they need a wine that complements their layered flavours without overwhelming them. They pair best with aromatic whites such as the citrusy, limestone-driven Rieslings of Harper's Trail, the spiced tropical fruit of a Baillie-Grohman Gewürztraminer or the subtle stone fruit notes of Pinot Gris, BC's most widely planted white grape.
Locate Harper's Trail Winery Riesling in Wines of BC Explorer App
Locate Baillie-Grohman Estate Winery Gewürztraminer in Wines of BC Explorer App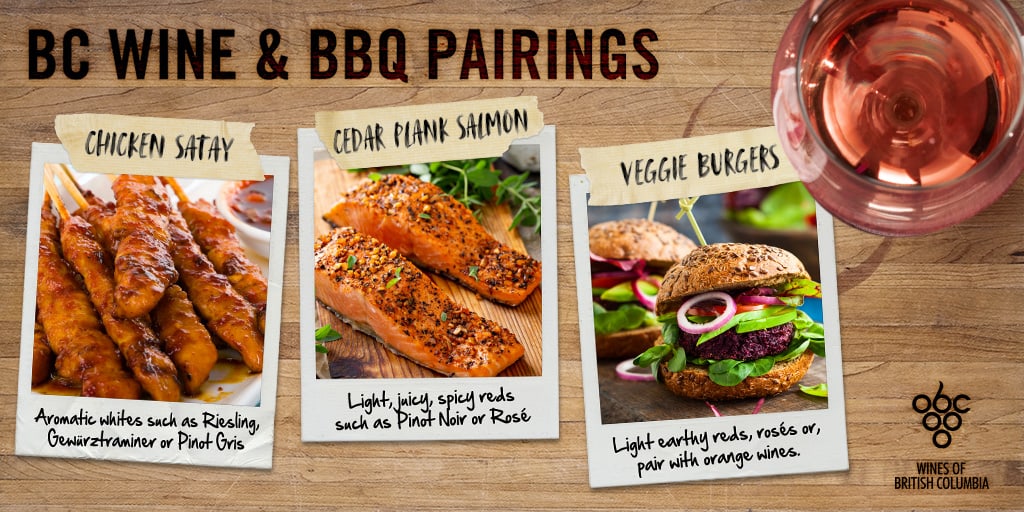 Seafood grill
The pristine waters off BC's coast are rich with sweet Dungeness crab, buttery spot prawns, tender halibut and briny shellfish. All this seafood bounty tastes best when it's tossed on the grill, and even better when it's paired with a BC Chardonnay, especially one with just the lightest touch of oak. Two to try: Fort Berens Chardonnay, an affordably elegant expression of lemon rind, peach and apple; and Quails' Gate Chardonnay, with its vibrant citrus, stone fruit and buttery notes.
Locate Fort Berens Estate Winery Chardonnay in Wines of BC Explorer App
Locate Quails' Gate Estate Winery Chardonnay in Wines of BC Explorer App
Plant-based mains
From portobello-mushroom or cauliflower steaks to commercial meat substitutes, plant-based mains tend to have an earthy, umami-rich flavour that demands a wine with body, acidity and complexity. Rosés are an easy and versatile choice, but orange wines can be an even better one. These are white wines that have been made like red ones, fermented on the skins to develop exciting tart and savoury characteristics. Two to try are Little Farm Winery's Pied de Cuve Orange and Stag's Hollow Vidal Orange Wine.
Locate Little Farm Winery Pied de Cuve in Wines of BC Explorer App
Locate Stag's Hollow Vidal Orange Wine in Wine of BC Explorer App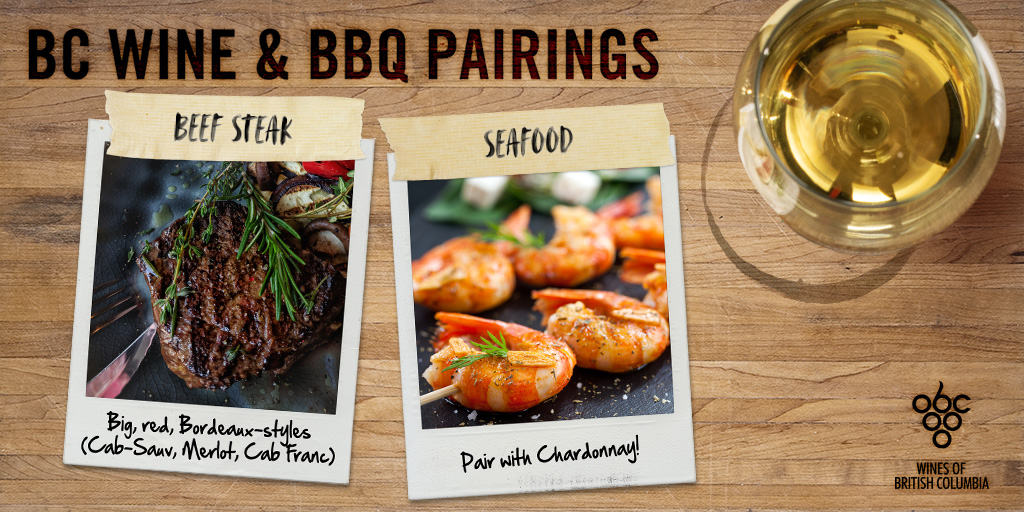 Grilled salmon
If BC has a signature food, it's salmon, whether smoked, grilled or planked. Unlike many other fin fish, its fatty texture and rich flavour can overwhelm a lot of white wines. A better partner can be a light-bodied, spicy red Pinot Noir like Foxtrot Vineyards' value-driven Foxly range, which burst with ripe berry flavours and baking spices. If you prefer something lighter, try a rosé like the delicately scented ones from Unsworth Vineyard.
Locate Foxtrot Vineyards Pinot Noir in Wines of BC Explorer App
Locate Unsworth Vineyards Pinot Noir in Wines of BC Explorer App
Southern-style BBQ
Smoky, sweet, tangy, spicy, salty, bold—there's a lot going on with that slow-cooked brisket or ribs, making this a challenging style of food to pair. The wine needs enough weight to balance the big flavours, with bright acidity to cut the fattiness and soft, supple tannins that won't fight with the spice. A light-to-medium-bodied, fruit-forward red such as Gamay is ideal. We love the ones produced by Desert Hills Estate Winery and Rust Wine Co.
Locate Desert Hills Estate Winery Gamay in the Wines of BC Explorer App
Locate Rust Wine Co. Gamay in the Wines of BC Explorer App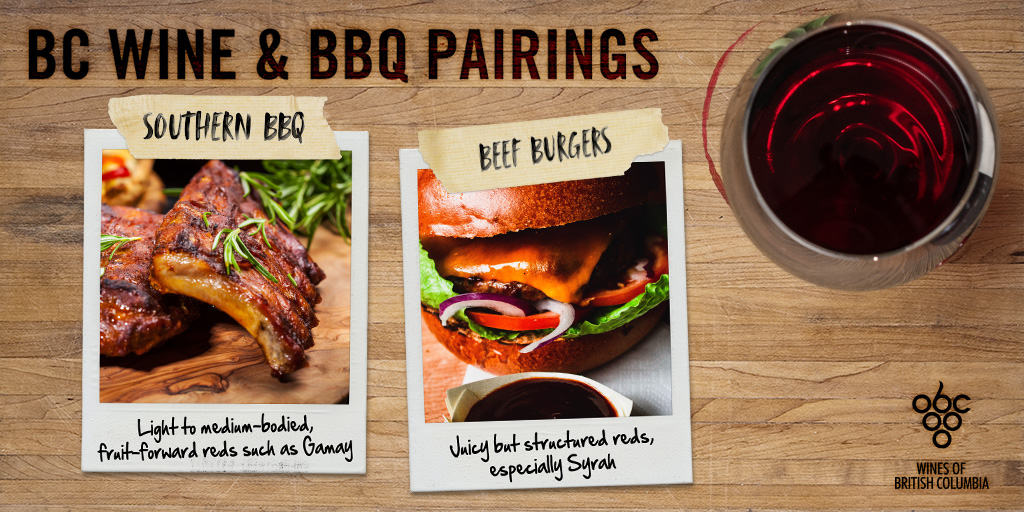 Beef burgers
Kissed with smoke, gooey with melted cheese, tucked inside a fluffy brioche bun—could anything be better than a fresh-grilled burger on a lazy summer day? Well, yes—a juicy but structured red wine to pair with it, perhaps a plummy Syrah like the one from Sandhill, or a softly ripe Merlot, such as the well-crafted Hester Creek Selected Barrels or the luxe CheckMate End Game.
Location Sandhill Wines Syrah in the Wines of BC Explorer App
Locate Hester Creek Winery Select Barrels Merlot in the Wines of BC Explorer App
Locate CheckMate Winery End Game Merlot in the Wines of BC Explorer App
Steak
For your fancy ribeyes and New York strips, nothing will do but a big, rich, luxurious Bordeaux-style red blend (sometimes called Meritage). These wines combine the structure of Cabernet Sauvignon, the dark berry and floral notes of Cabernet Franc and the ripe red fruit of Merlot to create complex wines that beautifully complement high-quality beef. These tend to be special occasion wines, at special occasion prices, such as the Painted Rock Red Icon, Black Hills Nota Bene and Vanessa Vineyard Meritage.
Locate Painted Rock Estate Winery Red Icon in the Wines of BC Explorer App
Locate Black Hills Estate Winery Nota Bene in the Wines of BC Explorer App
Locate Vanessa Vineyards Meritage in the Wines of BC Explorer App
---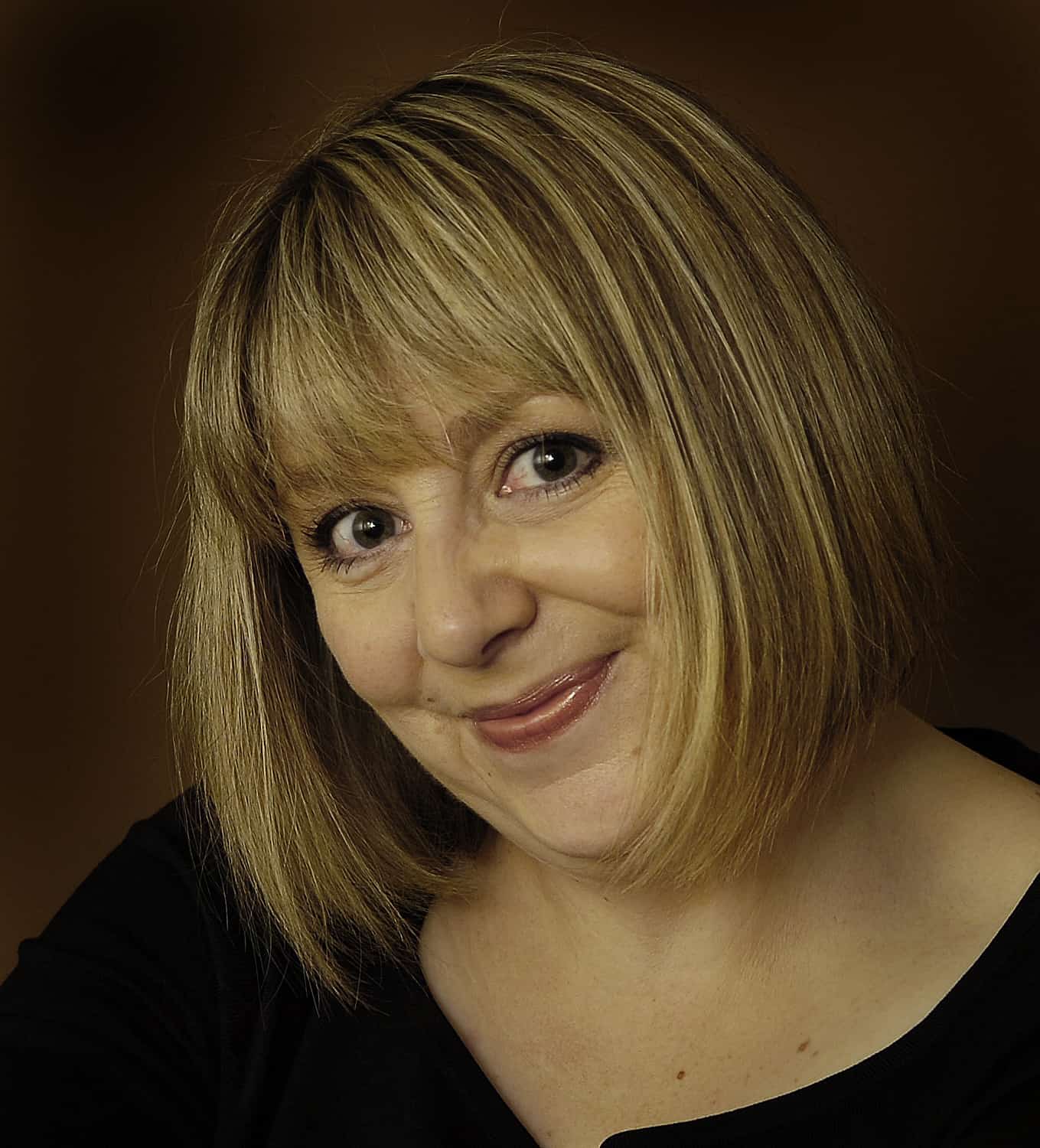 By Joanne Sasvari – Joanne is a food, drink and travel writer based in North Vancouver. She is editor of Vitis, The Alchemist and Westcoast Homes & Design magazines, and contributes to Edible Vancouver, Postmedia Networks, Destination BC and other publications including Food & Wine. She is also the author of Vancouver Eats, the IACP-shortlisted Wickaninnish Cookbook and the forthcoming Island Eats, as well as the website PlumandPepper.ca. Follow her on Twitter @JoanneSasvari and Instagram @josasvari.