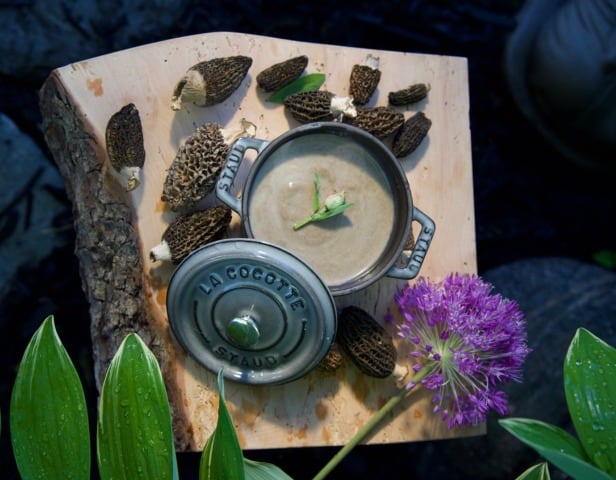 BC Wine Pairing; BC Sauvignon Blanc, Pinot Gris, or Pinot Noir
Serves 4
Total Time:  1 hour 35 minutes
Prep Time:  15 minutes
Ingredients

6 tablespoons butter (3oz , 90ml) (extra virgin olive oil may be substituted)
1 large onion thinly sliced (leeks may also be used)
2 cloves garlic chopped
12 ounces (350 grams) mushrooms coarsely chopped
3 cups chicken or vegetable stock
1 cup dry white wine
1 sprig parsley (for a bolder flavour a sprig of fresh rosemary may be used; this is a good option for brown mushrooms but is too strong for chanterelles or white buttons)
2 ounces sherry or port
salt and pepper
(for a vegan version, use extra virgin olive oil and vegetable stock in place of butter and chicken stock)
Method
Over medium heat melt two tablespoons of the butter in a saucepan. Toss in the onion & garlic and cook until soft but not browned. Toss in the remaining butter and then add the mushrooms. Cook for 10 minutes.
Pour in the chicken or vegetable stock and wine, add the parsley, and bring to a boil. When bubbling, reduce to a simmer and cook for an hour.Pour soup into a blender; you need to do this in stages or you risk getting hot mushroom soup everywhere.  Fill the blender ¼ full, hold the lid on tight.  Blend on high speed, until smooth.Pour blended soup in a separate pot and refill the blender.  Repeat until all the soup is blended.
Lightly simmer for 20 minutes.  Pour in the sherry, and season with salt and fresh ground pepper.
Optional
As a final optional flourish, once the soup is in serving bowls, drizzle a couple drops of truffle oil or grate a tiny amount of fresh truffle on the top of each bowl.
BC Wine Pairing Examples
Maverick Estate Winery Sauvignon Blanc | App
Sperling Natural Organic Amber Pinot Gris (orange) | App
Niche Wine Co. Pinot Noir | App