BC TOMATO PEACH PANZANELLA SALAD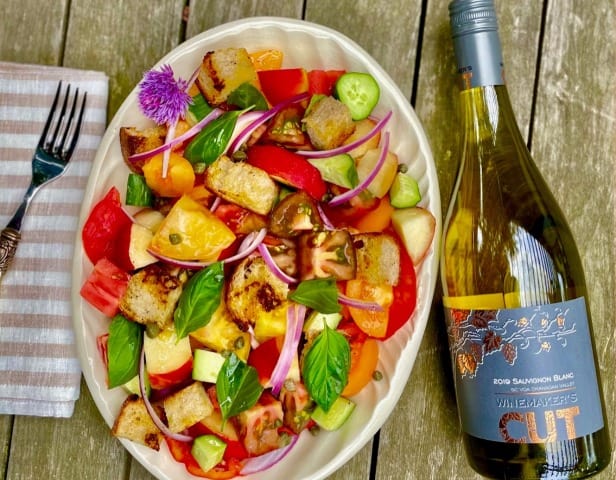 BC Wine Pairing; BC Riesling, Sauvignon Blanc or Sangiovese
Serves 4
Total Time:  20 minutes
Prep Time:  15 minutes
Ingredients
2 thickly sliced bread, large cubed, drizzled with olive oil and rubbed with a ½ garlic clove
2 -3 large heirloom tomatoes, cubed
1 large peach, cubed
1 medium cucumber, peeled & cubed
½ cup red onion, thinly sliced
A handful of basil leaves, torn into small pieces
2 Tbsp capers, drained
Maldon sea salt
Vinaigrette Dressing
1 clove, finely minced garlic
1/2 tsp Dijon mustard
3 Tbsp Champagne vinegar
1/2 cup good extra virgin olive oil
1/2 tsp kosher salt
1/4 tsp freshly ground black pepper
Method
Toast olive oil drizzled bread cubes in a cast iron pan at medium heat until golden brown.
Instead of a salad bowl, I prefer a platter to ensure even distribution of dressing and for visual impact. It is so darn pretty!
Toss ingredients together on the serving platter prefer and drizzle with vinaigrette, top with Maldon sea salt to taste. Let set for a few minutes to give the bread time to absorb the delicious juices.
Finish with crispy croutons and basil. If you want to make it more of a lunch meal, add a ball of luxurious burrata or fresh mozzarella from a local vender at the Farmer's Market and fresh bread.
BC Wine Pairing Examples
O'Rourke Peak Cellars Riesling | App
Winemaker's Cut Sauvignon Blanc | App
Summerhill Pyramid Winery Sangiovese | App