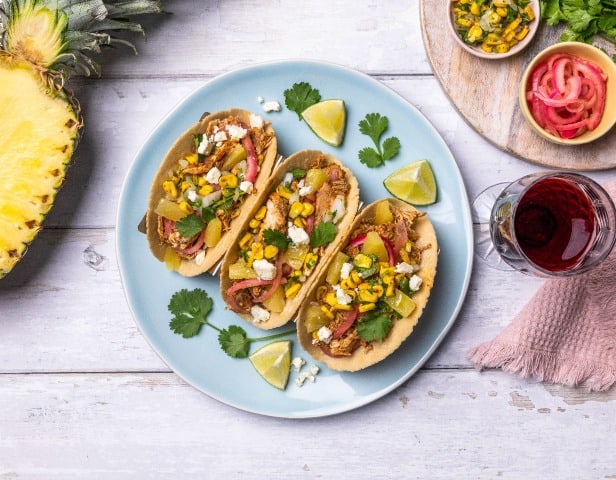 BC Wine Pairing; Pinot Noir, Gewürztraminer
Serves 4 
Total Time:  100 minutes + overnight marinade
Prep Time:  70 minutes
Cook Time: 30 minutes
Ingredients

8 boneless skinless chicken thighs
8 tortillas
½ cup crumbled feta cheese
Chicken marinade:
1 tbsp cumin
1 tbsp coriander
1 tsp chili flakes
2 bay leaves
1 tsp oregano
2 tbsp garlic powder
2 tbsp chili powder
2 tbsp vegetable oil
4 tbsp lime juice
Pickled red onion:
1 large red onion, thinly sliced
½ cup white vinegar
½ cup red wine vinegar
1cup water
1 tsp salt
1/3 cup sugar
Grilled Pineapple salsa:
1 red onion, finely diced
¼ cup chopped cilantro
1 tsp salt
1 tbsp olive oil
Juice and zest of 1 lime
1 can of sliced pineapple
Instructions
Place your thinly sliced red onion in a heat proof container. In a small sauce pot bring your water, white vinegar, red wine vinegar, salt and sugar to a boil. Stir until sugar is dissolved. Pour boiling pickling mixture over the onions and allow to cool. Cover and store in fridge until ready to use. 
Combine all ingredients for chicken marinade into a blender and blend until a smooth paste is formed. Add a touch more vegetable oil to reach desired consistency. In a plastic or glass container, pour mixture over 8 boneless, skinless chicken thighs. Toss to coat evenly and cover. Place marinade in the refrigerator a minimum of 1 hr or overnight for the best result. 
Preheat a grill to medium high heat. Place chicken on grill while keeping as much of the marinade on the chicken as possible. Cook chicken for 5 minutes a side until it is fully cooked through and nice grill marks arise. Remove from grill, and chop into nice bite sized chunks.
For more recipes, link to BC Chicken
BC Wine Pairing Examples
Hillside Winery Gewürztraminer | App
Meyer Family Vineyards Pinot Noir | App
Wild Goose Winery Gewürztraminer | App