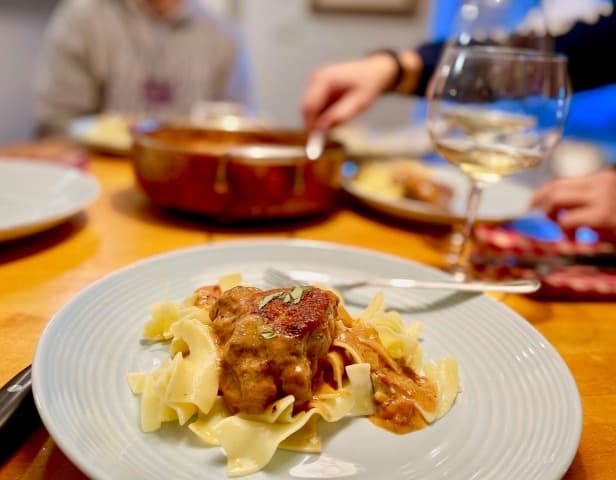 BC Wine Pairing: Chardonnay, Viognier or Pinot Noir
Serves 4
Total Time: 2 hours + 45 min to bring chicken to room temp
Prep Time: 30 minutes
Cook Time: 1.5 hours
Ingredients: 
8 skin on, bone in chicken thighs
3 Tbsp butter
2 Tbsp canola oil
1 medium sweet onion, diced
3 cloves of garlic, minced
3 Tbsp Hungarian Paprika (I mix 2 Tbsp sweet paprika with 1 Tbsp of hot smoked paprika)
3 Tbsp all-purpose flour
1 cup canned, crushed tomatoes (I like Muir Glen fire roasted)
1 cup of chicken broth
1 cup of sour cream room temperature
Salt and pepper
Parsley, minced
1 package of extra broad egg noodles
Method:
Take chicken out of the fridge 45 minutes to an hour before you cook to bring closer to room temp.
Preheat the oven to 375 F.
Season chicken generously with salt and pepper. Heat 2 Tbsp oil and Tbsp butter a high sided sauté pan with lid or Dutch-oven on medium high. When butter begins to foam, add chicken and sear skin-side down until golden brown and crisp, about 5 minutes per side and remove to a plate.
Drain pan leaving one tablespoon of the accumulated fat and reheat to medium.  Add the onion and cook about 5 minutes to soften, stirring and scraping the bottom with a flat-bottomed wooden spatula to deglaze the pot with the liquid that comes from the onions. Then add the garlic and stir, cooking 2 more minutes until it softens. Add the flour and the paprika, stir well and cook another 4 minutes.
Now add the tomatoes and broth and whisk until smooth.  Arrange the chicken skin side up in the pan. The tops will not be completely submerged in the sauce, cover and transfer to the oven for 45 minutes or 1 hour or until fork tender. Remove the chicken to another baking dish and turn oven on broil.
Turn up the heat on the sauce to medium and whisk in the sour cream to thoroughly combine and turn off heat.  Broil chicken for a couple of minutes to crisp the skin back up and add colour before nestling it back into the now creamy sauce for serving presentation.
While the chicken is in the oven, heat large pot of heavily salted water to a boil and cook the noodles for 10 minutes (or according to package instructions).  Drain and toss in a bowl with the remaining butter.
Serve the chicken on top of the noodles, ladle the amazing sauce over all and finish with a sprinkling of parsley.