Wild BC Salmon Wellington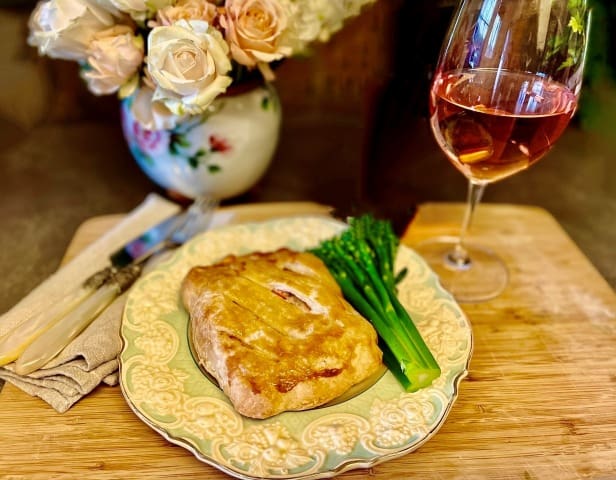 BC Wine Pairing; pair with BC Rosé

Serves 2
Adapted from The B.C. Wine Lover's Cookbook published by Appetite by Random House
Total time: 60 min
Prep time: 20 min
Cook time: 38-40 min
Ingredients
2 – 6 oz skinless Wild BC Salmon Fillets
1/2 cup mayonnaise
1/4 cup Dijon mustard
1/2 cup thinly sliced leek (white and light green part only)
1/2 cup packed baby spinach leaves, chopped
1/4 cup feta cheese, crumbled
2 Tbsp fresh dill, chopped
2 tsp lemon zest
1/4 tsp garlic powder
1 sheet frozen puff pastry, thawed
1 egg, beaten
salt & freshly ground black pepper
Method 
Preheat oven to 375 degrees.
Season fish with salt and pepper.
In a medium sized bowl mix together the mayonnaise, Dijon mustard, leeks, spinach, feta, dill, lemon zest and garlic powder.
Gently unroll the puff pastry and cut sheet in half.
Place the salmon grey side up (skin side) in the centre of the rectangle of puff pastry and top with half of the filling.
Fold each side of the pastry over the fillets, then fold ends over and pinch to seal. Place seam side down on a parchment paper lined cookie sheet.
Cut 3 vents on top of the pastry with sharp knife, and brush with egg. Pop into oven for 37-40 minutes or until golden brown.
BC Wine Pairing Examples