Confit Wild Salmon with Caviar Cream Sauce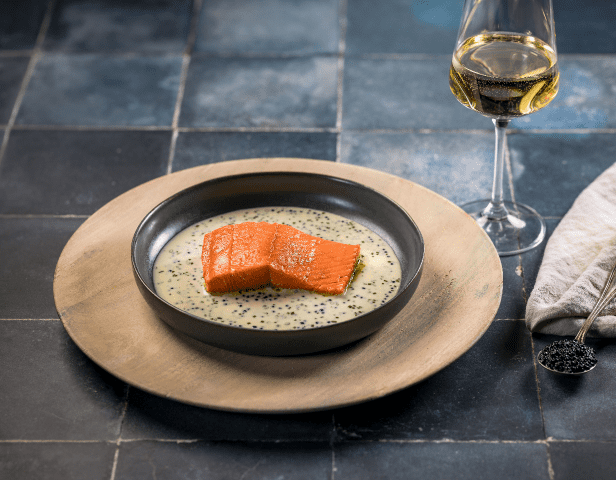 BC Wine Pairing; BC Chardonnay, Riesling, or white blend
Serves 4
Total Time:  1 hour and 30 minutes
Prep Time:  30 minutes
Cook Time: 1 hour
Ingredients:
For Salmon:
4 Wild BC Salmon filets
2 sprigs thyme
Zest of one lemon
80g salt
40g sugar
10g coarse ground black pepper
½ bunch dill finely chopped
2 cups olive oil
Cream Sauce:
1 tbsp butter unsalted butter
2 tbsp shallot diced
1 tbsp Champagne vinegar
1/2 cup dry white wine
1/2 cup fish stock
1/2 cup heavy whipping cream
4+ tsp mujjol caviar, adjust to your taste
2 tbsp finely chopped chives
Salt and pepper to taste
Method
Preheat oven to 150 °F
In a bowl mix together the salt, sugar, lemon zest, thyme, black pepper, and dill. Stir the salt mixture thoroughly. Place the salmon filets in a deep dish and cover generously with the salt mixture. Cover and refrigerate for at least thirty minutes and up to 6 hours.
Remove salmon from the fridge and rinse under cold water, pat dry with a paper towel and then place in an oven safe baking dish and submerge them in the olive oil.
Bake in the oven at 150 °F for 1 hour.
While the fish is baking start your cream sauce 30 minutes in.
In a saucepan, melt a tablespoon of butter over medium heat. Add shallots and sweat for a couple of minutes, without browning.
Add champagne vinegar and let it almost evaporate. Add wine, fish stock, crushed pepper and reduce until syrupy.
Add cream and bring to simmer, stirring until thickened. Turn off the heat and season with salt, adjust to your taste. Keep warm until ready to serve. Add caviar and chives right before serving.
BC Wine Pairing Examples
Terravista Vineyards Figaro | App