Herb Crusted Wild BC Salmon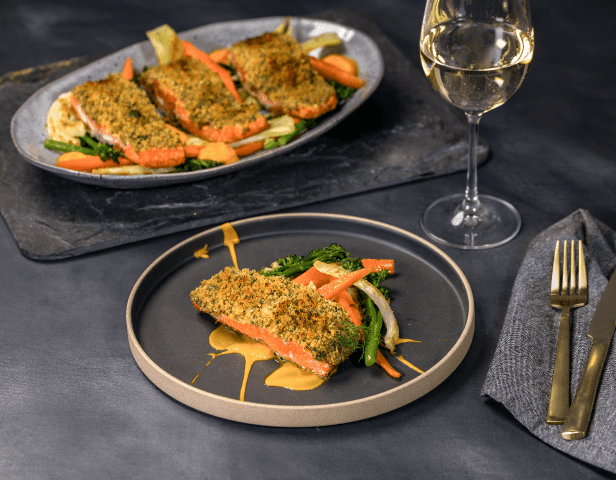 BC Wine Pairing; BC Sauvignon Blanc or Pinot Noir
Serves 4
Total Time:  60 minutes
Prep Time: 20 minutes
Cook Time: 40 minutes
Ingredients:
4 Wild BC Salmon filets
2 tbsp whole grain mustard
1 cup breadcrumbs
1 bunch parsley chopped
4 tbsp olive oil
Zest of 1 lemon
1 bunch carrots
1 fennel (sliced)
2 tbsp olive oil
Salt and pepper to taste
Sweet potato Puree:
1 large sweet potato (peeled and chopped)
2 cloves garlic
1 tbsp butter
Salt to taste
Seasonal vegetables
1 bunch broccolini
Method
Preheat oven to 375 °F
Bring a large pot of water to boil. Cook the carrots and broccoli in the water for 30 seconds. Remove and set on a baking sheet. Add the fennel and drizzle with olive oil and season generously with salt and pepper. Roast in the oven for 15-20 minutes
Bring a pot of water to a boil over high heat. Add in your garlic and sweet potatoes and cook until fork tender. Transfer your sweet potatoes to a blender or food processor and cover half way with your cooking liquid. Blend until smooth. Mix in hour table spoon of butter and season with salt to taste.
Use the whole grain mustard to coat the top of the salmon. In a bowl mix together your breadcrumbs, parsley, lemon zest and olive oil. Coat the top of the salmon in the breadcrumb mixture.
Heat a large non-stick pan over medium high heat with two tablespoons olive oil. Sear the salmon filets skin side down for two minutes, then transfer to bake in the oven for 10 minutes.
To serve spoon some puree nicely in the middle of the plate. Place some of your roasted vegetables on top of the puree. Then mount a nice piece of your herb crusted salmon on top. Repeat with your four other pieces.
BC Wine Pairing Examples
Winemaker's Cut Sauvignon Blanc | App
Spearhead Winery Golden Retreat Vineyard Pinot Noir | App