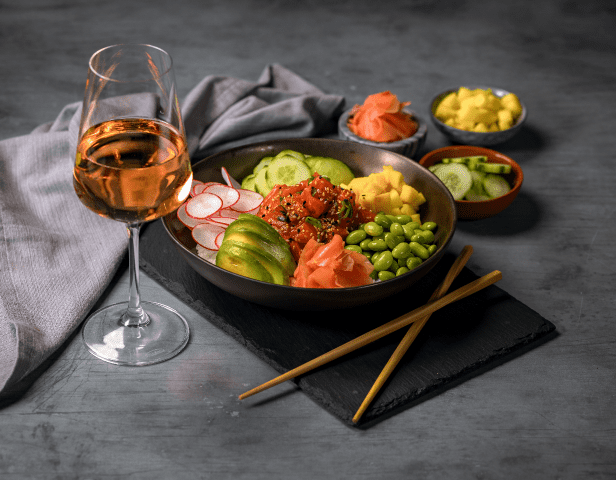 BC Wine Pairing; BC Rosé or Riesling
Serves 4
Total Time:  30 minutes
Prep Time:  30 minutes
Ingredients
1 lb (675 g) skinless sushi grade Wild BC Salmon*
4 tbsp finely chopped green onions
4 tbsp finely chopped cilantro
3 tbsp soy sauce
2 tbsp mirin
2 tbsp lime juice
2 tsp sesame oil
Salt and pepper to taste
1 cup radishes (thinly sliced)
Sesame seeds for garnish
4 cups cooked sushi rice
2 ripe avocados (cut into slices)
1 cucumber (peeled and cut into rounds)
1 cup shelled edamame pods
4 tbsp pickled ginger
1 cup mango (peeled and cut into chunks)
Carrot Ginger Sauce:
1 large carrot (peeled and chopped)
½ sweet onion (peeled and chopped)
2 tbsp ginger (grated)
1 clove garlic
1 tbsp brown sugar
¼ cup soy sauce
1/3 cup rice wine vinegar
½ water
1 tsp xanthan gum
Method
With a knife, cut the salmon into small dice and place in a chilled bowl. Set aside in the refrigerator.
In a small bowl, combine the soya sauce, mirin, lime juice, sesame oil, green onion and cilantro. Whisk together to form a sauce.
Add the sauce to your chilled salmon. Toss the salmon gently in the sauce. Season with salt and pepper to taste.
For the carrot ginger sauce place all your ingredients in a blender except for your xanthan gum. Blend until all the ingredients are incorporated together and smooth. Slowly add in your xanthan gum until you have a smooth and thick sauce.
To build your bowl place rice neatly in the bottom of the bowl. Arrange your salmon and vegetables evenly and nicely over the cooked rice. Tope with sesame seeds and drizzle your carrot ginger dressing over top.
*Consumers need to use 'sashimi grade wild salmon' when consuming raw salmon. Sashimi grade wild salmon has been properly frozen for raw consumption.
BC Wine Pairing Examples
O'Rourke Peak Cellars Riesling | App