Spicy Wild Salmon Tartare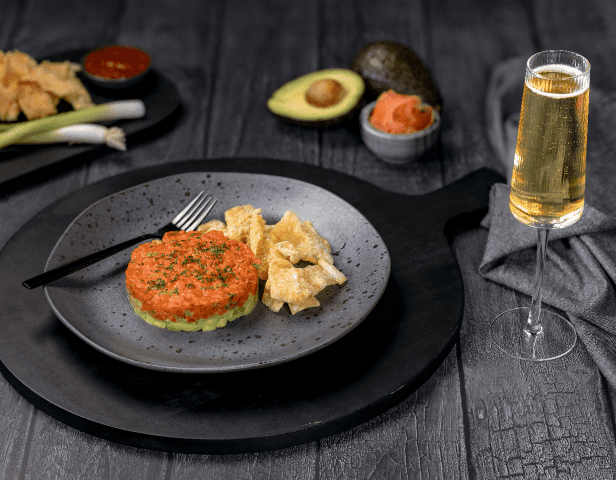 BC Wine Pairing; BC Sparkling wine

Serves 4
Total Time:  30 minutes
Prep Time:  30 minutes
Ingredients:
1 ½ lb (675 g) skinless sushi grade Wild BC Salmon*
4 tbsp finely chopped green onions
2 tbsp soy sauce
1 tbsp mirin
2 tbsp kewpie mayo
2 tbsp finely chopped fresh chives
2 tsp sambal olek
1 tbsp finely chopped pickled ginger
1 tbsp lime juice
1 tsp sesame oil
Salt and pepper to taste
2 ripe avocados (cut into small dice)
1 pack thin square wonton wrappers
Method
Pour about 1-1/2 to 2 inches of oil into a deep, heavy-bottomed pot. Heat the oil over medium high heat.
While the oil is heating, cut as many wonton wrappers as you would like to serve into 3/4-inch wide strips. Keep wontons covered with a towel while you finish heating the oil.
Line a baking sheet or cooling rack with a double layer of paper towels. Set aside.
When the oil reaches temperature, carefully add a handful of wonton strips to the pot. They will immediately puff up. Fry for 1-2 minutes, using a spider strainer or slotted spoon to move them around in the pot. When they're golden brown on all sides, drain them with the spider or slotted spoon and transfer them to the paper towel-lined baking sheet to cool. Set aside for later use.
With a knife, cut the salmon into small dice and place in a chilled bowl as you go. Set aside in the refrigerator.
In a small bowl, combine the soya sauce, mirin, lime juice, sambal olek, sesame oil and kewpie mayo. Whisk together to form a sauce.
Add the chives, green onions, and pickled ginger to the salmon. Season with salt and pepper and mix thoroughly. Toss the salmon gently in the sauce.
To serve your salmon tartare scoop your avocados into the bottom of a medium size ring mould, to cover the bottom. Then fill the rest of the ring mould with your seasoned salmon. Top with wonton chips.
*Consumers need to use 'sashimi grade wild salmon' when consuming raw salmon. Sashimi grade wild salmon has been properly frozen for raw consumption.
BC Wine Pairing Examples
Unsworth Charme de l'île Sparkling NV | App
Whispering Horse Winery Sparkling L'Acadie | App