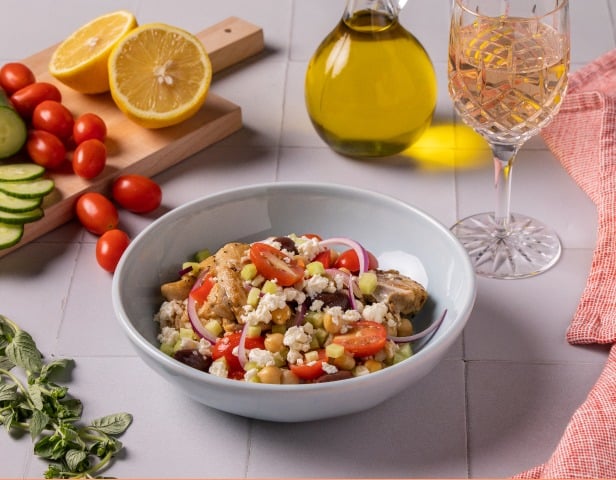 BC Wine Pairing; Sauvignon Blanc or Siegerrebe
Serves 4
Total Time: 65 minutes
Prep Time: 30 minutes
Cook Time: 35 minutes
Ingredients
Chicken:
8 skinless boneless chicken thigs
1 tbsp olive oil
1 lemon, zested and juiced
3 cloves garlic, minced
1 tsp oregano
½ tsp salt
½ tsp pepper
Greek Dressing:
1/3 cup lemon juice
1 clove garlic minced
2 tbsp red wine vinegar
1 tsp honey
2 tsp Dijon mustard
Pinch salt
1/2 tsp pepper
2/3 cup olive oil
Rice:
2 tbsp olive oil
1 cup long grain rice
1 ½ cups chicken broth
1 tbsp dried oregano
1-pint BC cherry tomatoes
1 small red onion, very thinly sliced
1 BC cucumber, peeled and cubed
1 BC red pepper, seeds removed and chopped
1 cup pitted kalamata olives
1 cup canned chickpeas drained and rinsed
½ cup crumbled feta cheese
Instructions
Heat a large oven proof safe pan over medium high heat. Add 2 tbsp olive oil into hot pan and brown chicken on both sides and set aside. Remove any bits from pan that may have burned. Add the rice and toast for 2 minutes stirring continuously. Add remaining rice ingredients and chicken marinade. Let everything come to a simmer and place chicken on the top. Cover with tin foil and bake at 350 F for 35 minutes.
While the chicken is cooking, in a mixing bowl, whisk the red wine vinegar, lemon juice, minced garlic, Dijon mustard, honey, salt, pepper and olive oil until emulsified. Set aside.
To serve, slice the chicken and divide the rice and chicken evenly between four bowls. Arrange the vegetables nicely around the chicken and then spoon over dressing evenly between the four bowls. Top with crumbled feta. Serve with pita if desired.
BC Wine Pairing Examples
Niche Wine Co. Sauvignon Blanc | App
Chaberton Estate Winery Siegerrebe | App