Yida's Portuguese Chicken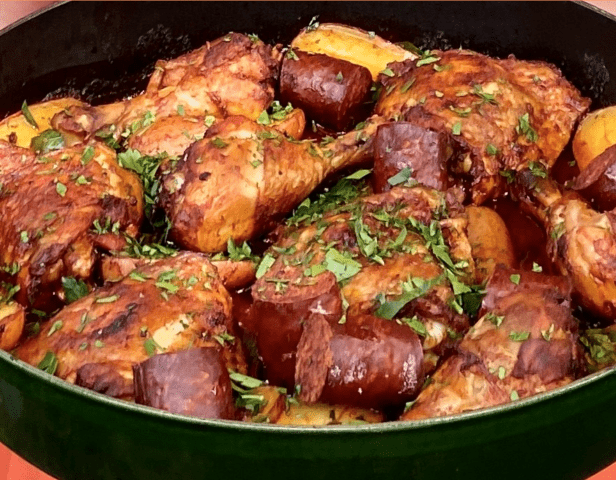 BC Wine Pairing; Sauvignon Blanc, Rosé, Pinot Noir, Gamay, Cab Franc
Adapted from The BC Wine Lover's Cookbook by Jennifer Schell. Published by Appetite by Random House
Yield: Serves 6
Prep Time: 20 minutes
Cook Time: 1 hour
Ingredients
6 garlic cloves, minced
1/8 cup olive oil
3 Tbsp smoked Spanish paprika (option: mix with some hot smoked paprika)
1 tbsp salt
1 1/2 tsp pepper
1 3-4 lb roasting chicken, sectioned
1 cup dry white wine, (preferably CedarCreek Sauvignon Blanc)
6 Sieglinde potatoes, halved
6 semi-cured Spanish chorizo sausages, sliced into 1- to 2-inch pieces
chopped Italian parsley, for garnish
Preparation
Preheat the oven to 375°F.
In a bowl, combine the garlic, olive oil, smoked paprika, salt and pepper. Roll up your sleeves and massage the mixture all over the chicken pieces—the longer the massage, the better the flavour! Pour the wine into the bottom of a large roasting pan, and top with the chicken pieces, arranging so they are all in one layer. Arrange the potatoes around them.
Roast, uncovered, until the chicken is just starting to brown, about 30 minutes. Remove the pan from the oven and add the chorizo pieces, distributing them around the chicken and potatoes. Turn the chicken pieces to allow for more even browning. Return the pan to the oven and cook until the juices in the chicken thighs run clear and the pieces are fully browned about another 30 minutes.
BC Wine Pairing Examples
Black Market Winery Sauvignon Blanc Sémillon | App
Blasted Church Blaufränkisch Rosé | App
Volcanic Hills Estate Winery Gamay Noir | App
Monte Creek Winery Ancient Waters Pinot Noir | App
Adega Estate Winery Cabernet Franc | App