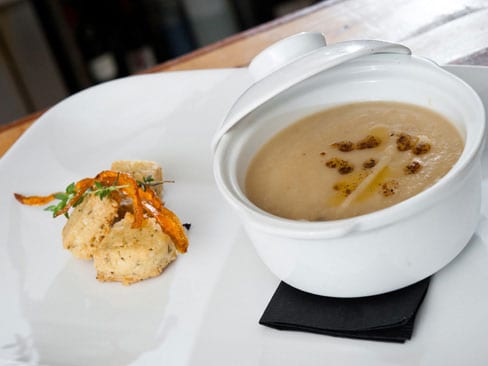 Apples, vanilla and butter are all characteristics found in Chardonnay and are all flavors that will be found in this dish making an elegant and full-bodied BC Chardonnay the perfect choice for this creamy fall soup. The cream and tart apples will balance the weight and crisp fruit found in the wine creating a harmonious wine and food pairing.
INGREDIENTS
1 ea Onion – medium dice
2 ea Stalks Celery
2 ea Cloves Garlic
2 pounds Parsnips – peeled, medium dice
Vegetable stock or water (enough to cover parsnips and apples)
4 ea Apples – peeled and quartered
1 ea Bay Leaf
Oil to Sauté (as needed)
4 ounces Cream
Salt and Pepper (to taste)
METHOD
Sauté onion, garlic, celery
Add parsnips, sauté 1 minute
Add apple , stock and bay leaf
Bring to boil, simmer 30 minutes until parsnips and apples are soft
Remove bay leaf and blend until smooth
GARNISHES
Brown Butter
Little Qualicum Rathtrevor Cheese Shortbread
RATHTREVOR SHORT BREAD
INGREDIENTS
1 1/2 cups Flour
1 tablespoon Icing sugar
4 tablespoons Butter
1 teaspoon Salt
2 tablespoons Chopped parsley
1/4 cup Rathtrevor cheese
METHOD
In a food processor combined flour, sugar, salt and butter. Pulse until pea shaped.
Add parsley and cheese. Mix until dough forms.
Wrap and refrigerate for 4 hour or until well chilled.
Cut into cubes, place cubes on a baking sheet and place in freezer to freeze for 25 minutes
When frozen bake for 20 minutes at 350 degreeses or until golden brown.
Credit: Recipe and images provided by Chef Bradford Boisvert of Amuse on the Vineyard, Vancouver Island