Spicy BC Tomato and Pulled Chicken Salad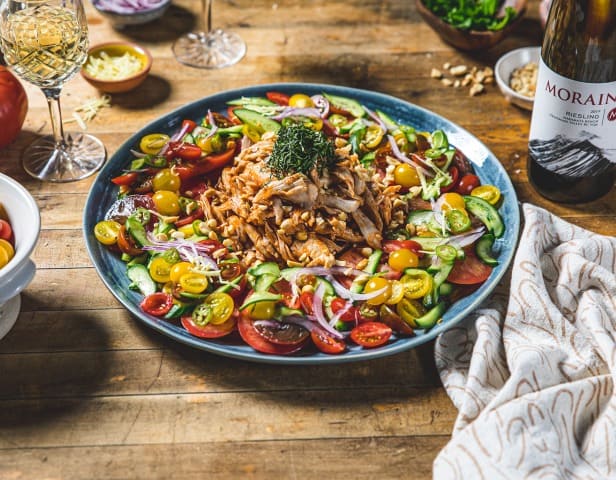 Serves 4
Total Time: 50 mins
Prep Time: 20 minutes
Cook Time: 30 minutes
Ingredients:
BC Chicken:
1 half chicken
¼ cup kosher salt
4 inch piece ginger, sliced
1 bunch scallion
2 tablespoon sesame oil
Salad:
4 mini cucumbers
Kosher salt
3 teaspoons granulated sugar
1 ½ teaspoons fresh lime zest plus 3 tablespoons juice (from 2 limes)
4 teaspoons fish sauce
1 tablespoon coconut oil or canola oil
1 tablespoon very thinly sliced green serrano chile (about 1/2 large chile)
1 garlic clove, finely grated
12 ounces multicolored large and small tomatoes, halved or quartered, depending on size
½ cup torn fresh Thai basil and extra thinly sliced for garnish
½ cup small sprigs cilantro
¼ small red onion, very thinly sliced
1 (1-inch) piece fresh ginger, peeled and cut into matchsticks
¼ cup roasted salted peanuts, coarsely chopped
Dressing:
2 Tbsp sambal
2 Tbsp sriracha
1 Tbsp minced garlic
1 Tbsp grated ginger
1 Tbsp lime juice
2 Tbsp water
How To Make It:
Season the chicken generously with salt. Stuff the chicken cavity with the ginger slices and scallions.
Place the chicken in a large stock pot, cover with cold water by 1 inch (2 cm), and season with salt to taste.
Bring to a boil over high heat, then immediately reduce the heat to low to maintain a simmer. Cover and cook for about 30 minutes, or until the internal temperature of the chicken reaches 165°F (75°C). Remove the pot from the heat. And place the chicken in an ice bath to stop the chicken from overcooking.
When cooled, pat the chicken dry and remove skin. Pull chicken from bones then toss with sesame oil to keep from drying out. Place in bowl and cover in fridge for later use.
Halve the cucumbers lengthwise, then cut crosswise into 1/2-inch pieces. Transfer to a colander and toss with 1 teaspoon salt and 1 teaspoon sugar.
Meanwhile, make the dressing: In a large bowl, whisk together the lime zest and juice, fish sauce, coconut oil, chile, garlic and the remaining 2 teaspoons sugar.
Just before serving, add the tomatoes, basil, cilantro, red onion, ginger, cucumbers and half the nuts to the dressing; toss to coat.
To plate spoon salad nicely into a bowl leaving room for chicken in the middle. Top with chicken, drizzle chili sauce over chicken. Top with remaining nuts, and chiffonade of Thai basil. Pair with a glass of Moraine Riesling.