BC Pear Glazed Chicken with Apple Slaw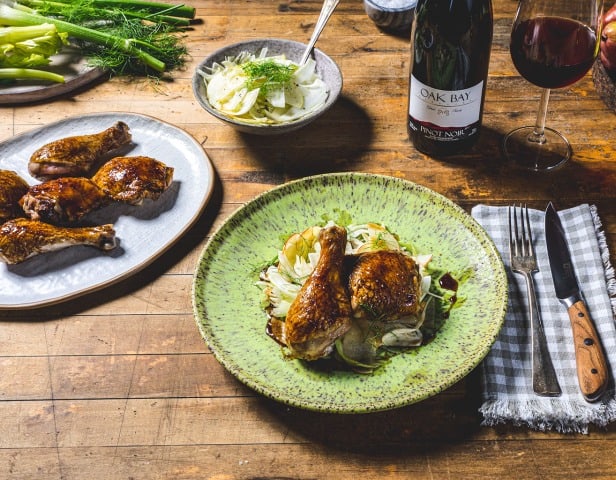 Serves 4
Total Time: 60 minutes
Prep Time: 20 minutes
Cook Time: 40 minutes
Ingredients:
2 lbs chicken thighs and drumsticks
Salt and pepper
Pear Glaze:
¼ cup pear preserves
1 tbsp apple cider vinegar
2 tbsp soy sauce
1 tsp grated ginger
Apple Fennel Slaw:
2 thinly sliced fennel bulbs
2 celery ribs sliced diagonally
2 honey crisp apples halved-cored and sliced
2 tbsp olive oil
2 tbsp lemon juice
Salt and pepper to taste R
How To Make It:
Pre heat oven to 375°F
In a small sauce pot whisk together all ingredients for the pear glaze. Reduce sauce over medium high heat until it thickens, about 5 minutes.
Pat chicken dry with paper towel and season chicken with salt and pepper. Place on baking sheet and brush with some of pear glaze. Bake for 30 to 40 minutes brushing chicken with glaze every ten minutes until chicken is cooked through and the glaze is caramelized.
While the chicken is roasting, mix fennel, celery, in a bowl with salt and massage gently with your hands. Let sit for five minutes until fennel softens and leaches its juices. Add apples, olive oil, lemon juice and pepper. Mix well.
To serve place a pile of slaw in the middle of plate, top with chicken and drizzle with leftover glaze. Pair with a glass of Oak Bay Pinot Noir.