Vancouver Island Seafood Chowder recipe benefits from BC dairy while pairing perfectly with local BC VQA Wines.
Award-winning author Jennifer Schell teams up with head Chef and Winemaker at Unsworth Vineyards located in the Cowichan Valley on Vancouver Island.
Tell us why folks should try this BC wine and Seafood Chowder soup recipe for the holiday season?
Unsworth Vineyard's bubbly Charme De L'lle is absolutely perfect for the holiday season!  Crisp and bright, the 'persistent' bubbles are perfect for every toast as well as make an excellent pairing for all sorts of delicious foods – from mains to desserts.
This belly warming chowder is hearty but also elegant and can be made as a lunchtime treat for your family or as a starter for a special New Year's Eve dinner. I love how this dish truly celebrates the glory of our Vancouver Island bounty and our treasured Pacific seafood culture.
What special flavours, style or terroir do Island wines bring to this recipe?
The Charme showcases the unique Vancouver Island grape variety, Sauvignette! Sauvignette is a hybrid grape that Unsworth blends into its Charme and Allegro as well as bottling it on its own. The very specific terroir of the Cowichan Valley region offers clay and alluvial soils partnered with the Pacific Ocean mist bringing forward elegant wines with the lovely salinity from the sea and a minerality from the earth.
Any other BC wines that you would suggest for this delicious dish?
The seafood and cream sauce really call to a Chardonnay and BC has a wide range of beauties to choose from! Corcelettes Estate Winery in the Similkameen Valley has a new Chardonnay out that would be a great pairing. Or try O'Rourke's Peak Cellars from Lake Country or Poplar Grove Winery in Penticton.
You mentioned local BC seafood, what is the local BC dairy is in this recipe?
Absolutely! Cream is a key ingredient in this rich chowder and our amazing local BC dairies offer beautiful choices to stir into this chowder. I love using Avalon Dairy products as they are not only local, they are also certified organic.
'Tis the season and Avalon make a decadent eggnog that you can serve on its own or in a dessert. I have also heard that a BC Port style wine mixed with eggnog makes for a fab cocktail and Unsworth Vineyards happens to make one called Ovation.
What was your personal experience at Unsworth Vineyards? Why is a future trip to the Island (once allowed), something to keep in mind for 2021?
I absolutely love visiting Vancouver Island wine country at any time of the year. It is truly extraordinary, and I can't wait to visit once it is safe to travel again. If you are lucky enough to live on the Island, you can take advantage of Unsworth's restaurant being open year-round and exercising all precautions to ensure your visit is safe and relaxing. Chef Maartyn Hoogeveen is warm and friendly and offers an Island focused menu to pair perfectly with the gorgeous line up of wines created here. And winemaker Dan Wright is an absolute treat to chat with. DO try his Pinot Noir! It is amazing and can be added to the list of BC's best Pinots.  Vancouver Island has proved itself to be a region perfect to growing Pinot Noir.
*Click arrow for more images below!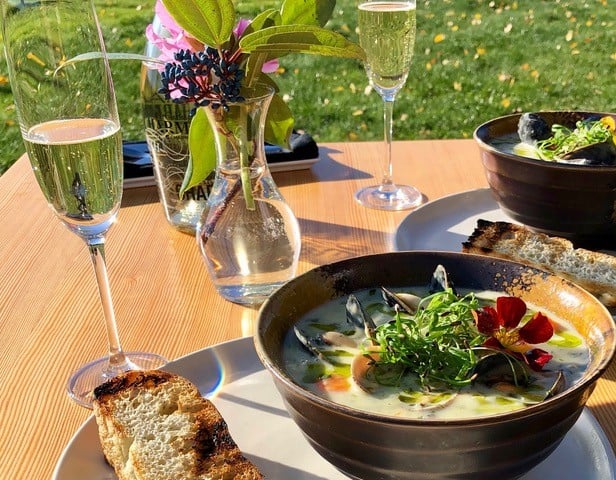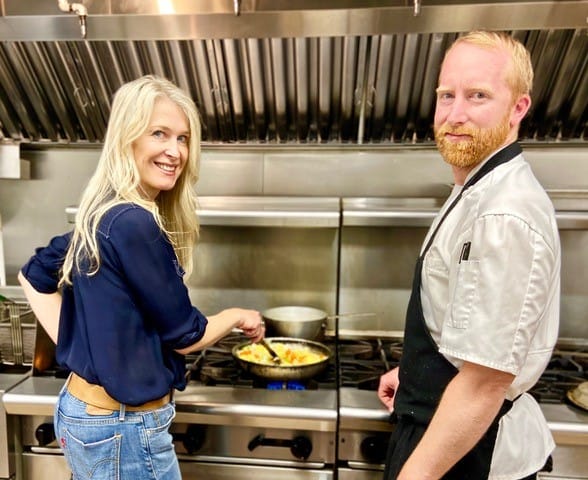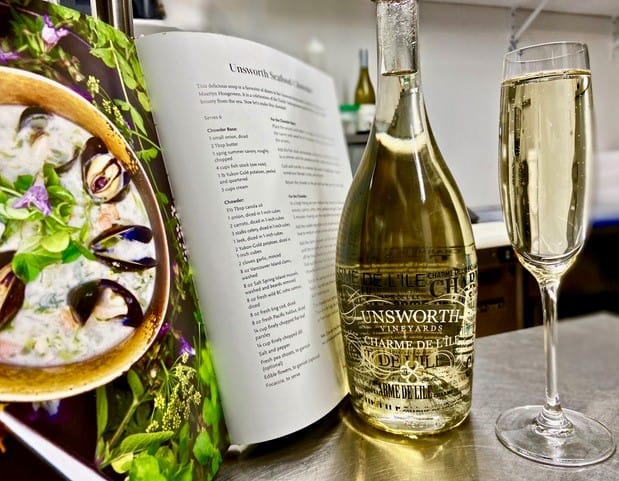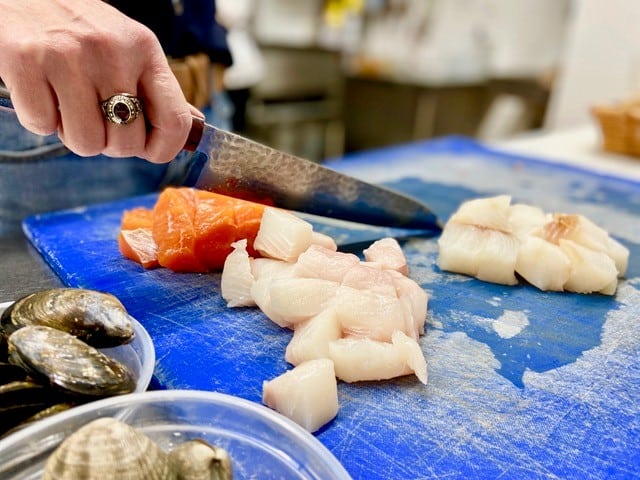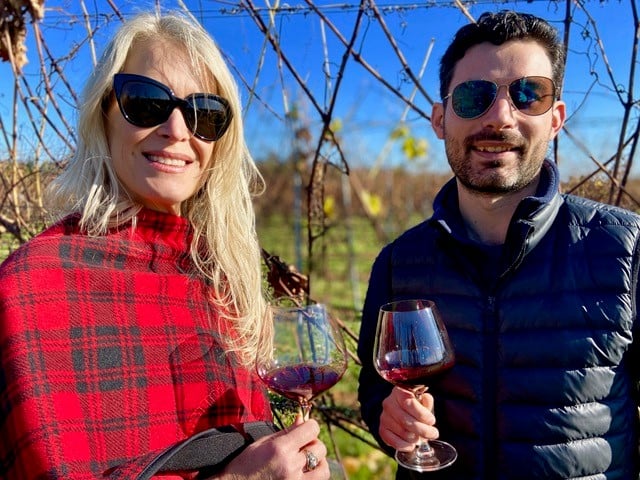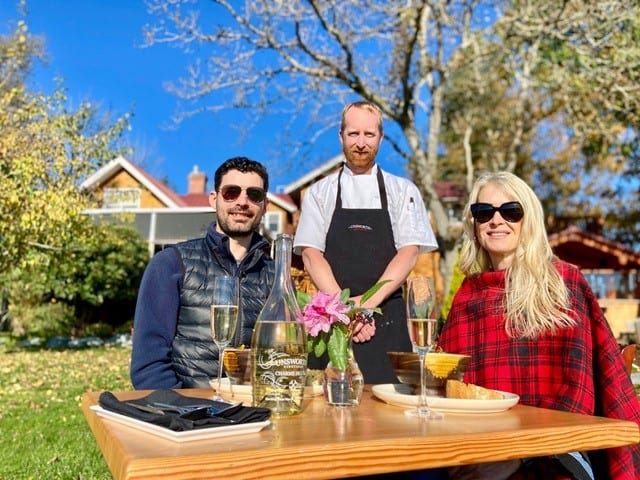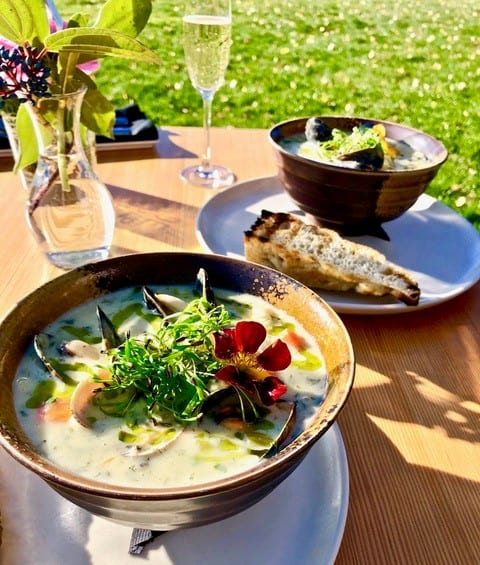 NOTE: If you simply can't wait to try this recipe with Island wines, why not make this recipe at home!
Research more recipe's courtesy of my BC Wine Lover's cookbook, complete with wines from Vancouver Island! Locate them all via the Wines of BC Explorer App! Treat yourself this holiday season.
---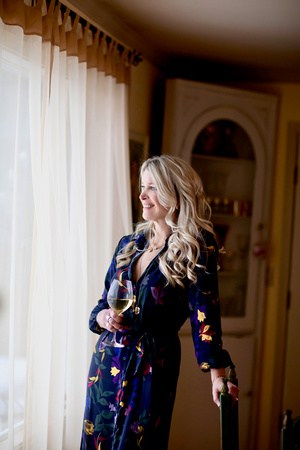 By Jennifer Schell – Jennifer Schell is a highly acclaimed food and wine author, photojournalist and former editor of BC Food & Wine Trails Magazine. Her three cookbooks, The Butcher, The Baker, The Wine & Cheese Maker were bestsellers and have won international awards.  Her fourth book, the B.C. Wine Lover's Cookbook for Appetite by Random House was released this summer. Born and raised on an apple orchard in East Kelowna, Jennifer is a passionate supporter of BC's vibrant farming, food and wine industry and has provided a creative lens inside the valley's landscape and its people for over 15 years.