Vegan charcuterie board and local BC Wines to pair with it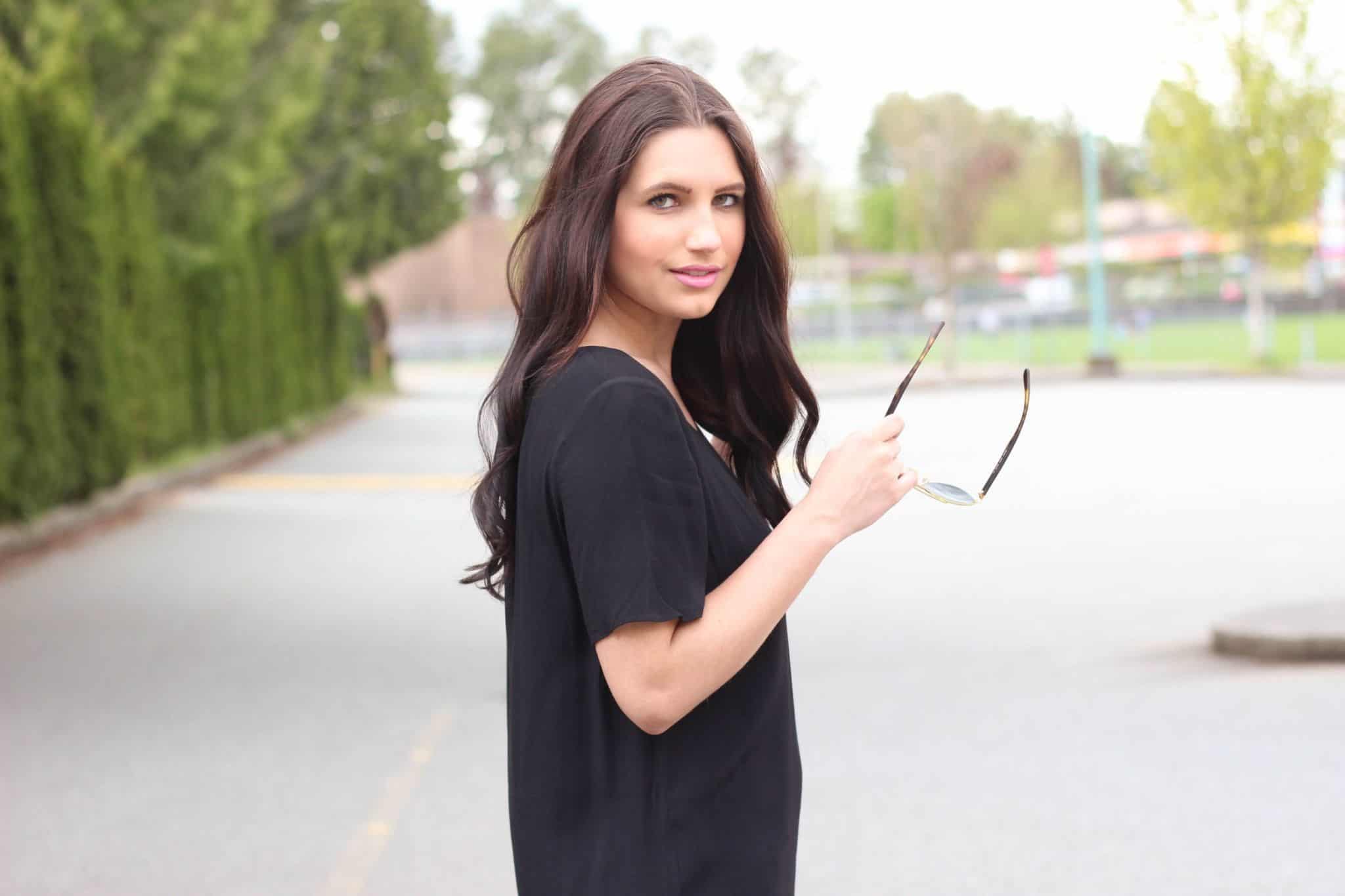 By Krystin Tysire– a fashion marketing grad, has a penchant for social media and an eye for spotting trends. As such, she's been blogging for several years at Krystin Tysire  sharing personal insights on life and style. When not glued to her phone tweeting, 'gram- ming' and blogging, she's usually planning what event to attend next.
Vegan charcuterie board and local BC Wines to pair with it
With summer almost here it comes time for hosting summer soirees. This means it's only fitting to share one of my favourite go-to recipes for the season and of course, the wines to pair it with.
I love charcuterie boards. However, since I eat a mostly plant-based diet, it can be hard to find one I can eat. That's why I wanted to share how I created the ultimate vegan charcuterie board and vino from the Fraser Valley to go along with it.
Cheese
You can't have a charcuterie board without cheese. Thankfully, I have found the best tasting vegan cheese (in my opinion) and it comes from the Okanagan. It's called Okanagan's Soya Co. and it comes in both 'cheddar' and 'mozzarella' flavours. Honestly, there are tons of alternatives when it comes to cheese. You can even find some delicious vegan cheese spreads too which would be great to add.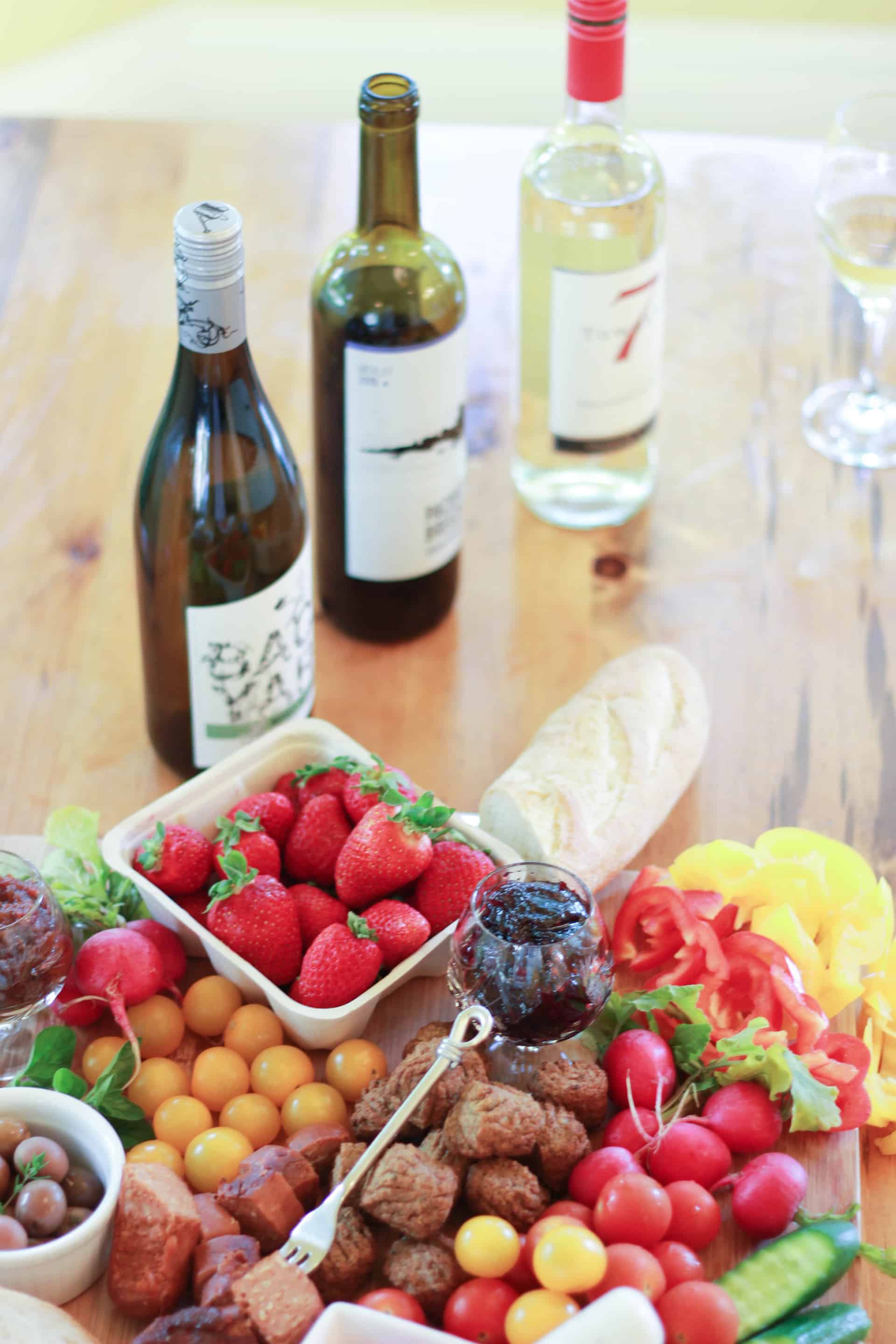 "Meat"
Again, meat is pretty much the main star in a charcuterie board, and you can definitely find some winning alternatives. I love the Yves Veggie Cuisine Spicy Italian Veggie Sausages; they are packed chock full of flavour and eating them sliced up with crackers is quite delicious. I also love the taste of the Yves Falafels; they are a great alternative to meat and they're filling enough too.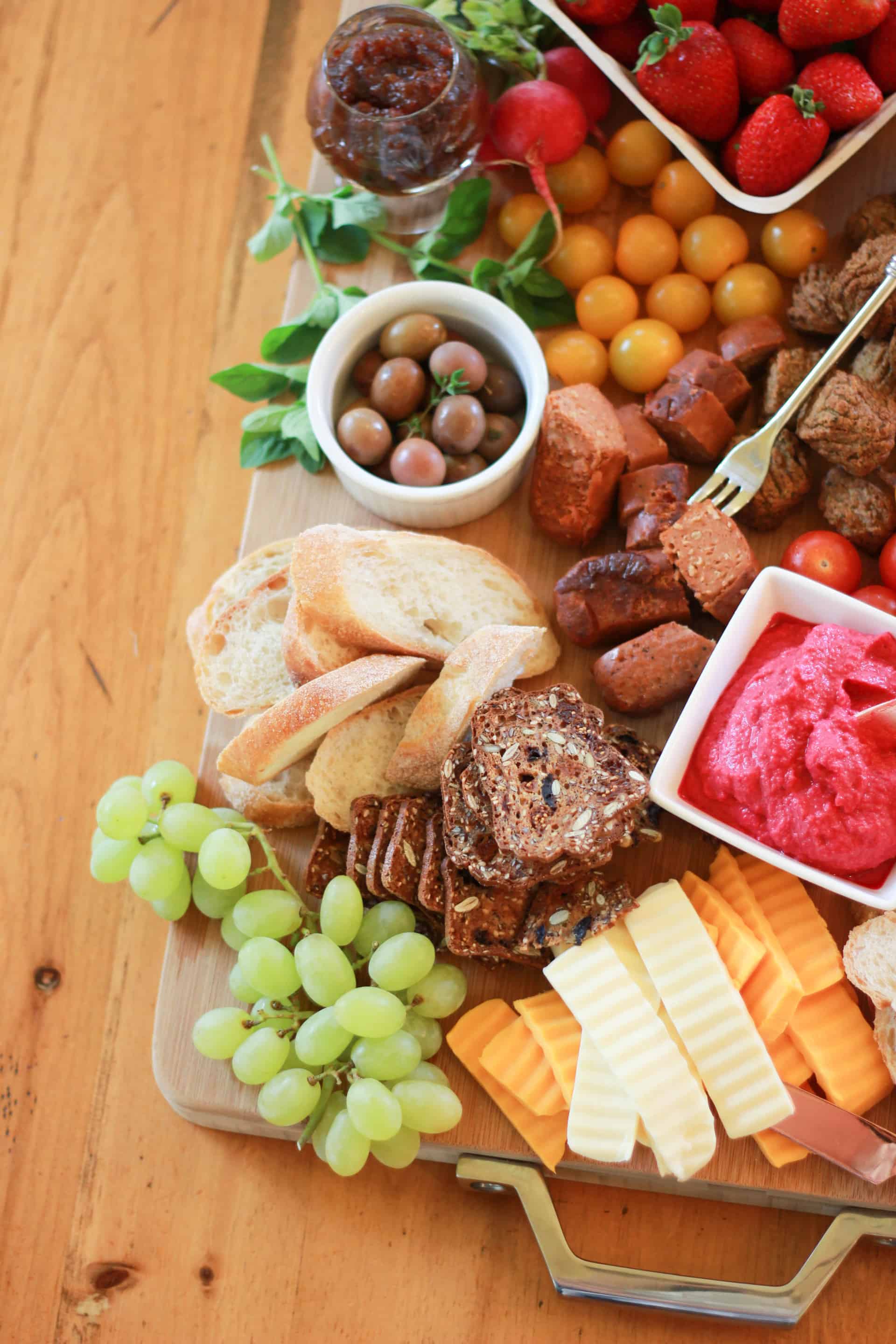 Crackers/Bread
This brings me to my next point, crackers and bread. In my opinion, you can't have a well-rounded charcuterie board without crackers and bread. I found these delicious local crackers from Lesley Stowe Fine Foods from Richmond, BC. I choose the Fig and Olive flavour, and they are so tasty. Baguettes are my weakness, and I picked up mine from Terra Breads locally made in Vancouver. Additionally, I added some Hippie Snacks Cauliflower Crisps which come from Burnaby, BC. They are a tasty treat.
Those are the 'hardest' parts of putting together a charcuterie board, in my opinion, everything else is up to you. Next, I filled my charcuterie board with extras such as beet hummus. It's delicious and adds such a beautiful colour to the board. I then added some locally grown strawberries, mini cucumbers from Rages Farm in Port Alberni, BC, fresh peppers, grapes, olives, cherry tomatoes and some radishes.
Did I mention dips? I love trying out dips and they make for such easy preparation. A few that I tried and loved were Saunders Family Farm Blackberry Pepper Jelly and Salt Spring Kitchen Co's Spicy Tomato Jam. Both had incredible distinct flavour and really pulled it all together.
Now, since you have a drool-worthy charcuterie board in front of you, you need some wines to pair with it! Because the theme of the charcuterie board was fresh and local, I'm sticking with that trend for the wines too. There are tons of amazing wineries to check out. And if you're local to Vancouver like me, the Fraser Valley is your go-to spot. There are quite a few wineries in the Fraser Valley region. I was thrilled to pair my meal with three delicious favourites.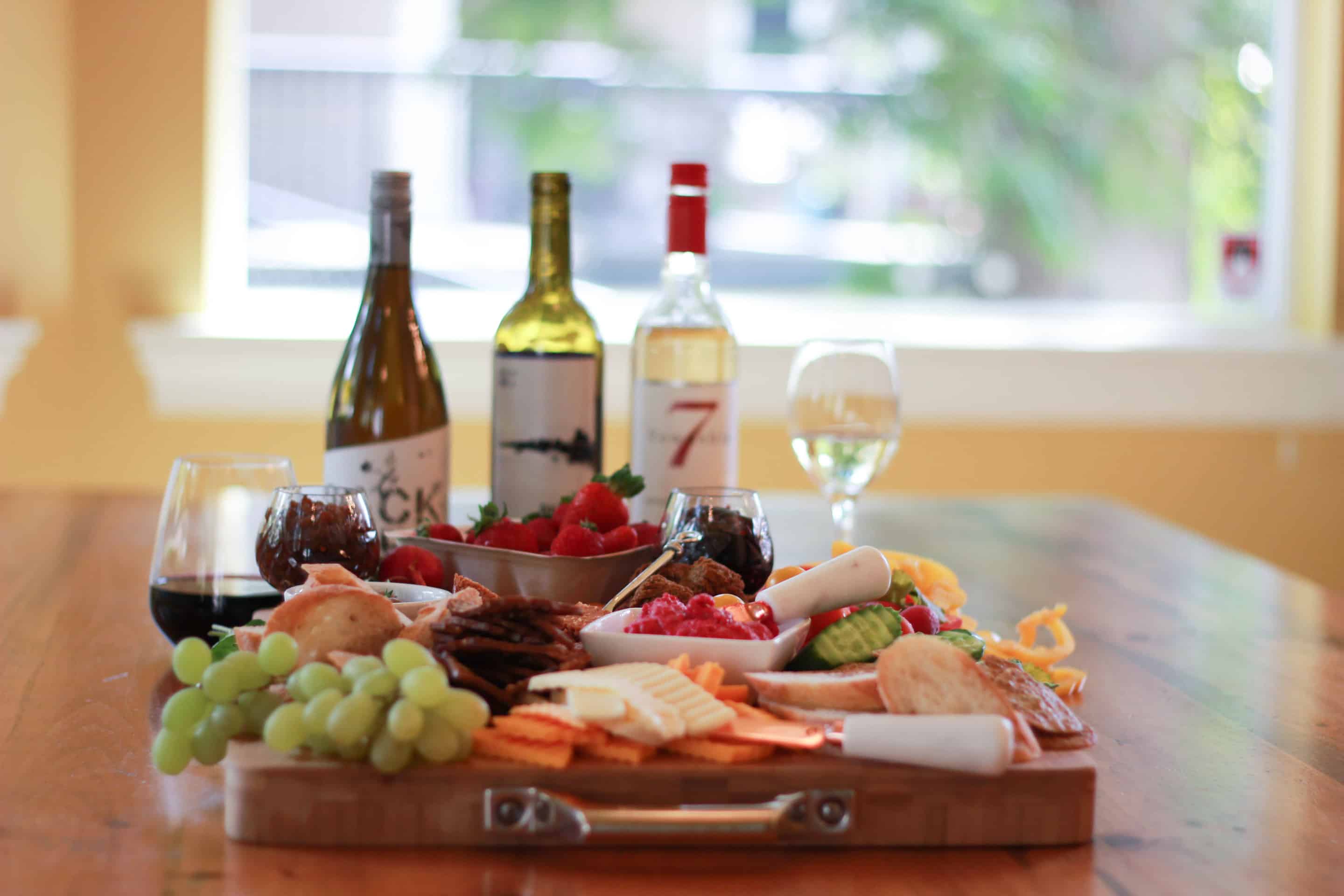 Wine
The first white wine I picked up is from Backyard Vineyards and it's called Nosey Neighbour. This wine is on the sweeter side as it's a blend of Gewürztraminer, Riesling, Pinot Gris and Chardonnay. Because this wine is typically sweeter, it pairs well with soft cheeses, bread and smoked meats. All things that work well in a charcuterie board. What is great about Backyard Vineyards is they have 100% BC grapes which are grown on-site in their own vineyard. These wines complement the fruit selected from the Fraser Valley and South Okanagan.
Next up, Pacific Breeze Urban Winery. Here, I tried the 2015 Merlot. This Merlot exudes aromas of raspberry, spice and a hint of leather. This wine definitely has a toasted flavour to it. And while it's on the drier side, it has a bit of a kick with the raspberry fruit coming out. This wine pairs well with meatballs (or vegan meatballs, in my case) and cheese. It's delicious now but will continue to age beautifully over the next three years. Pacific Breeze stands out from the rest by working with only the highest quality grapes from selected vineyards. Grapes are gently harvested at peak ripeness. Their passion is to produce small-lot, handcrafted wines sourced from premium vineyards located BC and neighbouring wine growing regions. Not to mention, they are New Westminster's only International Award-Winning urban winery.
Last, but definitely not least, is Township 7. I tried (and loved) their 2016 Sauvignon Blanc. This is a great classic wine—displaying gooseberry and ripe melon with underlying notes of tropical fruit and citrus. This wine pairs well with soft-ripened cheese, juicy tomatoes and fresh herbs. Township 7 is all about quality wine and they believe in premium winemaking that starts in the vineyard. The wines are delicious, handcrafted, suitable to cellar, and are best spent drinking with loved ones.
BC is blessed with many incredible wineries and the Fraser Valley is home to some of the best local wines. What makes wine so special in the Fraser Valley? It's how close the wineries are to the households in the region. It is a true destination for day trips, and these wineries don't stop at wine tastings. Most also offer a food experience with farm tours and bistro dining.
Sip and swirl your way to the incredible Fraser Valley wineries to pair with your delicious charcuterie board for the summer season ahead.
Which Fraser Valley wines will you choose this summer to pair with your charcuterie board?