10 Step Guide: BC Wine & Cheese Charcuterie Board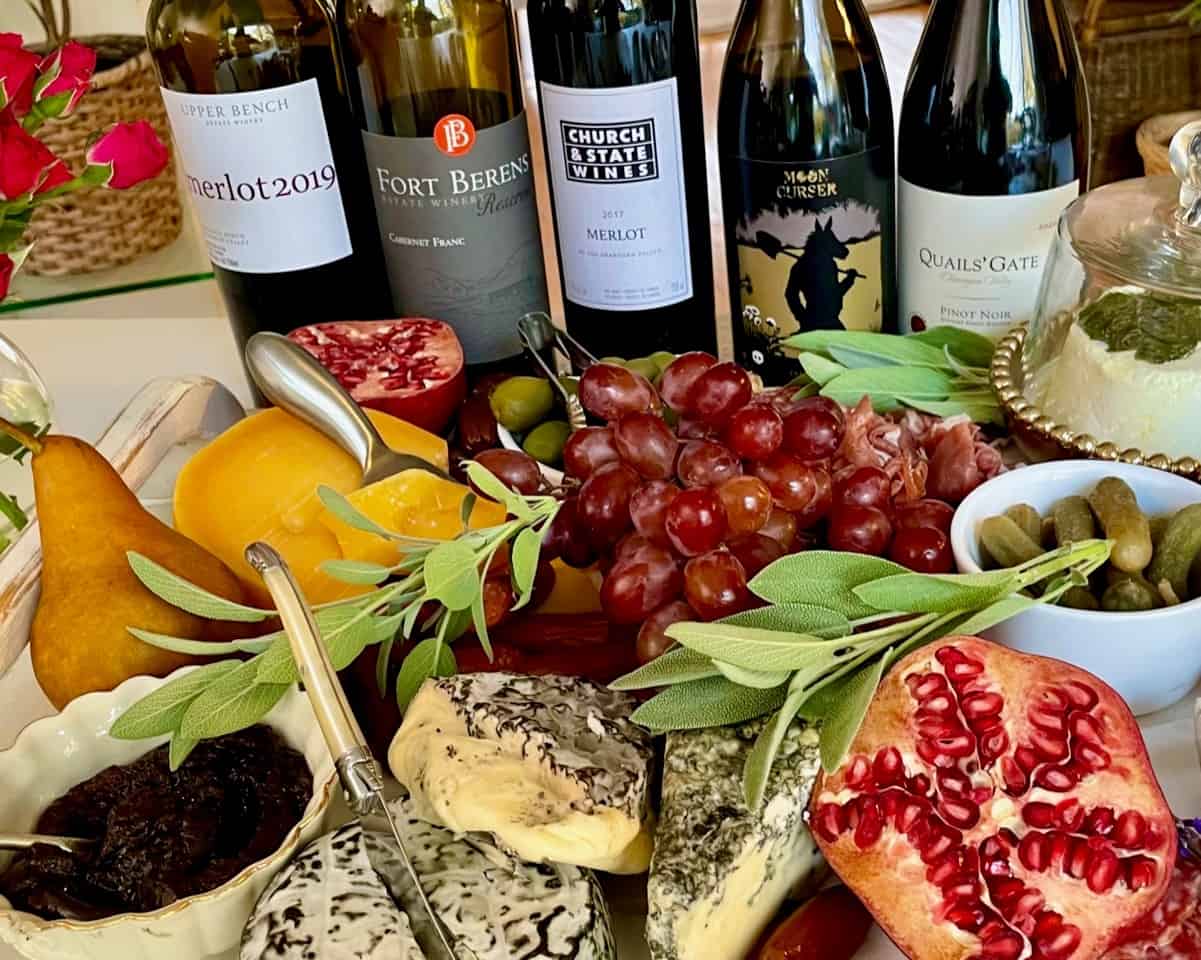 By Jennifer Schell

Step 1 – Safe Serving
Choose a food safe serving board, napkins or little plates, cheese knives and little spoons for condiments and set out your ingredients.
Step 2 – BC Cheese Anchors
Start with the cheese "anchors" on the board and space them out on the board. I choose four cheeses with one cheese from each cheese family. A soft cheese like brie (local choice Lady Jane from the Farm House Natural Cheese), a semi-hard cheese like Gouda (my choice Grass Root Dairies Aged Gouda), a goat cheese (try Salt Spring Island Goat Cheese), and two blue cheeses (Upper Bench Moody Cow and Poplar Grove Tiger Blue). Tip: There is no shame in using doilies or cut pieces of parchment paper to set your cheeses and meats on! Especially the gooey ones – makes for easier clean up and plus you can't see the paper much on a loaded board.
Step 3 – Charcuterie
Add the charcuterie. Italian varieties are usually my go to with Prosciutto and two salamis (I like Genoa and Finocchio) top of the list.  If you can access a good pâté, do it (Oyama Sausage at Granville Island is the bomb for amazing charcuterie and pâté) or I love to make a smoked salmon pate. Lay out the prosciutto artfully lengthwise in ribbons or in piles. Fold the salami rounds twice to look prettier or make little fans. You can go the extra mile and make the salami roses (see video).
Step 4 – Vegetables and Fruits
Depending on the season, there are so many options. For winter, grapes work all year and cherry tomatoes look festive. A pomegranate sliced in half is very glamourous as well as blood oranges – they may not get eaten but they are edible! Dried fruit like apricots and dates are other staples.
Step 5 – Sweets
A little jar of honey or fresh honeycomb is a must. Jams are lovely and I especially like to use fig jam that has a little balsamic hint to it. Jams can be set out in little jars or bowls! Cranberry sauce is lovely and festive with cheeses.
Step 6 – Nuts and Olives
Marcona almonds are those special silly expensive almonds from Spain but they are soooo good if you want to splurge. Pistachios always look nice and, if the squirrels have not stolen all of ours, I love to add walnut halves. Olives are a must and need them on every board I make. Smoked olives are especially flavourful and we love the big meaty Kermit-green Castelvetrano olives from Sicily. Little gherkin pickles are also cute and a favourite on the board for pickle fans.
Step 7 – Crackers and Bread
Don't scrimp! The crackers are seriously important as they are the vessel for your beautiful array of delights so you want them to be high quality and not overbearing with flavour. Various sizes are nice depending on how your guests like to eat and you can either include crackers and bread on the board if you have room or arrange a separate board. Also, a good baguette is a must – toasted rounds or fresh, and sourced from a local bakery wherever possible.
Step 8 – Setting and Serving
Cheese knives must be placed by each cheese to make it easy for your guests.  Yes, each cheese variety has a specific knife but using whatever you have is fine. Have napkins or small plates on the side for those who want to load up.
Step 9 – Extra Touches
Sit back and observe your work of art. Does it need any extra touches? Edible flowers are wonderful when in season but at this time of year, savoury herbs are beautiful. Rosemary, sage (which is still probably ok in your garden) lavender, thyme or fresh bay leaves look fabulous. Thread some cranberries on a skewer or two as décor (too sour to eat). Maybe some chocolates? You are the architect of this masterpiece, so go wild!
Step 10 – BC Wine Pairings
Bring out the premium BC wine pairings with proper wine glasses and start the music babies! Suggested BC wines below, with BC cheese pairings.
BC Wine and Cheese Pairing Examples
| | |
| --- | --- |
| | BC Creamy Camembert, BC Pepper Gouda or BC Poplar Grove Tiger Blue |
| | BC Creamy Brie |
| | BC Goat or BC Soft Cheeses |
| | BC Aged Gouda or BC Mountain Grana |
| | BC Smoked Cheddar or BC Moody Cow Blue Cheese |
| | BC Moody Cow Blue Cheese |
| | BC Lady Jane Brie or BC Young Gouda |
| | BC Butter |