Soba Noodle Salad with Blueberries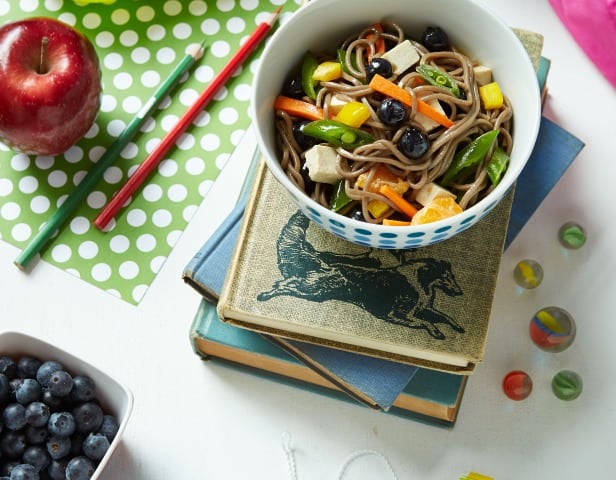 BC Wine Pairing; Aromatic white field blend
Serves 4
Ingredients
Vinaigrette:
3 tbsp (45 ml) Soy sauce
2 tbsp (30 ml) Fresh orange Juice
2 tbsp (30 ml) Rice vinegar
1 tbsp (15 ml) Vegetable oil
1 tsp (5 ml) Sesame oil
1 tsp (5 ml) Honey
Salad:
4 cups (600 g) Soba/buckwheat noodles, cooked and cooled
1 cup (150 g) BC blueberries, fresh or frozen
¾ cup (100 g) Extra firm tofu or cooked chicken, cubed
½ cup (65 g) Mandarin segments, chopped
½ cup (50 g) Snap peas, chopped
½ cup (50 g) Carrot, 1" long thin julienne
¼ cup (30 g) Bell pepper, diced
2 tsp (10 ml) Sesame Seeds-optional
Instructions
In a large bowl, whisk together all vinaigrette ingredients until combined.
Add all the prepared salad ingredients and toss with the vinaigrette.
Garnish with sesame seeds if desired.
BC Wine Pairing Examples

Jennifer Schell recommends:
VinAmité Cellars (Oliver)- 2021 Chanson D'Amour: A joyful, lively wine with a floral and fruit-forward aroma, a balanced taste, and a soft minerality, with notes of honeysuckle, apricots, pear and orange. A blend of 36% Pinot Gris, 35% Pinot Blanc and 29% Orange Muscat.