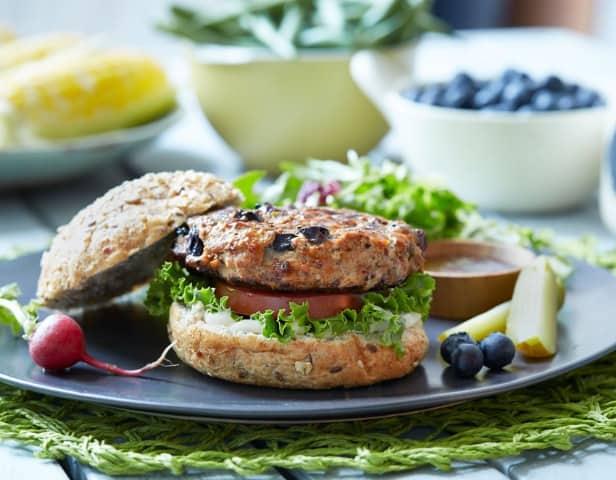 BC Wine Pairing; Pinot Noir
Serves 4
Ingredients
1 lb (450 g) Lean ground turkey
¾ cup (115 g) BC blueberries, fresh or frozen, roughly chopped
¼ cup (30 g) Green onion, chopped
1 Large egg
1 tbsp (15 ml) Whole grain mustard
1 tbsp (15 ml) Fresh parsley, chopped or 2 tsp dry
2 tsp (10 ml) Fresh thyme, chopped or 1 tsp dry
1 tsp (5 ml) Garlic, finely minced or dry
1 tsp (5 ml) Paprika, mild or hot
1 tsp (5 ml) Salt
½ tsp (2.5 ml) Black pepper
3 tbsp (45 ml) Bread crumbs or ground flax seeds (if needed)
2 tsp (10 ml) Vegetable oil
3 tbsp (45 ml) Barbecue sauce
4 Whole grain burger buns
Instructions
Pre-heat a heavy bottom pan or barbecue to 350°F/175°C.
In a bowl, mix all the burger ingredients and form four ¾" thick patties. If mixture appears to wet, add bread crumbs or flax. Keep refrigerated until ready to cook.
Grease the grill with an oiled paper towel, or heat the oil in the pan.
Place patties on the pre-heated grill plate (or in pan), and sear on medium-high heat, cooking for approximately 5-7 minutes until browned. Carefully flip over, reduce the heat to medium-low and finish cooking for another 5-7 minutes until internal temperature reaches 165°F/75°C.
Brush with barbecue sauce and serve on buns with condiments as desired.
BC Wine Pairing Examples
Jennifer Schell recommends:
Corcelettes Estate Winery (Similkameen)– 2021 Pinot Noir: Juicy and fruit forward, this Pinot Noir is crafted from two select vineyards in the Similkameen Valley. The nose expresses fruit leather, cherry and floral spice, while the palate is lively with ripe cherry, black currant and bergamot. The overall taste experience is well balanced, and the finish is long and fresh.