Pork Tacos with Blueberry Pineapple Salsa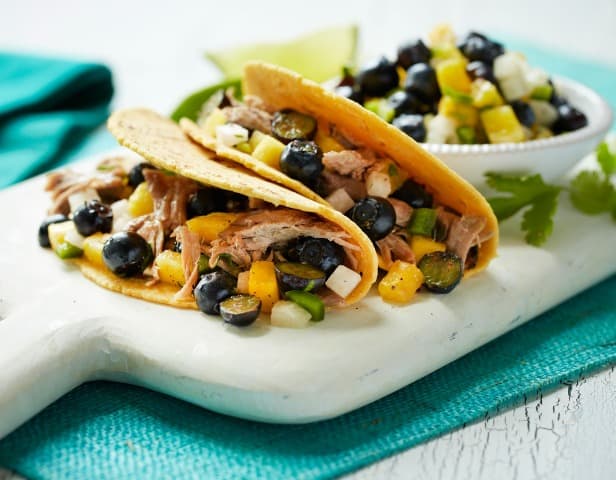 BC Wine Pairing; Chardonnay
12-16 tacos
Ingredients
Pork
1 cup (150 g) BC Blueberries, fresh or frozen
½ cup (65 g) Onion, diced
2 tbsp (20 g) Fresh garlic, chopped
1 tbsp (15 ml) Chipotle pepper (canned in adobe sauce), chopped
1 tbsp (15 ml) Salt
1 tsp (5ml) Pepper
1 tsp (5 ml) Sweet paprika
½ tsp (2.5 ml) Thyme, fresh or dry
3-4 lb (1.5 kg) Pork shoulder
Blueberry Pineapple Jicama Salsa
1 cup (150 g) BC Blueberries, fresh or frozen
¾ cup (125 g) Pineapple, fresh or canned, diced
½ cup (75 g) Jicama, diced
1 tbsp (10 g) Jalapeño pepper, de-seeded and finely diced
1 tbsp (15 ml) Fresh cilantro, chopped
1 tbsp (15 ml) Lime juice
½ tsp (2.5 ml) Salt
½ tsp (2.5 ml) Pepper
To Serve
12 4-6" Corn tortillas
Instructions
Pork
In a sauce pan, on a medium-low heat, cook the blueberries, onion, garlic, chipotle, salt, pepper, paprika and thyme until reduced, breaking down the mixture with a spoon. Cool completely and spread over the pork to marinade in the refrigerator for 1- 5 hours. Cook marinated pork in an uncovered roasting pan on low heat (275F/135C) for 4-5 hours. Allow to rest and cool. Separate and shred into small pieces.
Salsa
Mix together the blueberries, pineapple, jicama, jalapeño, cilantro, lime, salt and pepper and set aside.
To Serve
Warm tortillas in oven or microwave for 15-30 seconds. Line the tortilla with shredded pork then top with salsa.
BC Wine Pairing Examples
Jennifer Schell recommends:
Nagging Doubt Wines  – 2021 Sallows Road Chardonnay (Kelowna): Very rich, lots of tropical fruit notes but still classic cold climate Chardonnay with good acidity, mineral and green apple notes. On the nose and palate, lemon, green apple, and lovely hints of vanilla and mineral notes prevail, and a surprisingly long finish.