BC Blueberry Limoncello Tiramisu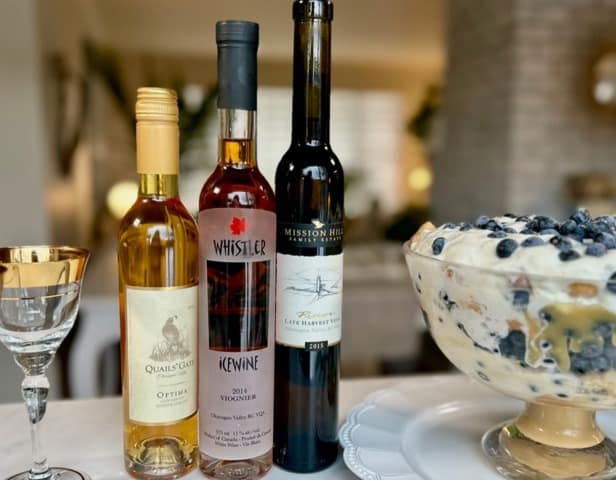 BC Wine Pairing; BC Icewine or Late Harvest wine
Serves 6-8
Ingredients
2 cups whipping cream
1/2 tsp sugar
1 cup lemon curd
1 cup mascarpone cheese
½ cup limoncello
1 cup sweetened condensed milk
1 package ladyfingers
4 cups fresh BC blueberries
Instructions
In a stand mixer beat whipping cream into soft peaks adding sugar near the end of whipping.
In another bowl, mix the lemon curd and mascarpone cheese together.
Fold the whipping cream into the lemon curd combination.
In a shallow bowl combine the limoncello and condensed milk.
Now you are ready to build!
With your dish ready, first dip ladyfingers into limoncello mixture and arrange in a layer on the bottom of the dish.
Cover with lemon curd and cream mixture, sprinkle with a few blueberries and repeat until the top layer is blueberries.
Refrigerate for 6 hours or overnight before serving alongside your BC Icewine or Late Harvest of choice.
Notes: This dish can also be created in individual bowls or the cute, short wide mouth mason jars. You will just need to break the ladyfingers in half.
BC Wine Pairing Examples
Jennifer Schell recommends:
Quails' Gate Optima Late Harvest, Bench 1775 Whistler Viognier Icewine and Mission Hill Family Estate Reserve Late Harvest Vidal
Explore BC Icewines | Explore BC Late Harvest wines