BC Wine trends to try this Spring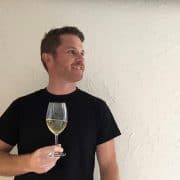 Rhys Pender MW – An educator, wine judge, writer, and grape grower/farmer, Pender has pursued his passion for food and wine by completing a professional culinary diploma and all levels of the WSET, and in 2010 he became Canada's youngest Master of Wine. He runs a WSET wine school and consultancy through his business Wine Plus+, and is a regular contributor to publications such as WineAlign.com, Macleans, Montecristo, SIP and Taste. Pender judges wine competitions internationally such as the Decanter World Wine Awards and TexSom International Wine Awards, as well as for WineAlign and the British Columbia Wine Awards in Canada.
BC's wine industry, while successful, is by no means complacent. Certain styles of wine are slowly starting to prove they are the best expression of a variety or place but grapegrowers and winemakers are not sitting back to rest on their laurels. A forward outlook means BC is keeping up with the global trends that are taking the wine world by storm.
It is easy to write off some of the trends hitting the wine world as short-lived, but history should serve as a warning. It is often the small percentage of influencers who are the early adopters of trends that go on to become mainstream. Think of the recent growth of Rosé, sparkling wine and restrained use of oak with Chardonnay, now taken for granted these were all niche trends just a few years ago.
Many of these trends revolve around freshness making them the perfect thing to try this spring!
Lighter Reds
Much of the trailblazer world of wine is moving in the direction of lighter and fresher and away from full, rich, heavily oaked and extracted reds. This trend is made for BC! The unique climate of BC's wine regions' naturally makes reds full of fruit yet with freshness and brightness. Pinot Noir, Gamay and Cabernet Franc are the stars for this style but Syrah can be fresh and elegant too.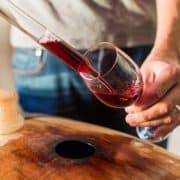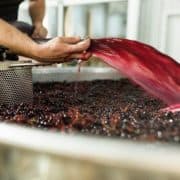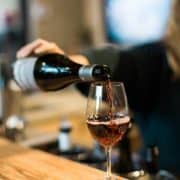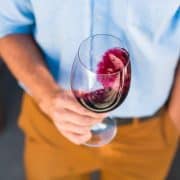 Sparkling Wine
While bubbly isn't new to BC, we are seeing fizz production get ramped up in recent years to meet a thirsty demand. The moderate climate of the coastal regions and the cool nights of the Okanagan and Similkameen produce a great base wine for sparkling. Investments have been made in new equipment to make fresh and fruity charmat method wines and many wineries have traditional method wines slowly gaining autolytic complexity on their lees ready for release in the coming years. It looks like we will have lots to celebrate with!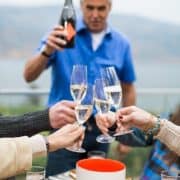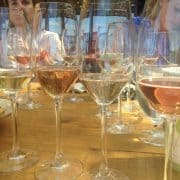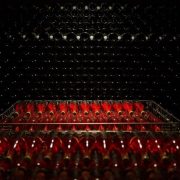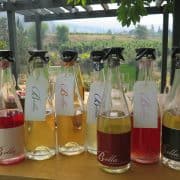 Orange
Something many have written off as a fad is threatening to become mainstream. Thoughtful wine lists across the globe have added an Orange wine section. These skin fermented white wines are as old as wine itself but only recently coming back into favour as adventurous consumers look for complex and interesting flavours and textures. Around a dozen BC wineries have tried their hand at this new addition to the wine colour spectrum.
Natural Wine
This controversial term is a favourite to generate heated debate. What it means is more concept than definition and is simply a way to express a type of wine with minimal intervention. As a minimum it should be organic or biodynamic grapes with nothing added or removed, the only exception for many being a small dose of sulfur.
In BC, the concept of natural is taking hold as winemakers seek to let the quality of the grapes and the vineyard show through and feel they can make the best wines when they intervene the least. Techniques like wild ferments, no fining and no filtration are popping up in wineries big and small.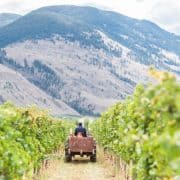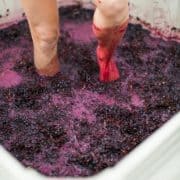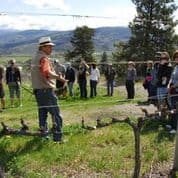 Organic
Certified organic vineyards have historically only made up a small percentage of BCs vineyards despite the fact that the dry, sunny, low humidity conditions make the Okanagan and Similkameen ideal candidates. That is about to change as Von Mandl Family Estates, owner of Mission Hill, CedarCreek, CheckMate and Martin's Lane, announced that it will have all of its BC vineyards certified organic by 2021. Owning over 10% of BCs vineyards makes this a big statement.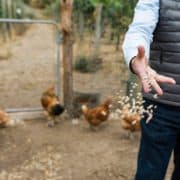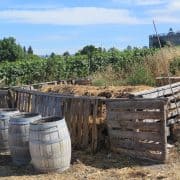 Diversity or Focus
The debate to diversify or focus BCs grape varietal mix is endless. The answer is to do both. While styles are being honed and focused for the dominant grape varieties to reflect and embrace the unique terroir, it also doesn't hurt to experiment and maybe find the next big thing. Curious producers have planted a diverse mix of varieties including Albariño, Dolcetto, Grenache, Grüner Veltliner, Lagrein, Marsanne, Nebbiolo, Roussanne, Teroldego and Verdejo in recent years. Will one of them be the next big thing?