Celebrating women working in BC wine; strong, inspiring, unstoppable. Part Two. By Jennifer Schell
For the entire month of March, we are celebrating women. Strong, beautiful, unstoppable, passionate, loving, creative women. Multi-tasking is our name, and the wine industry is our game. The wine biz needs individuals that are not afraid of hard work and are able to jump in and wear different hats. We get it and we've got this.
This is the second part of a series of interviews with another eight stars in our BC wine industry – from sea to sky – Vancouver to Lillooet and all of our wine regions between. Their stories are interesting, inspiring and each has chosen a wine complete with tasting note to best represent them.
Happy women's month and cheers to all of you amazing ladies that make our BC wine industry shine.
---
---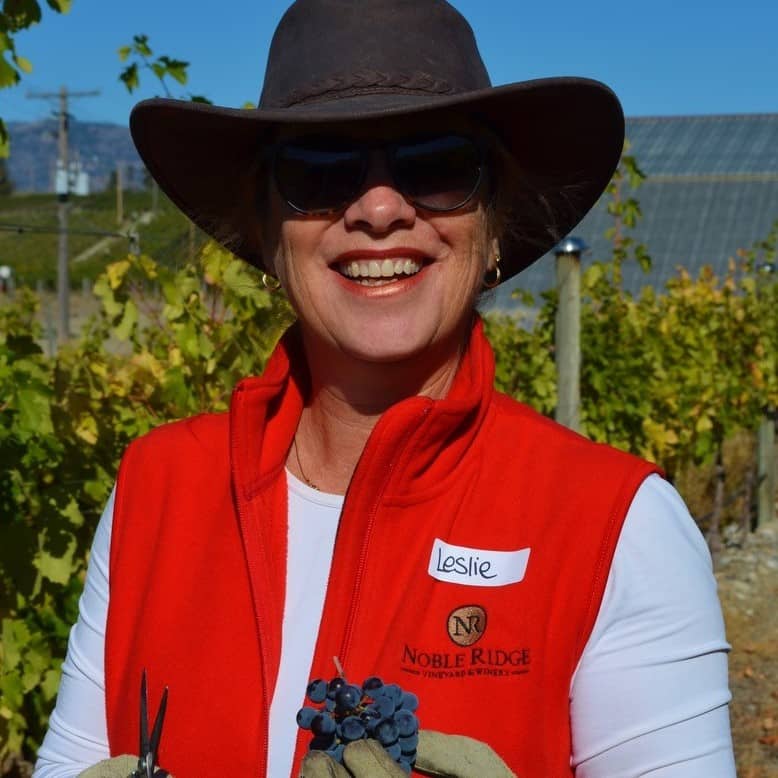 Proprietor  and CEO
Leslie D'Andrea – Noble Ridge Vineyards and Winery, Okanagan Falls, Okanagan Valley
"Of course, like for most people I suspect, my job description is constantly changing and evolving. Our three wonderful children are now 29, 31 and 33 so although being a mom is still paramount, the hands-on job duties have lessened considerably. I have been married for 35 years to Jim D'Andrea, and yes, I can say, the love of my life. Noble Ridge is probably one of the most obvious achievements – who knew two city kids could take on this farming adventure and turn it into our life's passion?
Along with owner and founder, I am the full-time CEO for Noble Ridge (Jim has retired from full-time law practice in Calgary and serves as founder and chair of Noble Ridge, I oversee strategic planning, health and safety, IT, PR and work with our finance manager and Jim to ensure that we are successful financially. We met as bartenders at Queen's University in Ontario, so I think this liquor business was always in our blood! We had always enjoyed wine, always eager to try and learn about new ones.
Another aspect that I love, is that every day is different. I can spend my day working on spreadsheets, writing public relations or marketing pieces, trying to untangle (or tango?!) with liquor regulations, meeting with team members, harvesting grapes, speaking at winery events, attending industry conferences – sometimes all on the same day!
I base my optimism on my own life experience and the fact that the BC wine industry is made up of passionate, hard-working, creative people who care deeply. Like our vines, there will always be constant growth and renewal."
Canadian Sparkling Vintage wine, traditional methode, brut style:
Bubbly, effervescent, vibrant, full of life. Full-bodied (sigh …). Elegant and classic (at least I try!)
I am a wine that enjoys being included in any situation that involves celebration, people you love and great wine. Weddings, anniversaries, a new baby, a new home, a new job, retirement, heck we made it to Friday night – are all reasons to celebrate with this sparkling me.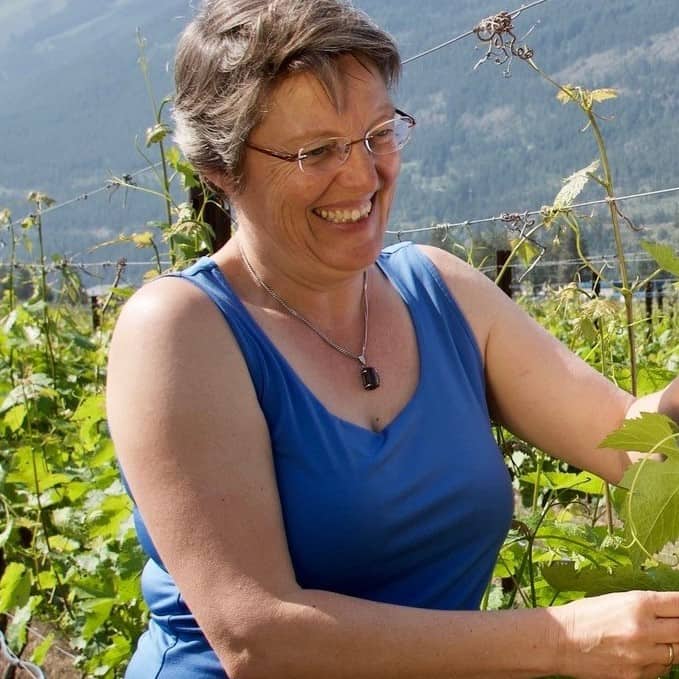 Proprietor, Sales and Vineyard Management
Heleen Pannekoek, Fort Berens Estate Winery, Lillooet
"I'm responsible for business-to-business sales, as well as the vineyard, finance, and landscaping. As a co-owner, there are also many other responsibilities. My husband and business partner Rolf and I are currently working hard on a new strategic plan to bring Fort Berens and Lillooet to a higher level in wine-growing in the next few years. It's super exciting to make plans again and discuss different options for the future.
Our home is on the winery property and my office has been in my home for a couple of years now. That makes it relatively easy to check in with the kids when they come home from school or meet customers that come to visit the winery. It's what I had in mind when we started this business.
I grew up in Holland and my parents were interested in wine from when I was very young. On our holidays in France, we'd go and visit wineries every time. Great food and wine were always an important part of my family's life, with my mom being a great cook. When I met Rolf in university, the first time he took me out, it was to dine in an authentic Italian restaurant, and that definitely was a great start to the relationship.
In my later career in the financial industry, I wanted to increase my knowledge of wine and signed up for the "Vinologen Opleiding" (comparable to WSET 3/4) and loved it! That sparked our interest to work with wine and made us begin to explore options to start our own business and to explore a move to Canada."
Riesling: "It's elegant, complex, has bright acidity with a touch of sweetness. The perfect balance to pair with almost any great dish. Is that me? Not sure, but it would be nice to be a great Riesling! LOL. It would age well too."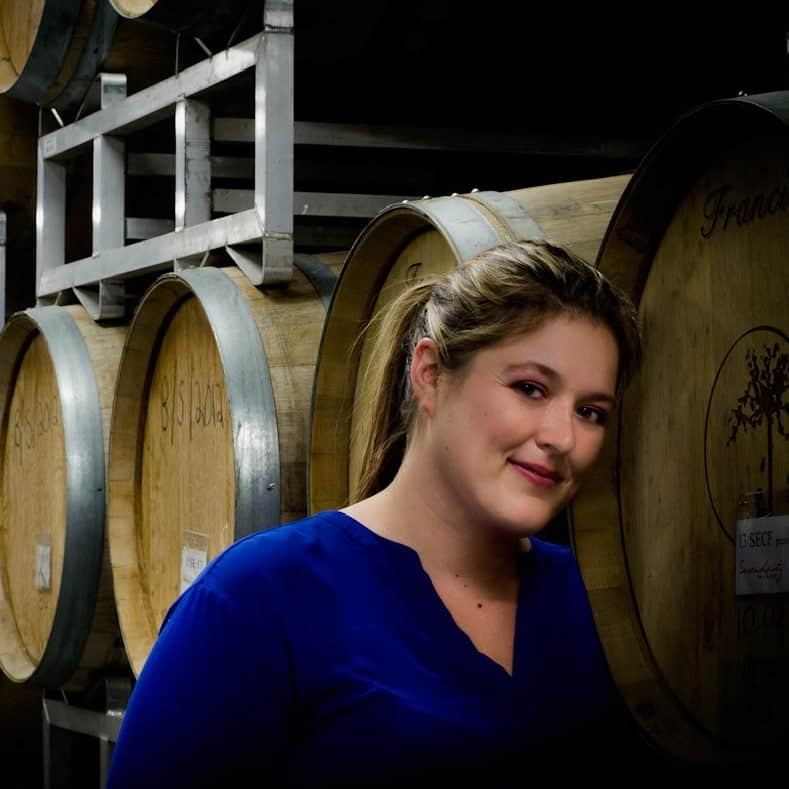 Chief Grape Stomper, 2nd in Command and Marketing Director
Katie O'Kell, Serendipity Winery, Naramata Bench, Okanagan Valley
"In a family-run winery, diversity is key. I love that I've done a little bit of everything, including planting our vineyard! Right now, my main focus is winemaking, but I also manage our wine club, do a lot of our administrative work, and you can also find me in the wine shop a few days a week in peak season.
My background is in biology. I worked in a virology research lab at McMaster University, but after completing my thesis I realized that research was not my cup of tea. I got into law school, but I had 9 months off between the end of my thesis and the beginning of law school, so I came out to BC to help out my mom at the winery. I LOVED working in the winery. I loved that winemaking was a combination of science, creativity, and manual work (and cleaning…soooo much cleaning). I was really inspired by our original winemaker Jason Parkes. He was able to taste unripe grapes on the vine and envision what the finished product would look like. I think my science background gives me added confidence to take risks that others may not be comfortable making.
What's not to love? I get to be creative, keep my toes in the science world, and have a few drinks in the process. I get to take my dogs to work and help see my mom's dream to fruition.
I would love to take more of a mentorship role with other young women in the industry. It's hard out there for other women in a male-dominated field.
I've had a few women reach out to me for help getting their foot in the door, and I would love to do more of that. To borrow a few words from Sandra Oldfield, we need to weed whack the way for each other."
Sparkling Merlot (Natural Unfiltered): I tend to be one of those people that doesn't have a filter and that says the first words out of my mouth. I would be high in alcohol because I'm a firm believer in getting the bang for your buck. Because I actively seek out ways to go against the grain, I would be a wine that isn't typical. Minimal skin contact, light blueberry flavours, nine months elevage for a hint of the traditional.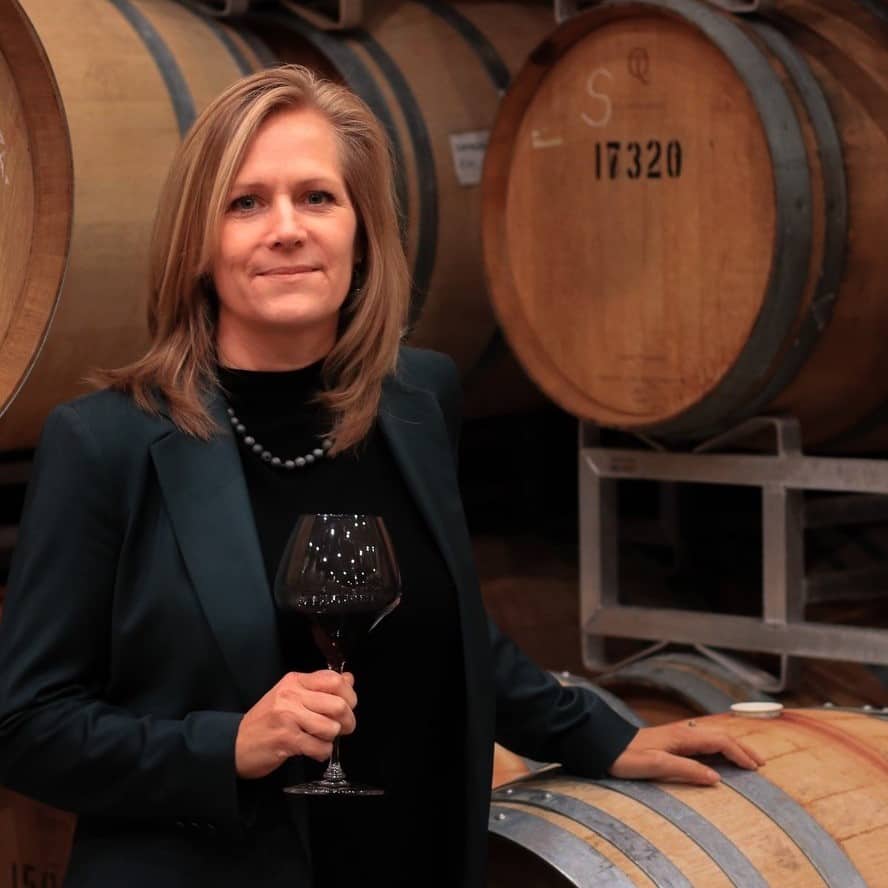 VP Marketing and Sales Director
Angela Lyons, Quails' Gate Estate Winery, Stewart Family Estates, Okanagan Valley
"Simply put, my core responsibility is to lead and mentor our marketing and sales teams while owning the execution of channel strategies to continually develop the wineries of Stewart Family Estates.  Beyond delivering annual business strategies, I work with our winemaking and viticultural teams to set a long-term vision for product development ensuring we deliver on a culture of innovation.
While working at a communications firm in Toronto in the 90's, we secured business to represent 'U.S. Pacific Northwest Wines', in Canada. Although this led to the education of the wine industry landscape, it was the opportunity to tour the wineries of Oregon and Washington that sparked my passion. This led to contract work with Penfolds and a rewarding 15-year career with Treasury Wine Estates.
I genuinely love everything about my job. Working with a family business that always makes the choice for quality is in complete alignment with how I work so appreciate being in this environment. Being closely connected to the land inspires me as does working alongside dedicated people who are equally passionate about their roles in the business. Finally, the rare opportunity as a marketer to be part of a team developing a new winery. After more than two decades working with international wineries and brands, my future is right here in the Okanagan, proudly flying the flag for Canadian wines and making contributions to the growth of our industry. "
Pinot Noir: Limitless expressions – from earthy to elegant to bubbly.  Nuanced and complex.  Forever in pursuit of perfection.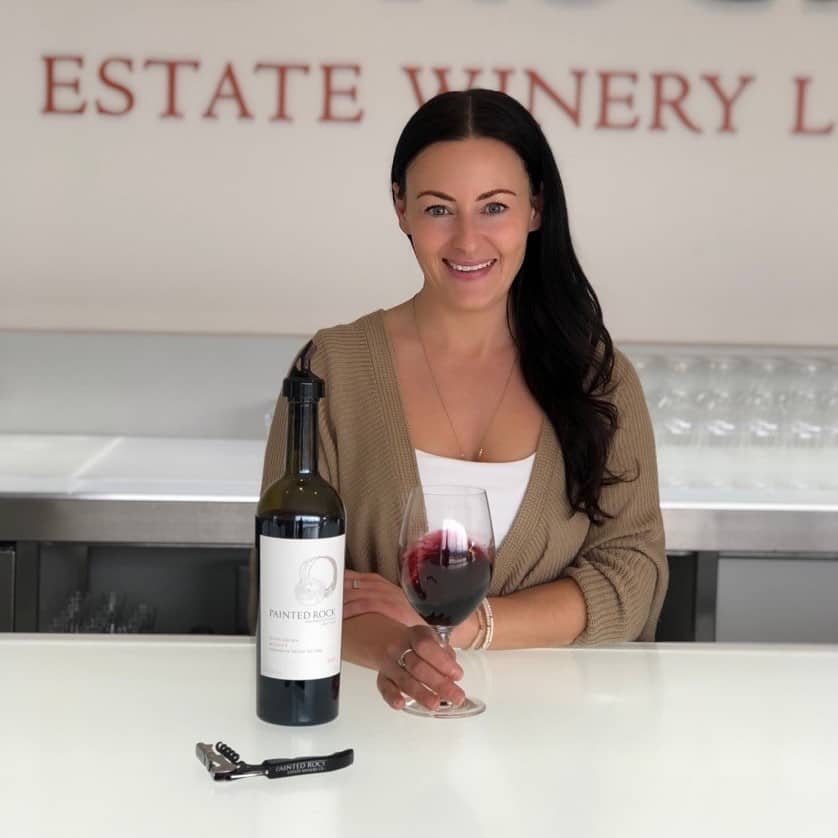 Wine Club/Hospitality Manager
Leigh Varga, Painted Rock Estate Winery, Skaha Bench, Okanagan Valley
"As I head into 10 years of being involved in the BC wine industry, I have been lucky enough to experience quite an array of roles. From event and wedding coordinator to hospitality manager to wine club management, it's been such a pleasure being able to transition and learn through these varied roles. I currently work for Painted Rock Estate Winery where I manage the wine club, assist with hospitality management and have a strong focus on direct-to-consumer sales.
I am Italian and grew up in a very 'food focused' household, where large family gatherings and epic Sunday meals were the norms. Seeing the passion my grandparents and parents had for cooking and bringing family and friends together through food initially was what lead me to work in the restaurant industry and, in turn, the wine industry.
The most incredible part of my job is the people I have met along the way that share this same passion for wine, be it guests visiting in the tasting room or colleagues working in this industry. Being the main contact for our wine club members, I not only get to chat about wine, but also help plan their trip to the Okanagan, recommending my favourite local restaurants, breweries and hikes. Having a part in creating a positive and memorable experience for someone visiting the area for the first time is hugely rewarding. Growing up in the Okanagan, and being a strong advocate for Okanagan tourism, I have been able to watch the expansion and growth of the wine industry and it is quite remarkable.
I feel incredibly lucky to get to share this excitement with our guests and wine club members on a daily basis. Honestly, as long as the role involves getting to chat about BC wine, being able to brag about how amazing the Okanagan is and meeting other passionate wine drinkers, I'll be happy."
Lambrusco: Easy going and adaptable and pairs well with so many delicious Italian dishes and can be quite varied in style. An outgoing and 'bubbly' personality makes me a fantastic choice for any social situation.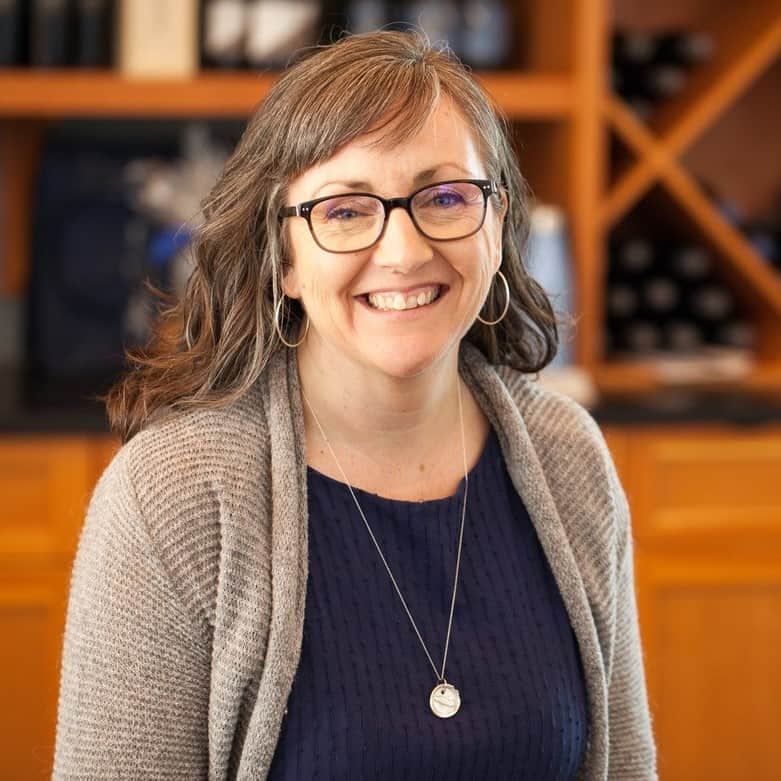 General Manager and Head Office Maven
Jenny Garlini, Blue Grouse Estate Winery, Cowichan Valley, Vancouver Island
"My job description is and has been to get what needs to be done, done! Be it inventory reports, setting up meetings, washing glasses, posting on Instagam stories, liaising with our sales agents, and working on the bottling line.
This same description is all-encompassing in my personal life as well!  I am mom to two busy kids and one dog and as much as I would like to say that I take care of everyone, my job at home is to make sure my kids learn how to take care of themselves I want them to succeed in life and that means to be responsible for themselves.  So, they, (and my husband Bailey, who is the winemaker at Blue Grouse), need to make their own lunches, help with laundry, dinner, cleaning and more.
I have a work team and a home team, and I want us to all succeed.
I grew up in a family restaurant and that led to my interest in cooking, eating, and discovering new foods and wine.  I went to culinary school and worked in the restaurant industry for 10 years before I started to visit winery tasting rooms in Oregon and Washington.  I remember visiting one tasting room in my hometown and after I left, I said to myself…This is where I want to work.  Six months later, I packed up and moved to take the tasting room manager job at that winery.  The allure of the vineyard, the people, the wine, the process…had me hooked.
My future grows with Blue Grouse and there is a lot happening.  We are planting this year and will finish our vineyard expansion with a total of 35 acres of planted grapes. This expansion is going to change Blue Grouse and within that, it will grow and change my role. "
Riesling: Well-balanced, sometimes indulgent and improves with age.
Marketing Manager
Ashley Demedeiros, Monte Creek Winery, Thompson Valley
"One afternoon, roughly six years ago, I visited Monte Creek Winery with some friends. I had never been to the winery before and was blown away by the experience. I knew right then and there that I wanted to work at the winery and asked if they were hiring.  As luck would have it, they were looking for someone in marketing! A month later, they hired me. I'm grateful I leapt at the opportunity to work in the wine industry.
I love working with a small team. The variety of tasks I get to dig into keeps my days exciting. I've helped with bottling, played a character role in a Halloween event, assisted with packaging wine club shipments and even poured wine at the Parliament Buildings in Victoria for provincial delegates.
I especially love my role in our sustainability efforts. It is rewarding and exciting to see us reaching our commitments to the well-being of our company, customers, community and environment.
I see myself continually learning about wine and doing my part to contribute to the support and growth of the BC wine industry. The passion the people have in this industry is admirable and contagious.
I'm also busy raising my son Rowan who is 1.5 years old!"
Gamay: Friendly, light-bodied with medium acidity and low tannins. Aromas of delicate flowers and subtle earthy notes. Raspberry, black currant and pepper are the dominant flavours. I love roast chicken, dinner parties and weekend events.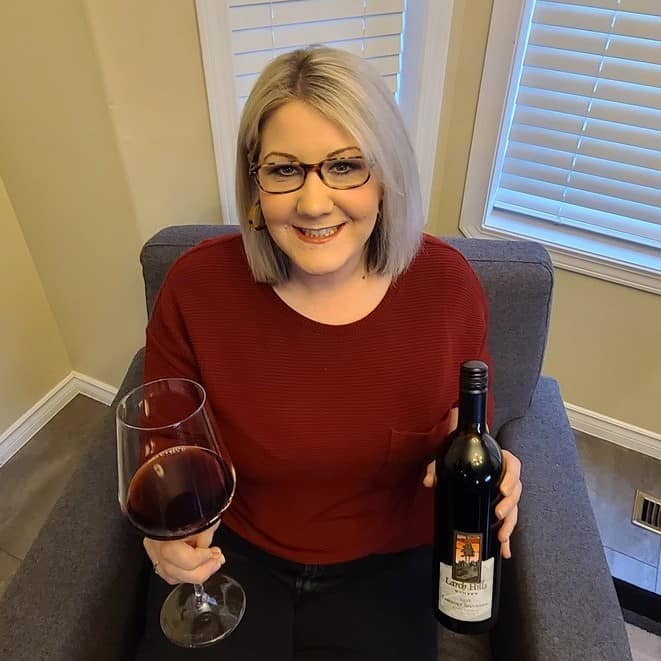 Wine Shop and Social Media Manager
Sasha Manser, Larch Hills Winery, Shuswap
"My job is to make sure the tasting room is running smoothly, I am a wine shop manager and responsible for training new hires, ordering giftware, checking emails and I also run our wine club. I also do get out in the vineyard a little throughout the year, I do enjoy harvest time, picking the grapes. And when I am needed, I do help my husband and father-in-law bottle.
Larch Hills has been run by my husband's family for almost 20 years now. We made the decision to make a radical lifestyle change and move our children and entire life to BC from Alberta.
I went from being a stay-at-home mom to a full-time working mom.
Anyone who knows me knows I LOVE to talk, and I LOVE wine so running the tasting room is something I enjoy. I get to meet new people almost every day from all different walks of life. I love getting to know our customers as well. We have amazing local support and I have gotten to know some of our customers very well over the last four years. I really look forward to helping the Shuswap wine region continue to grow."
Madeline Angevine: "Mad Ang" for short however my tasting notes don't include madness lol. A little bit of fruit for sweetness, some citrus for sass and a smooth finish.
---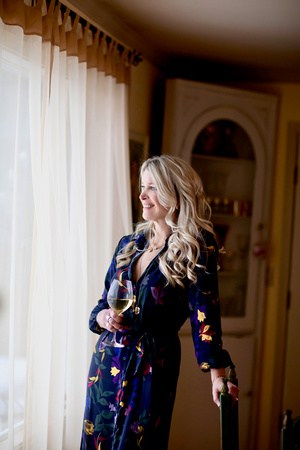 By Jennifer Schell – Jennifer Schell is a highly acclaimed food and wine author, photojournalist and former editor of BC Food & Wine Trails Magazine. Her three cookbooks, The Butcher, The Baker, The Wine & Cheese Maker were bestsellers and have won international awards.  Her fourth book, the B.C. Wine Lover's Cookbook for Appetite by Random House was released this summer. Born and raised on an apple orchard in East Kelowna, Jennifer is a passionate supporter of BC's vibrant farming, food and wine industry and has provided a creative lens inside the valley's landscape and its people for over 15 years.