Chef Shane Chartrand Speaks To Indigenous Peoples Day; Shares Feature Recipes. BC Wine Pairings By Indigenous Sommelier Eliana Bray
Although I have not yet personally met Chef Shane Chartrand, I have been following his culinary journey through reading his recipe book tawâw: Progressive Indigenous Cuisine, connecting on social media, and watching his videos on Youtube. He is an inspiration to our Indigenous community, and invites us all to look at our food sources and how we prepare it through different eyes. Here is our conversation.
Eliana: Canada has commemorated National Indigenous History Month every June since 2009, and June 21 is National Indigenous Peoples Day. What does this month and day personally mean to you? What would you like people to experience from our People's different cultures in Canada and from our Cree heritage?
Shane: It's a really good day and month that we celebrate, but it should be a year-round celebration. It is a lifelong study to learn about our Indigenous Peoples, not to mention all the individual Nation's food. I have learned that when you prepare food, you give prayer to the sacrifice and also make one extra dish for your Ancestors to give thanks.
Eliana: Tell us a little more about tawâw: Progressive Indigenous Cuisine – how did this project come about? How do recipe creations reflect your interests and personality?
Shane: My culinary hero is Susur Lee, a Toronto-based Canadian chef known for infusing his Hong Kong and Chinese cultural influences in his world-famous Asian-fusion cuisine. This was an eye-opener for me, I started to buy several cookbooks and realized that our Indigenous and Asian food cultures were quite similar. Having initially started in a kitchen, my first job was at a truck stop café as a dishwasher, working my way up to a short order cook. I never gave up on cooking, and eventually enrolled in culinary school at the age of 23.
This book is the biography of my life. I learned how to discover my own Indigenous roots through cuisine by talking to Elders from my own Nation and by trying to connect with other local ones. My book is my own life story, it's designed to make you think "outside of the box" and to dream.
Eliana: Do you feel BC wines compliment the flavours of indigenous cuisine? And specifically, the progressive recipes shared in tawâw?
Shane: I have a great interest in Wines from British Columbia and have taken my Level 1 Sommelier to learn more. I have completed several times in the Gold Medal Plates and lastly won Gold for my dish "Effects of Red", a mono-chromatic dish which I paired with the 2015 Tantalus Pinot Noir, a wine that also won the Best of Show Wine Award. I tend to choose smaller producers for their sense of place and their terroir.
Eliana: Why did you decide to share this first recipe with us? The "BC Spot Prawn with Green Yogurt Cold Soup" dish sounds delicious, and I can attest to that as I re-created it to pair with my BC Wine selections.
Shane: This is one of the recipes that did not make it into tawâw, but it's a definite favourite. We are currently in spot prawn season, and I wanted to choose something that was very delicate in flavour and true to the ingredients. I like to name each dish and recipe I create.
Eliana: It seems we have similar palates; I had unknowingly chosen a wine pairing for this dish that you had once chosen for one of your Gold Medal Plates dishes, the Culmina Unicus, a Grüner Veltliner from Oliver in the South Okanagan. A fantastic pairing wine, so versatile depending on the ingredients and cooking techniques.
Eliana: Tell us about the technique or method taken to make this second recipe, "The Glitter of Skuna Bay." Is this an Indigenous recipe anyone could attempt?
Shane: This was another recipe that didn't make it into my tawâw recipe book. Anyone is able to recreate this dish. The recipes in my book are designed for household kitchens and the temperature recommendations assume that you are using a convection oven. There is an indicator for the "doneness" in each one, visual and aromatic cues. This dish was created to celebrate the West Coast cuisine, an area that I have showcased before during the Gold Medal Plates competitions.
Eliana: What are the notable ingredients in this third recipe that make it stand out? Why did you choose to share this "Squash" recipe?
Shane: I grew up on a farm in Alberta with a garden learning how to hunt and fish. I thought that was how everyone grew up. I have recently visited a vegan restaurant in Edmonton and was amazed by the dishes. Squash can be transformed in many ways, by different styles of cooking like roasting or smoking. It's very versatile and my recipes are meant to be a guide, you can increase or decrease the ingredients to suit your palate or, in this case, the wine pairing.
Eliana: Any last anecdotes or words?
Shane:  I don't get inspired by ingredients; I'm inspired by emotions. One of my favourite things is to walk through a hardware store. I get inspired by the tools and items I see as they can be translated to something as simple or complex as a strawberry and how it grows with the leaves and foliage. I re-imagine how things exist and create that in my culinary journey.
Locate Indigenous Chef Shane Chartrand's Recipes | Sommelier Eliana Bray's BC Wine Pairings HERE
---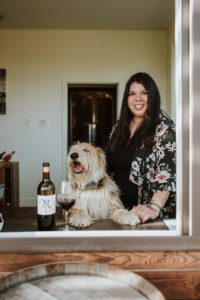 By Sommelier Eliana Bray: Eliana currently resides in the Okanagan Valley as Roche Wines' current Executive Manager. An adopted, full-status Kehewin Cree Nation member from Alberta, Eliana moved to the Okanagan in her early teens with a great love for music playing the flute, piano, guitar, singing Alto and planning to be a music therapist. A trained chef, with a wine career extending to Mission Hill Family Estate Winery, Rhys Pender MW at the Mark Anthony Wine Merchants stores (now Everything Wine), she is a Certified Sommelier through the ISG (International Sommelier Guild) and WSET Certified (Level 3 of Wine & Spirits Education Trust).
A life-long learner, Eliana is completing her WSET Diploma, and aspires to bring her culinary endeavours to life again with the help of her biological sister and the creation of a food truck and culinary business in their spare time when they aren't working in their current fields.
---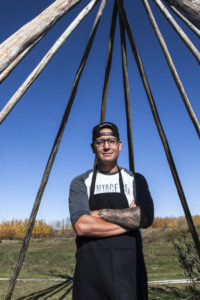 Biography: Indigenous Chef Shane Chartrand
Biography: Shane Chartrand, of the maskêkosak (Enoch Cree Nation), not only represents one of Canada's leading chefs, but is also actively involved in the re-emergence of Indigenous cuisine in Canada. He has competed on television's Chopped Canada (Season 2, episode 9), Iron Chef Canada (Season 1, episode 12), and Fridge Wars (Season Finale, 2020). He is a judge on Food Network Canada's Wall of Chefs (Season 1). He was also featured in the award-winning documentary series Red Chef Revival. He is also the co-author—along with Jennifer Cockrall-King—of the award-winning cookbook, tawâw: Progressive Indigenous Cuisine (Ambrosia / House of Anansi, 2019).
Born Shane "St. John" Gordon, Shane was adopted into the Chartrand family when he was almost seven years old. He was taught by his Metis father and Mi'kmaw / Irish-Canadian mother how to grow and respect food on the family acreage in Central Alberta through raising livestock, hunting, and fishing. When he relocated to Edmonton to pursue culinary training, his work ethic and passion for cooking had him honing his craft and training in some of the best restaurants and hotels he could find.
Despite his accolades and achievements, Chartrand is a humble, and down-to-earth. He enjoys regularly giving back to the community. Though public speaking and media appearances did not come naturally to him at first, he is passionate about sharing his knowledge and experiences in order to promote understanding and respect across and within Indigenous and non-Indigenous communities. He especially loves travelling to other Indigenous communities to learn from Elders and inspire Indigenous youth to pursue their dreams, being true to their identity, and finding a creative path forward through work and service to their communities.
In his downtime, Shane enjoys travelling, fishing and hunting with his father and friends.
For over a decade, he has been on a personal culinary journey to figure out what it means to be of Cree ancestry, Metis upbringing and professional chef living and working on Treaty 6 Territory.
"Dream with me," is all he asks.