Wines of BC Go Wild for BC Salmon. April is BC Wine Month. Feature Recipe by Jennifer Schell
April is BC Wine month and officially marks the return of springtime in wine country! Can you hear the corks a-flying – or more likely, caps a-twisting?! Our beautiful 2022 BC spring wine releases are timed perfectly with the return of daffodils, tulips and that lovely warm sun that just screams for a glass of pink wine. Lucky for us, our winemakers have created a stunning line up of pink hued beauties for us to enjoy. From electric fuchsia tones to the palest blush, they deliver with a full range of styles and varieties to keep you sipping all year long. Rosé is also one of the most versatile food pairing wines out there and we have a ton of recipe ideas to share.
Speaking of pink, Wild BC Salmon are one of British Columbia's most treasured natural resources and the fishers who bring them to our tables are to be celebrated.  Here in bountiful BC we can enjoy local boat to table ingredients harvested from our West Coast waters and all can be paired perfectly with our very own local wine.
Wild BC Salmon is a super versatile recipe muse that will be the star of any meal.  The rich colour of salmon happens to also visually pair perfectly with our range of pretty Rosé wine tones. From international flavours to basic salt and pepper, Wild BC Salmon is an easy and delicious dish to make at home.  Did you know that there are five species of delicious salmon that our waters offer us?  Chinook (also known as Spring), Coho, Sockeye, Chum (Keta) and Pink. The key is to always buy fresh wild BC salmon from a reputable local source.
"Wild BC salmon continues to play an important role in BC's economy and delights consumers in a growing number of global markets. The wild salmon industry in British Columbia, Canada is highly committed to maintaining the traditional importance of a sustainable and economically viable salmon resource for today and tomorrow. Wild salmon has played a significant cultural and economic role in west coast communities throughout British Columbia for as long as humans have lived there."- BCSalmon.ca
In my BC Wine Lover's Cookbook published by Appetite Random House, you will find some delicious salmon recipes submitted by our winery families from all over the province from ocean to desert. Osoyoos Lake is a spawning ground for Sockeye Salmon thanks to the work done by the Okanagan Nation Alliance (ONA) who have worked to reopen the natural waterways for the salmon to return as they did decades ago. Justin Hall, Nk'Mip Cellars' winemaker is a member of the Osoyoos Indian Band and one of the very first Indigenous winemakers in the world. Born and raised in Osoyoos and an avid fisher and forager, Justin shared his favourite way to prepare his fresh caught Sockeye Salmon on page 171 Justin's Crispy Skin Sockeye Salmon with Saskatoon Berry Sauce.
Closer to the sea, Paul Brunner from Blue Grouse Winery on Vancouver Island shares his favourite Cured Salmon recipe on page 219 thoughtfully paired with his Paula Sparkling Wine (named for his daughter).
One of my go-to salmon dishes from my cookbook is Salmon Wellington. Adapted from Mark Anderson's recipe, you will not believe how incredibly easy it is to create this dish at home.  Always a wow to serve guests, it is also a fab make ahead dish and can even be served cold for a picnic meal. I always pair it with Rosé like Master Winemaker Howard Soon's from Vanessa Vineyards.  I was thrilled that he stopped by to share a tank sample of his new spring release and to share his immense knowledge on everything Rosé and how to pair it with salmon.
Now which wine to pair? One of my go-to's to pair with Wild BC Salmon is Rosé! And here in BC we now have a plethora of pretty pinks to choose from. Not only do pink wines visually make a great match, the wide range of styles and flavour profiles of Rosé also affords the opportunity to choose the perfect profile for your dish.
Rosé is not the only choice to pair with Wild BC Salmon! There are so many other delicious whites like Chardonnay, Sauvignon Blanc, Viognier and lighter reds like Pinot Noir are a go-to.
Remember, it's all up to your palate, so be adventurous with your BC wine pairings!
Wild BC Salmon Wellington Recipe
HERE
Other delicious Wild BC Salmon recipes and pairings to create at home to celebrate April:
Herb Crusted Wild Salmon – Wild BC salmon, breadcrumbs, lemon, olive oil, parsley, and roasted seasonal vegetables and a sweet potato puree. Recipe
Pairing suggestions:
 Spearhead Winery Golden Retreat Vineyard Pinot Noir (Okanagan Valley) – This ripe Pinot will add a luxurious edge to this roasted comfort food dish.
Winemakers Cut Sauvignon Blanc (Okanagan Falls) – The freshness of this citrusy Sauvignon Blanc will sing along with the lemon flavours of this dish.
Confit Wild Salmon with Caviar Cream Sauce – Wild BC salmon, olive oil, lemon, thyme, shallot, butter, white wine, chives and Mujjol caviar. Recipe
Pairing suggestions:
Haywire Secrest Mountain Chardonnay (Summerland, Okanagan Valley) – Organic and creamy to match the sauce backed with enough acidity to cut the creaminess.
Terravista Figaro (Naramata Bench) – This celebrated blend of Roussanne, Marsanne and Viognier hits all the right notes for a cream sauce. Lots of rich mouth feel but with a crispness to cleanse the palate.
Wild Salmon Poke Bowl – Raw sushi grade wild BC salmon*, soya sauce, sesame oil, sesame seeds, sweet onion, green onion, mango, cucumber, ginger, radish, edamame, carrot ginger sauce. Recipe
Pairing suggestions:
Clos du Soleil Rosé (Similkameen Valley) – This 100% certified organic, biodynamic wine is 100% Malbec is delicate on the palate with a crisp, dry finish make it a perfect food wine.
O'Rourke Peak Cellars Riesling (Lake-Country, Okanagan Valley) – An exhilarating wine with tropical notes and a zippy acidity making this a lovely partner for Asian dishes.
Spicy Wild Salmon Tartare – Wild sushi grade BC salmon*, sambal oelek, green onion, pickled ginger, sesame seeds, Kewpie mayo, soya sauce, mirin, avocado, nori, wonton chips. Recipe
Pairing suggestions:
Unsworth Vineyards Charme de l'île Sparkling NV (Cowichan Valley, Vancouver Island) – Their own version of Prosecco, this wonderful blend featuring Pinot Gris and Pinot Noir is a bubble that pairs with everything.
Whispering Horse Winery Sparkling L'Acadie (Fraser Valley) – This unique to our industry sparkling wine is made in the ancestral style using 100% L'Acadie grapes. Super crisp and clean, it is a lovely choice for these exciting Asian flavours.
*Consumers need to use 'sashimi grade wild salmon' when consuming raw salmon. Sashimi grade wild salmon has been properly frozen for raw consumption.
---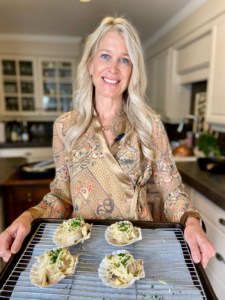 By Jennifer Schell – Jennifer Schell is a highly acclaimed, international award-winning food and wine author, photojournalist and champion of BC's local food, wine and farm community. Jennifer's bestselling new book The BC Wine Lover's Cookbook published by Appetite by Random House continues the celebratory theme set in her first three cookbooks, The Butcher, The Baker, The Wine & Cheese Maker, all bestsellers. Born and raised on an apple orchard in East Kelowna Jennifer and her books were the first to spotlight the amazing community of food, drink and farming community in the Okanagan.