On our terms. Stories of women working in BC wine. By Nikki Bayley
If you've ever wondered if there's a place for you in the wine industry – even if you don't come from a winery-owning family or long line of grape growers – take inspiration from these five women who've succeeded on their own terms in the world of BC wine. They have diverse backgrounds, and their previous careers range from the oil industry to tourism, but what they share is a love of wine, and the determination needed to strike out in a new direction to follow their passion.
Packed with excellent advice for wannabe winemakers, viticulturalists, winery owners, managers and marketers, if you've dreamed about working in the BC wine industry, maybe now's the time to start on the journey to make that dream a reality.
Karen Gillis, Vineyard Operations Manager, Andrew Peller Ltd., Oliver, Okanagan Valley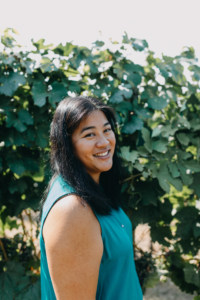 "Originally, I wanted to go into the culinary world; I had a couple of uncles who were chefs and I loved how food brought everyone together, however, my Chinese family wanted me to choose something academic so, I studied food tech at BCIT as I find sensory science fascinating.
My career in wine began as I had a friend who was a lab manager at Andrés, (now Andrew Peller), and they needed harvest help. I've always loved the growing side of things, so when I was given the opportunity to learn about viticulture in the Okanagan Valley, I took it. I've worked in the labs and as a winemaker, but two years ago I became head viticulturist looking after the 500 acres we own and another 500 that we contract. This position bridges the gap between winemaking and the vineyard, working as a team to make the best bottle of wine.
I grew up in a company that was very accepting of diversity, it was never an issue for me; I think BC is probably the easiest place to establish yourself as a woman in wine, but you've got to work hard because there is a lot of competition. My advice is to network and be humble; if you think you'll be a winemaker in a year, you're sadly mistaken! There's value in wine education courses because you meet people with similar passions. Discover what part of the industry you're interested in; if your dream is to be a winemaker, you'd better start drinking wine. Love farming? Go dig in the dirt and figure out what's special about it!"
Gillian Stohler, Winemaker andCo-owner, SummerGate Winery, Summerland, Okanagan Valley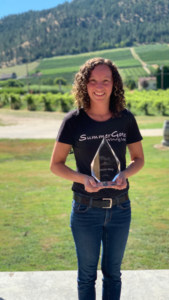 "We had no experience in the wine world, but my husband Mike and I loved visiting the Okanagan and dreamed about growing grapes there. In 2003 we started planning and five years later, after saving and trying to find the right place, we moved to our nine-acre Summerland vineyard planted with Muscat Ottonel, Riesling and Kerner.
I thought the wine world was cut-throat with secret formulas, I had no idea the industry here was so collaborative. The decision for me to be our winemaker was a practical one; my husband's better with tractors and I'm good with maths and chemistry! I studied for the winemaking assistant certificate at the Okanagan College in Penticton, which offered invaluable lab time and a 40-hour practicum.
Our first vintage was crazy; we didn't know if we could make the wine because we hadn't quite finished the paperwork, but we got it done and had a perfect crop. We are a host farm for WOOFERS and by total fluke we had a German winemaker couple staying with us, plus our consultant Kelly Symonds guiding us.
You don't have to own a vineyard to make wine; you can lease land, buy juice, think creatively. A good place to start is volunteer your time at a winery, go to places that make the style of wine you enjoy. We do harvest days at SummerGate, we put on a big lunch, and everyone gets to see how it works."
Donita Dyer, Marketing Assistant at Phantom Creek Estate, VQA tasting panel member, Black Sage Bench, Okanagan Valley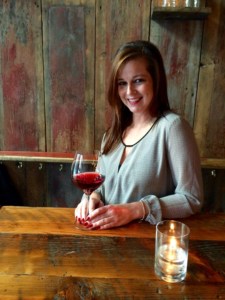 "My path to wine began over a decade ago; my ex was really into wine, but I didn't know anything. I started working in tourism with Eric Pateman at Edible Canada helping run and organise food tours. I was intrigued by wine; listening to Eric and Treve Ring (wine writer and educator) talk about BC wine was fascinating.
My wine career blossomed as I studied for my WSET exams, and kept taking different courses, just soaking up all that wine knowledge. I worked with a wine agency, then got a job in retail at Firefly Fine Wine and Ales; it was just as Instagram was exploding, and I bought my marketing experience with me into the role.
After developing my palate, I began working with the BC VQA panel as a taste test assessor in 2018 and I'm currently working on contract covering mat leave at Phantom Creek, it's so much fun to get back into full-on marketing again: updating the website, liaising with the PR company, planning, and executing strategy, my brain is on fire all week.
If you want to learn more, start in retail at an independent wine store, you start talking about and tasting more wine. Volunteer at wine events, get your Serve it Right certificate, and take some courses, be a sponge and soak up knowledge! Your skills are transferable for the wine industry: marketing, sales, design, you just need an open mind. Maybe you're a great project manager? The wine world needs that too."
Linda Holford, Owner/President Rocky Creek Winery, Cowichan Valley, Vancouver Island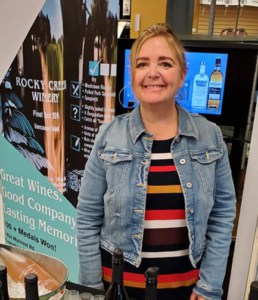 "We have a slogan here: 'From corporate suits to gumboots.' My background is in the oil industry where I worked as a liaison in pipelines, so when a chance came to move to Crofton, on Vancouver Island, for my husband Mark's job, I didn't know what I was going to do next. Mark always wanted to make wine, but we didn't want to jump in and buy a winery, so I started researching and saw that you could do it without the land attached – if you thought creatively!
I started the first home-based winery in Canada in Ladysmith; I was used to reading regulations, so I started as a sole proprietor and navigated the paperwork and licenses solo. We had a gravity-fed system in our home, from our garage to the basement with a cement cellar and tank. I wanted our winery to be 100% Vancouver Island, so we leased land locally for the grapes.
We started small and thought we'd stay in Ladysmith for five years, but after two years we took a leap of faith and looked for property, now we have five acres and lease land too. Hindsight is 20/20, if I'd known about the tax issues starting as a home-based winery, I might not have done it, but it was a stepping-stone into the industry without getting into a huge amount of debt. I've learned more this way, so I'd recommend you start small and learn before jumping in. It's easy to get swayed, so trust you've made the right decision and commit to it."
Eliana Bray, Executive Manager Roche Wines, Naramata Bench, Okanagan Valley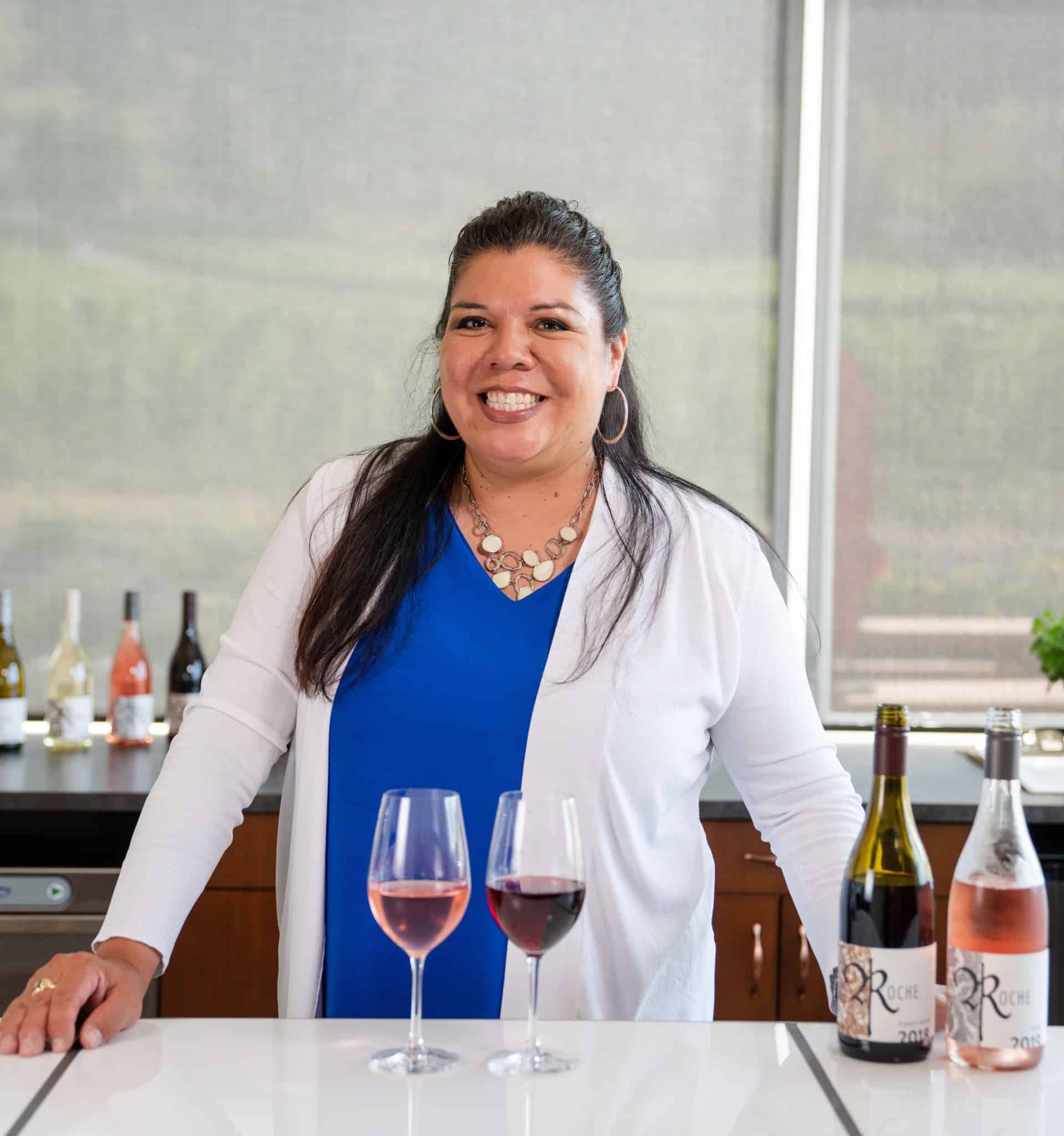 "My first wine job was in retail at Mission Hill Family Estate, but I had grown up working in the culinary industry in the Okanagan. When I was 24, I had moved to Vancouver to study music therapy and worked in wine to support that. Very soon I realized: 'wine is more suited to my calling at this point in my life!'
I studied for my Sommelier & WSET exams and moved fully into wine retail until 2012, when I returned to the Okanagan to be with family. I took a job at CedarCreek, then transitioned to Roche Wines in 2018. I love this position, it encompasses everything except making wine or working in the vineyard: creating experiences for members and guests, managing the wine club, social media, liquor registration protocols, inventory, logistics, admin, and training staff. My passion is also culinary; I love creating food and wine pairing magic.
All throughout my wine life as an Indigenous woman, I felt I needed to prove myself. I wanted to know more and bring more to the table as a person of colour. I was the first recipient of a BIPOC VINICA Master Tasting Class scholarship, and there are more tools available now for BIPOC, which is empowering. This past summer I had a few young Indigenous women visit the winery who had heard of me and wanted to know how to get a foot in the door. My advice is to work hard, be yourself, and be an example."
Survey the growing list and see the many photos of women who are contributing to BC's wine industry.
Check out the most recent job listings from our members. Find your perfect fit with BC wine.
Left to Right:
Allison Zimmerman – SeasidePearl Winery | Jesce Baessler – Proprietor, Corcelettes Estate Winery | Darrien McWatters – Operations Manager, Time Winery | Kathy Malone-  Winemaker, Hillside Winery Bistro | Jinny Lee-  Proprietor, Giants Head Winery
Watch Women Winemaker Jordan Kubek with Lightning Rock Winery, Summerland, Okanagan Valley
---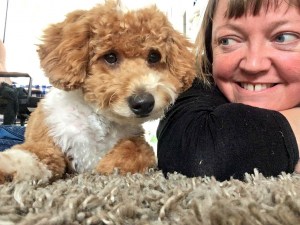 By Nikki Bayley – a freelance writer for titles including Whistler Traveller, National Geographic Traveller and USA Today. You can read Nikki's seasonal BC Wine 101 column in BC Living and follow her on Instagram @NikkiBayley, where she posts way too many photos of her cute puppy, Teddy.