Harvest Havens and Grape Escapes
It's fall, which means there's no better time to head to wine country, especially considering that harvest is in full swing across British Columbia. In essence the season heralds both the beginning and end of the vine cycle. Grapes are being picked from dawn to dusk. Crews and crush pads are working around the clock. Soon the vines will go dormant for winter, in preparation for next year's vintage.
With an array of nine contrasting wine regions in almost every corner of the province—from the Cowichan to the Okanagan, Kamloops and the Kootenays—it's never been easier to experience the thrill of harvest at close hand. Even better, the choice of wine country accommodations has never been so varied and plentiful. Take time to indulge in the joy of nature—and discover the best fruits of the vine that BC has to offer!
To really revel in fall colours, take Highway 3 from Vancouver. Not only does the 'Hope-Princeton' offer a more leisurely drive it lands you in the heart of the Similkameen Valley. While the pace is usually laid back—not so much at harvest time! Places to stay are few and far between, so book early to stay at Orofino Vineyard Suites.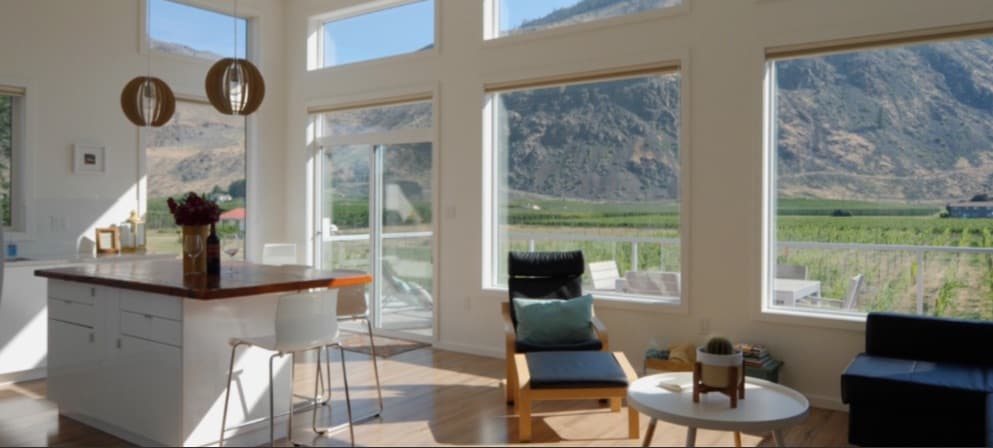 This pair of smart, glass-wrapped suites looks out across the vineyards to the ancient range that divides the Similkameen from the Okanagan. (Ask the locals about the back road to Oliver.) After you've tasted at Orofino, check out the likes of Little Farm, Clos du Soleil, Corcelettes, Liber Farm, Hugging Tree and Vanessa. And be sure to take time to dine at Row Fourteen (which also pours many Similkameen wines by the glass).
In the south Okanagan Valley, between Oliver and Osoyoos, the Golden Mile Bench was the first BC sub-appellation, declared in 2015. It was here in the late 1960s, that pioneer Joe Busnardo planted some of the first vinifera in the valley at what's now Hester Creek Estate Winery. Those 60 year-old vines are still producing fruit that goes into the winery's premium wines.
Tucked away high above the crush pad, luxurious, Tuscan-themed, the cosseting Villas at Hester Creek offer sweeping views of the south valley. Not to mention a chance to witness the harvest first-hand and savour fall flavours at Terrafina Restaurant.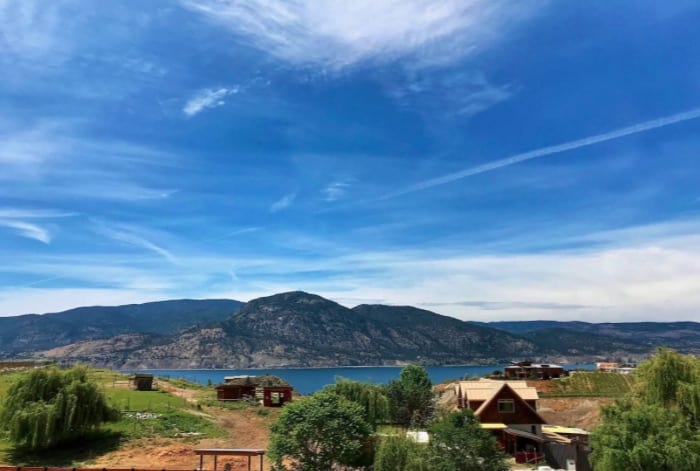 Just up the way, it's also full-on harvest in Naramata—home to more wineries per acre than anywhere else in BC. Check in to Wesbert Winery Guest Suites in the heart of their three acre vineyard, within walking distance of no less than eight close by neighbours. These well-appointed suites offer patios with lake and vineyard views, as well as easy access to the rest of the Naramata Bench. Moreover, just a cork's toss away, the 21 km. KVR Trail, links Naramata to South Kelowna.
There was a time was when the only way to get to the Village of Naramata was by water. Sternwheelers from Summerland and other points up and down the lake used to dock to pick up freshly picked peaches and apples just a few metres from today's Naramata Heritage Inn.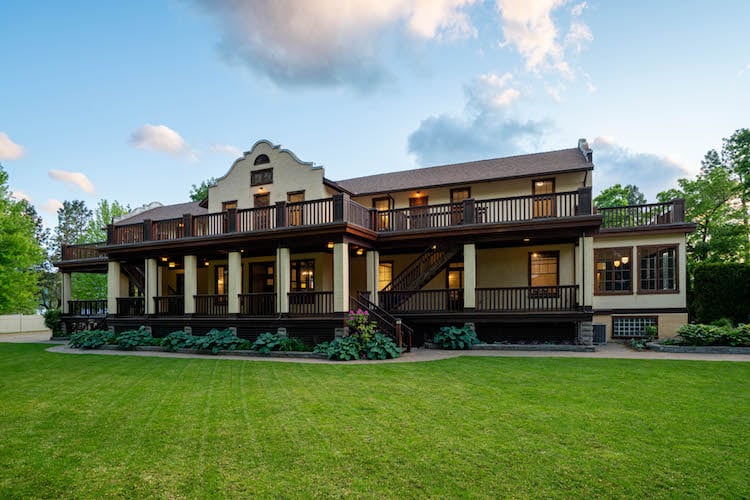 This year, celebrated former Four Seasons chef Ned Bell, his wife, Kate Colley, and partners have breathed new life into this historic landmark. Tastefully renovated, the 1908 inn's cosy but super comfy rooms combine a glimpse of the past with the best in sustainable, regional cuisine—paired with one of the province's most in-depth BC wine lists.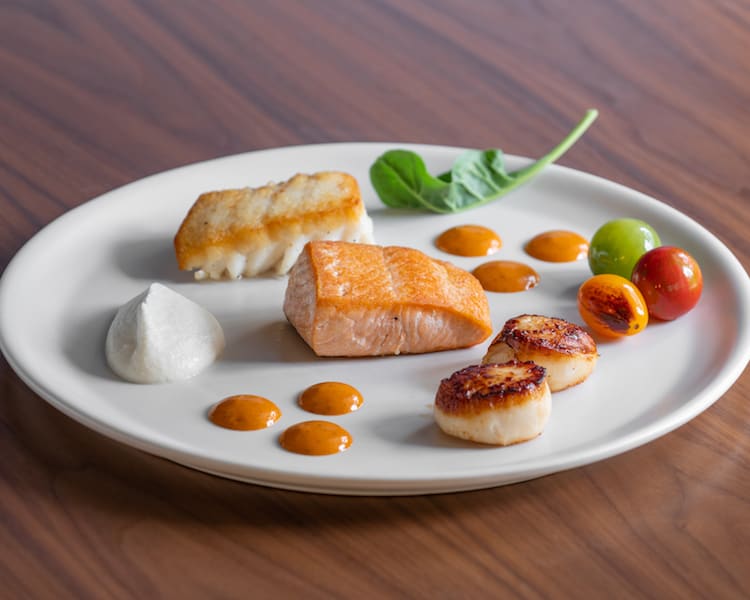 Thirty minutes north of Kelowna and 10 minutes from YLW airport, Lake Country's growing community of wineries overlooking the northern end of Lake Okanagan begs to be explored.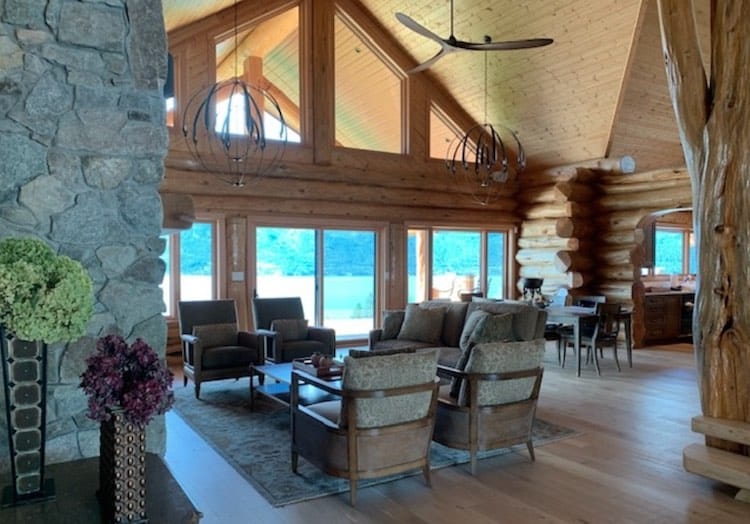 Arguably the most luxurious of local accommodations, the Guest House at O'Rourke Peak Cellars dazzles with panoramic lakeside and vineyard vistas.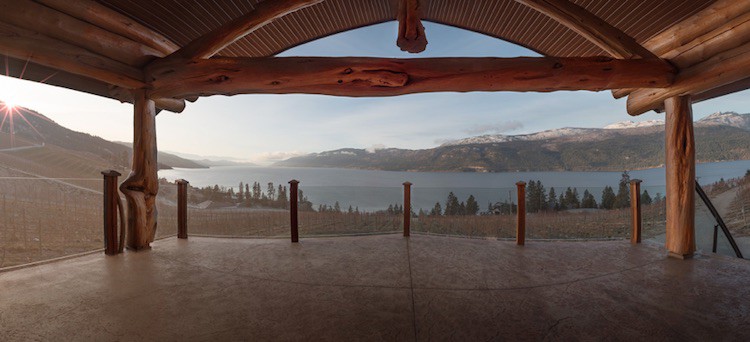 One of many highlights at this impressive log home is its expansive covered veranda, perfect for barbecuing and recapping the day's adventures. Who to visit? O'Rourke, of course, plus Arrowleaf, Ex Nihilo, Intrigue and pioneering Gray Monk, Lake Country's very first vineyard and winery. Good dining also abounds, from O'Rourke's own casual bistro to Block One at 50th Parallel Estate, The Lookout at Gray Monk and more.
Beyond the Okanagan
In recent years BC's grape growing regions have considerably pushed the boundaries. From Lake Country it's a short hop to the Shuswap, whose verdant hills and more moderate climate nurture a handful of smaller wineries, growing mainly early-ripening Germanic varieties.
A great jumping off point from which to explore, Quaaout Lodge at Talking Rock Resort is a strikingly beautiful, Indigenous-owned, lakeside resort featuring fine dining (at Jack Sam's, in the capable hands of former Forage, Vancouver chef Chris Whittaker), a golf course and pampering spa, all within reach of several wineries.
Who would have thought even a decade ago that the Thompson Valley would emerge in 2017 as one of BC's newest wine regions? Book into the comfortable and contemporary Delta Hotel by Marriott in downtown Kamloops, just minutes from Harper's Trail, Monte Creek and Privato. Each is family owned and a trailblazer in its own right.
Their wines are well represented in downtown restaurants such as Cordo in the Marriott, Forno and The Brownstone.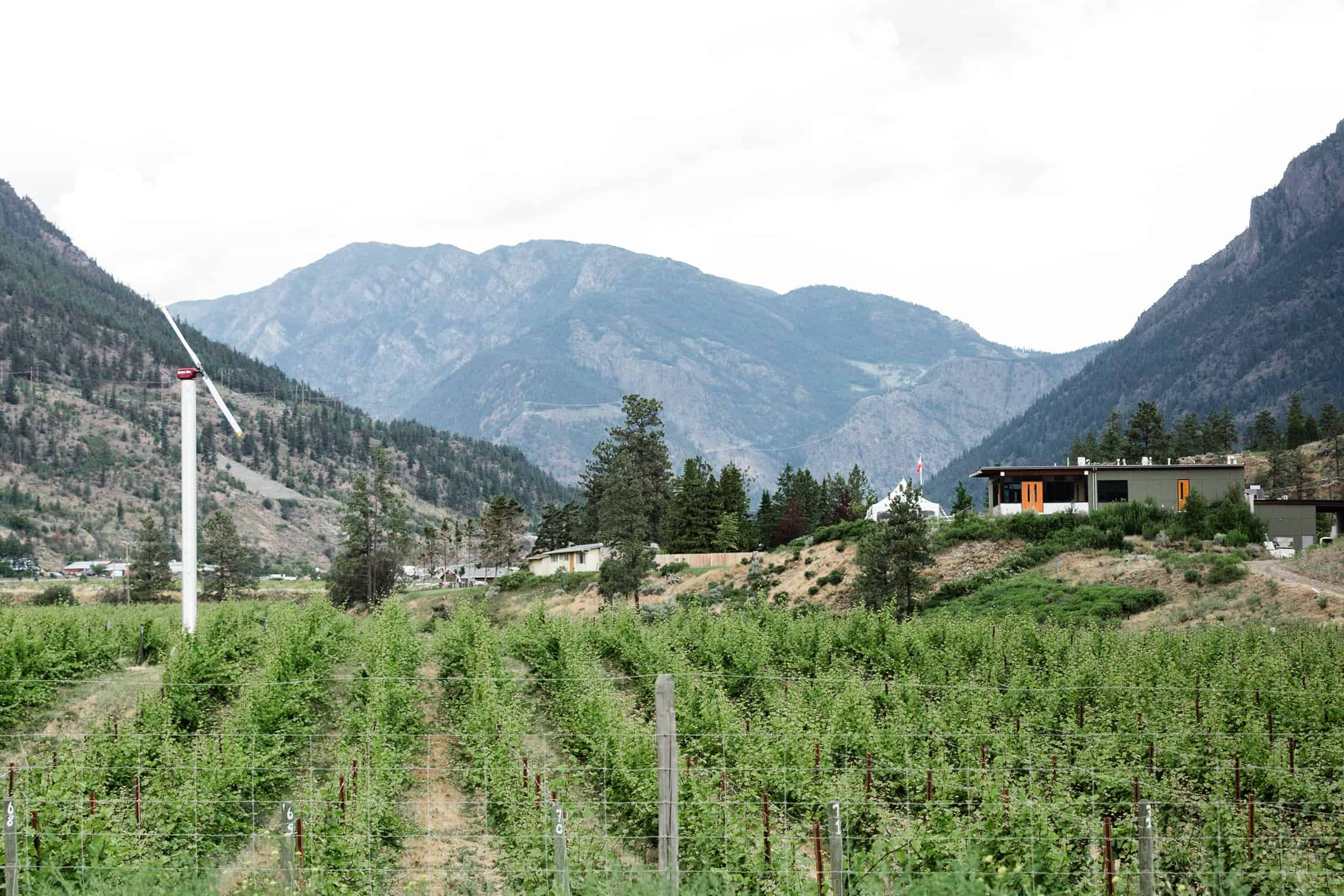 Planning a trip from Vancouver? Take the Duffy Lake Road from Pemberton through Lillooet, and drop in on Fort Berens Estate Winery on the way.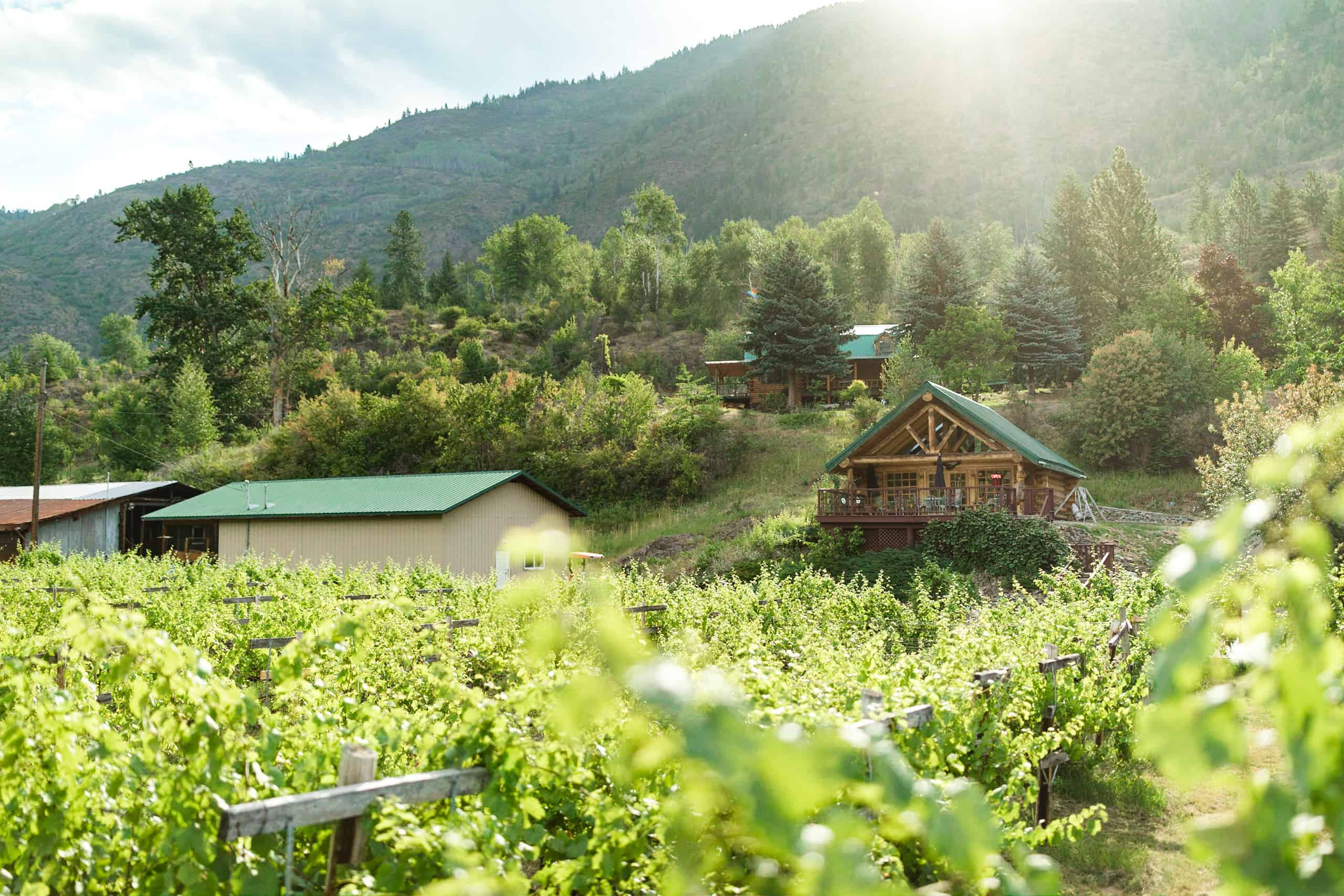 In the Kootenays, en route to the Creston Valley, take a side trip to fun and friendly Columbia Gardens Vineyard & Winery (13 km east of Trail), where you can book in to your own 'shabby, vintage or rustic chic' guest suite in the 'Grape Escape Guest House.'
From here it's about 90 minutes to Creston—the centre of the emerging Kootenay Wine Region, home to pacesetters Baillie Grohman, Skimmerhorn and others. Grab a bite at Jimmy's Pub & Grill, in the Creston Hotel (est. 1936), which includes most local wineries on its list.

Right on Vancouver's doorstep, the Fraser Valley is also blossoming thanks to an increasing number of wineries, especially around Langley, Abbotsford and Mount Lehman.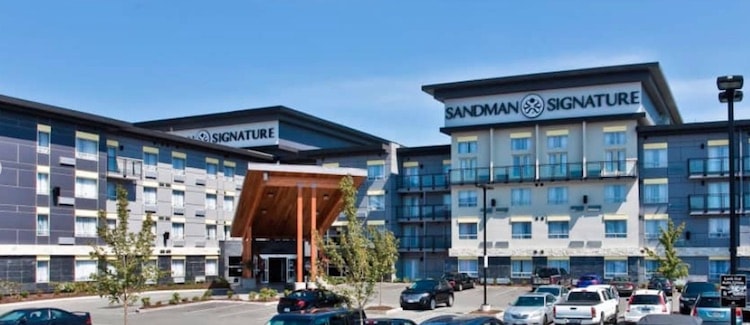 Just off Hwy 1, centrally situated Sandman Signature Langley adds up to a convenient base, with all creature comforts, from which to explore. Within easy reach are Backyard Vineyards, Chaberton, Seaside Pearl, Township 7, Vista D'oro, Singletree, Mt. Lehman and many more.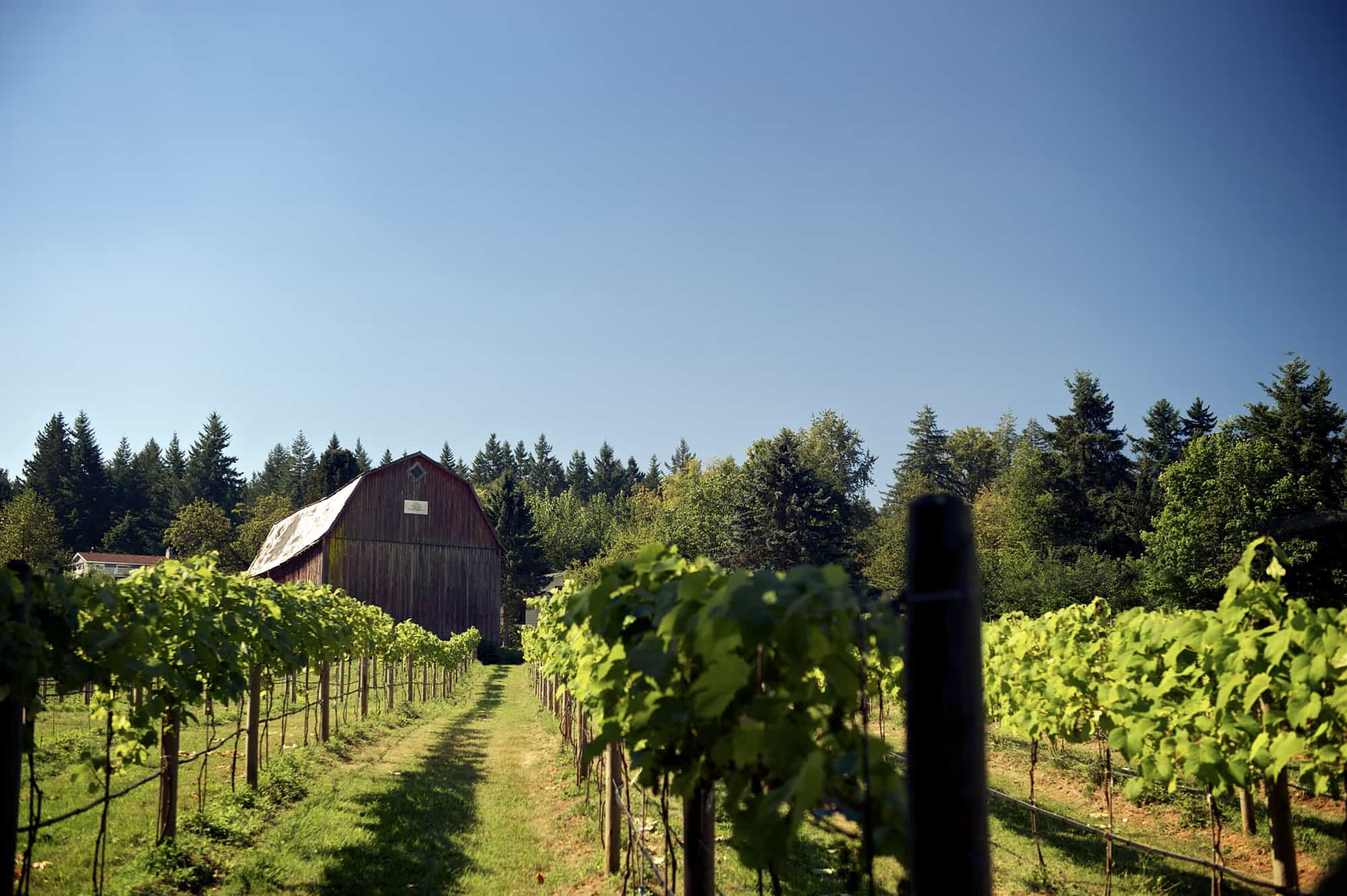 Meanwhile, across the Salish Sea, on Vancouver Island the Cowichan Valley is celebrating its first harvest as BC's newest sub-appellation. Wine touring here comes complete with a Maritime bonus, when you check in to Oceanfront Suites at Cowichan Bay, with its stunning waterside location.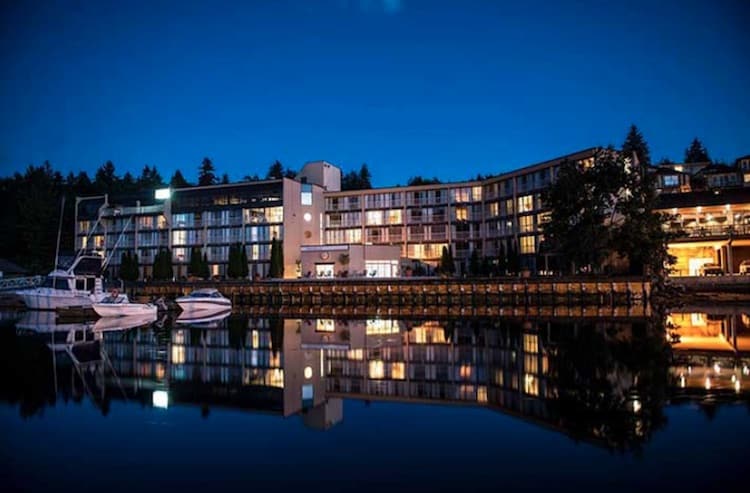 The Cowichan rewards with an intimate feel and a wealth of smaller, family owned wineries making increasingly 'serious' wines. 'Must visits' include Blue Grouse, Unsworth, Rocky Creek and the region's original winery, Zanatta.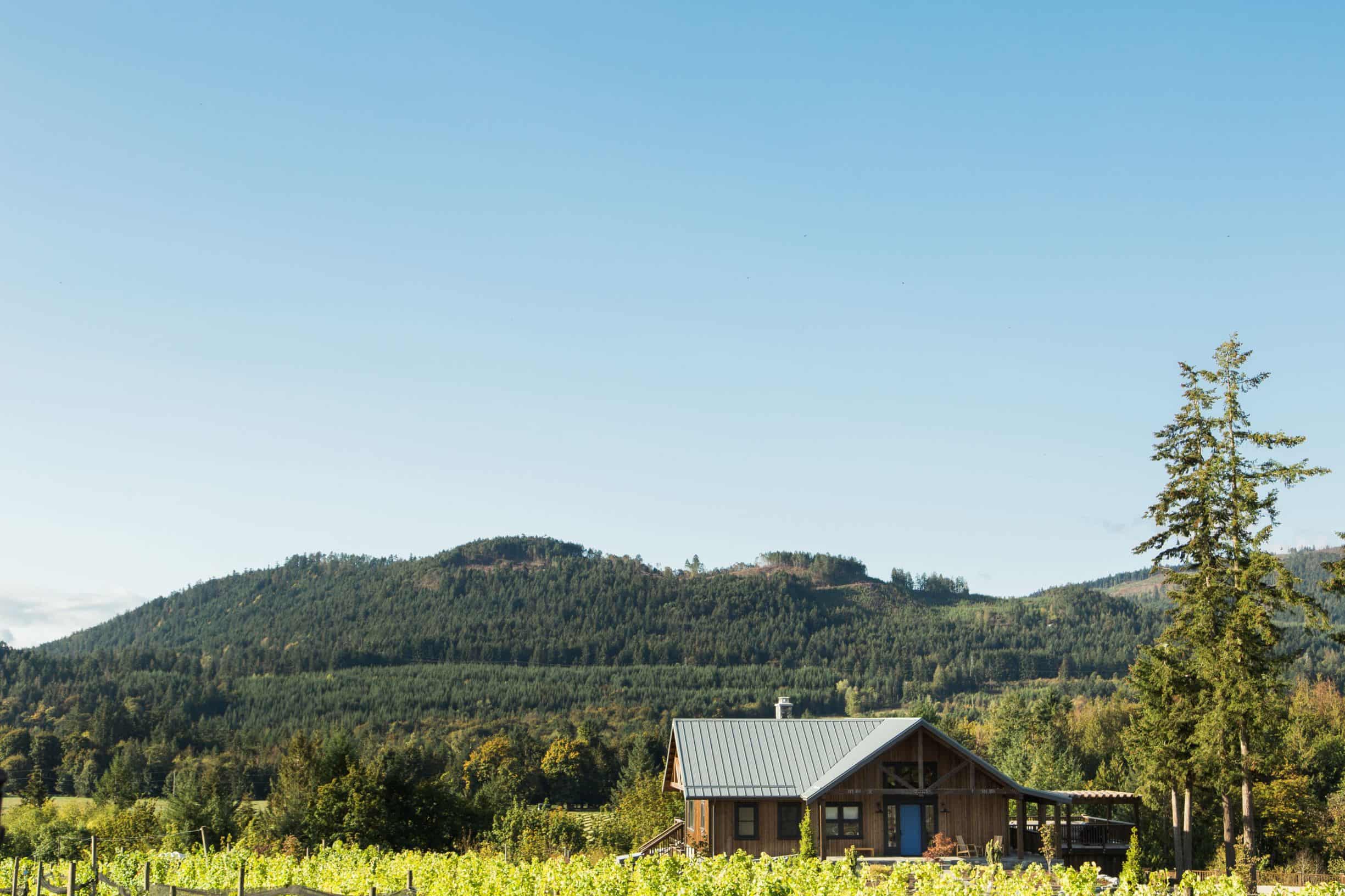 'Crush' is happening now, throughout October, right across southern BC. Take time to explore BC wine country at the best possible time of year and find out more about the journey from grape to glass!
Before You Go…
Plan your harvest adventure with the BC Wine Country Accommodation booking site, through BCWI's Sips & Trips contest or with BCWI's handy Wines of BC Explorer SpendtheNight feature, which can help you to search for accommodations by winery.
Download the Explorer app for Apple or for Android
When you download the app, or rate or share a BC wine or adventure, you'll have a chance to win one of nine, three-day, two-night, BC wine getaways for two to explore a beautiful BC wine region. Full details here!
---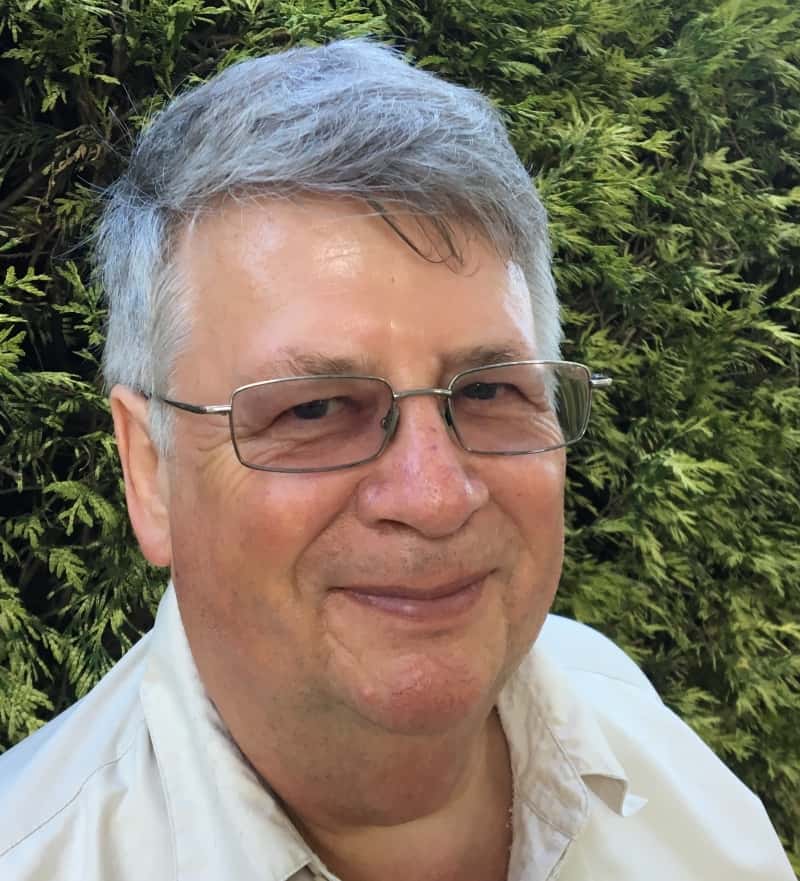 By Tim Pawsey – Vancouver based Tim Pawsey writes and shoots for numerous publications, including: Where Magazine, Quench, The Alchemist, Vitis, Taste (BC Liquor Stores), Montecristo and others. When not poring over a wine glass or on the business end of a fork he can be found at hiredbelly.com and @hiredbelly / Instagram / Twitter