BC Vintages. By Master of Wine, Rhys Pender
Heat domes, frosts, fires, floods, wind, rain and drought. You name it, the BC wine industry has probably experienced it this last decade. If you've checked out the latest Vintage Guide infographic you may be wondering just how all these different growing conditions affect the wine in your glass. What exactly is the difference between a hot or cool vintage and how does it change the taste of the wine?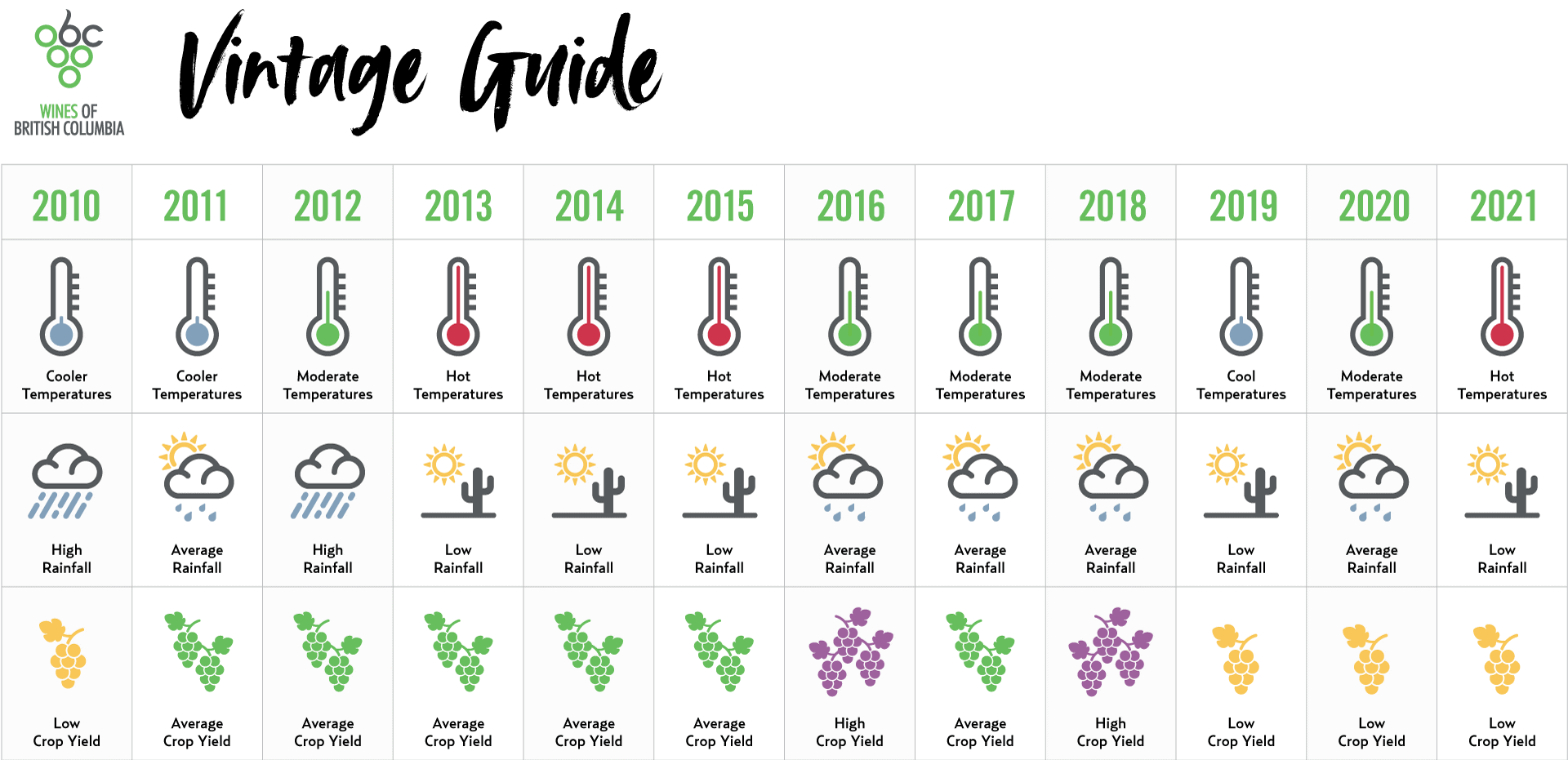 We really have seen it all (we hope) this past decade or so. Climate change has led to extremes in every direction and BC grapegrowers, riding the changes from vintage to vintage, have somehow managed to cling on and put out an impressive offering of wines from whatever Mother Nature dishes up weather-wise.
Thinking back to the very cool vintages of 2010 and 2011 some lovely, delicate wines were produced. A cool vintage, without a lot of growing degree days (GDD – a measure of heat units during the growing season) means that the grapes ripen slowly, retain more acidity, have lower alcohol and end up with fresh fruit and red berry flavours rather than pushing into tropical and cooked fruit flavours. While at the time a few wine drinkers bemoaned their lightness and elegance these wines have stood the test of time and both vintages are ageing gracefully and beautifully still with much life ahead.
The following years 2012, 2013, 2014 and 2015 seemed to be desperate to outdo each other in terms of more heat units than the prior year and the resultant wines boast riper fruit flavours, peaking in 2015, records of heat that still stand in most regions of the Province. Only the recent 2021, with its infamous record high temperatures during the heat dome, pipped 2015 in a couple of regions for the warmest vintage this decade. Warmer vintages ripen fruit faster, give more cooked and dried black fruit flavours in the red wines and alcohol levels will often push 14% and above. While the ripe years like 2014, 2015 and 2021 may offer a lot of richness and ripeness up front, they don't always seem to last as long in the cellar. So, drinking the riper ones young and robust and patiently waiting for the cooler vintages may be your best bet.
When it is neither a particularly cool nor hot year, everything seems to come together and the wines have a lovely balance of fruit, structure, drinkability and ageability. The vintages of 2016 and 2017 come to mind and had plenty of yield with great quality to match. 2020 looks to be similar from early tastings although the yields were, unfortunately low.
Scarcity has been the theme of the last three vintages (2019, 2020 and 2021). The good news is that along with smaller crops often comes good quality and so the wines look promising. The bad news is there just isn't that much to go around, so you'll have to be quick to snatch up the best wines. Smaller crops could be the result of some extreme cold winter temperatures (another scourge of climate change) damaging buds or extreme heat reducing yields. If you think about the fact that BC only produces about 20% of the wine consumed in BC then three small crop vintages in a row make supply very tight.
Every year is different, offers different challenges and makes different styles of wine. Don't expect the kind of cookie-cutter wines from one vintage to the next that you might get from warmer, bulk wine producing regions, but do expect wines that are a true reflection of the vintage and the place. Grapegrowers and winemakers have learned to go with the flow, use what they've got and make the best wines that they can. So, embrace every unique vintage, celebrate it, and enjoy the wines. Because who knows what is to come.
Download a high-resolution version of the BC Vintages Variances Infographic here.
---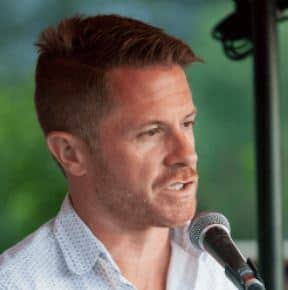 Rhys Pender – Rhys is a Master of Wine who combines his time writing, judging, teaching, presenting, consulting and dirtying his boots at his 4 acre vineyard and winery – Little Farm Winery – in the Similkameen Valley of BC, Canada. He runs a wine school, Wine Plus+, and judges wine competitions nationally and internationally such as the Decanter World Wine Awards, TexSomm as well as the National Wine Awards of Canada for WineAlign. In 2018, Rhys's contribution to the industry was acknowledged as one of just five global nominees for the WSET Outstanding Alumni Award. To make sure he eats well he has also completed a Professional Culinary Diploma and has been named by Western Living magazine as one of the "Top 40 Foodies Under 40" in Western Canada. He is a regular contributor to publications such as SIP, Vitis, Macleans, Montecristo and Taste.  Follow Rhys @rhyspendermw